Webinar: Trends in Contemporary Irish Literature
News
28 September 2020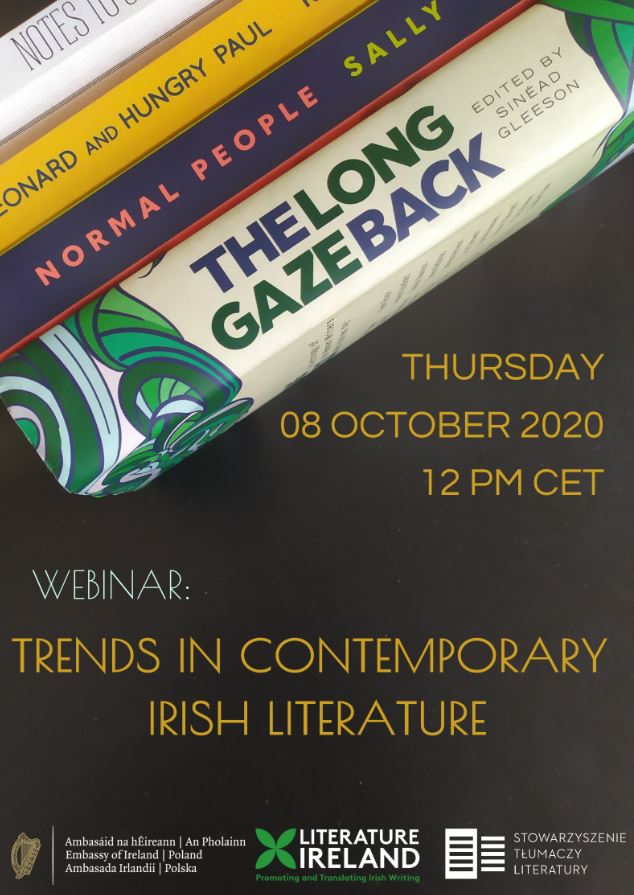 Contemporary Irish literature is thriving! Names such as Sally Rooney, Colum McCann, Emilie Pine, Kevin Barry and Anna Burns are dominating international literary awards. In Poland too, Irish writers are topping the bestseller lists.
Keen to know who the next new voice in Irish writing will be?
Then join us for this webinar, with panel discussion between Irish literary and publishing experts and a Q&A session. A must for translators, publishers and lovers of Irish literature across Poland!
Trends in Contemporary Irish Literature, Thursday, 8 October 2020, 12 PM CET
Panellists:
Martin Doyle is Books Editor of The Irish Times and host of the Irish Times Books Podcast.
Lisa Coen is a publisher and co-founder of Tramp Press, an independent, Dublin-based publishing house, founded in 2014 to find, nurture and publish exceptional literary talent.
Mariel Deegan works for New Island Press and is President of Publishing Ireland, the all-island body established in 1970 to share expertise and training across the publishing sector in Ireland.
Moderator: Olga Brzezińska – president and co-founder of the City of Literature Foundation. Manager and promoter of culture, academic teacher at the Jagiellonian University since 2003.
The webinar will be held on Zoom, in English without interpretation. A link to join the webinar will be sent to registered participants before the event. Registration is now open at: http://bit.ly/IRLWebReg