Irish-Polish History Exhibition in Gdansk's Oliwa Park
News
27 September 2018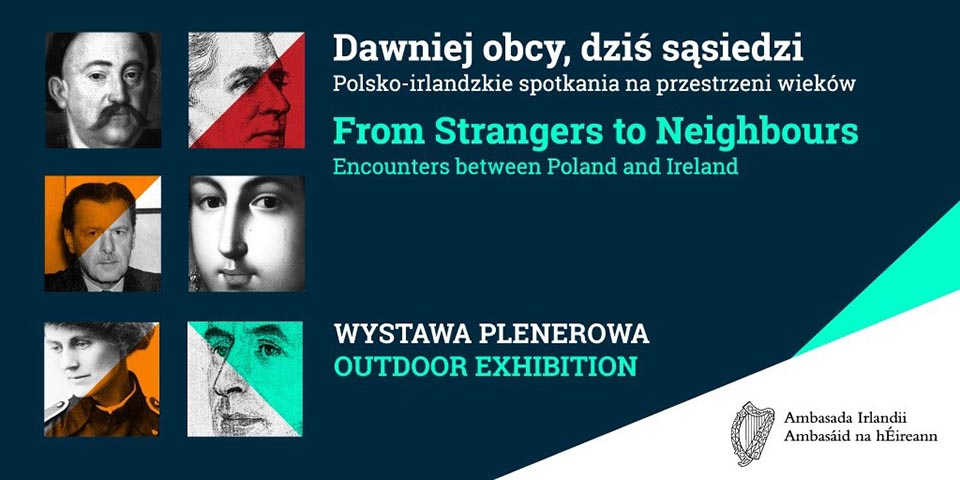 An Embassy exhibition on the history of connections between Ireland and Poland will be on display at Gdańsk's Oliwa Park until 24 October 2018. A lecture on Seán Lester, one of the characters included in the exhibition, will be held on 10 October 2018.
The Irish and Poles are often described as kindred spirits: two peoples who, although separated by geography and the currents of European history, have much in common.
For long periods of our history, connections were shaped by encounters between Irish and Polish people. In recent decades the Irish and Polish peoples and states have formed deeper and lasting bonds. Today, Ireland is home to a large and welcome Polish community.
'From Strangers to Neighbours: Encounters between Poland and Ireland' is an exhibition produced by the Embassy of Ireland outlining some of the personal narratives that have linked our countries, from surprising encounters of centuries past to the enduring connections of the present day.
The exhibition is on display in Gdańsk's Oliwa Park from 24 September to 24 October 2018.
September 2018 marks the 130th birth anniversary of Seán Lester – an Irishman, the League of Nations' High Commissioner in Gdańsk in the years 1934-1936 and a robust defender of Gdańsk's Polish and Jewish communities.
A lecture on his life and work of by Dr. Paul McManara will be held on 10 October to mark this anniversary. Dr. Paul McNamara is the author of 'Seán Lester, Poland and the Nazi Takeover of Danzig'. He is a lecturer at the Technical University of Koszalin.
Lecture: The life and work of Seán Lester - An Irish diplomat in pre-war Gdańsk and Last Secretary General of the League of Nations
Date: 10 October 2018
Time: 18.00
Venue: Room 21, Ground Floor, Neophilology Building, University of Gdańsk, ul. Wita Stwosza 51
The talk will be followed by a Q&A discussion and a reception hosted by the Ambassador of Ireland, Emer O'Connell. English-Polish interpretation will be provided. Please note that places are limited and registration is required.