St. Patrick's Day in Poland: Cities and Towns turning Green!
News
28 February 2020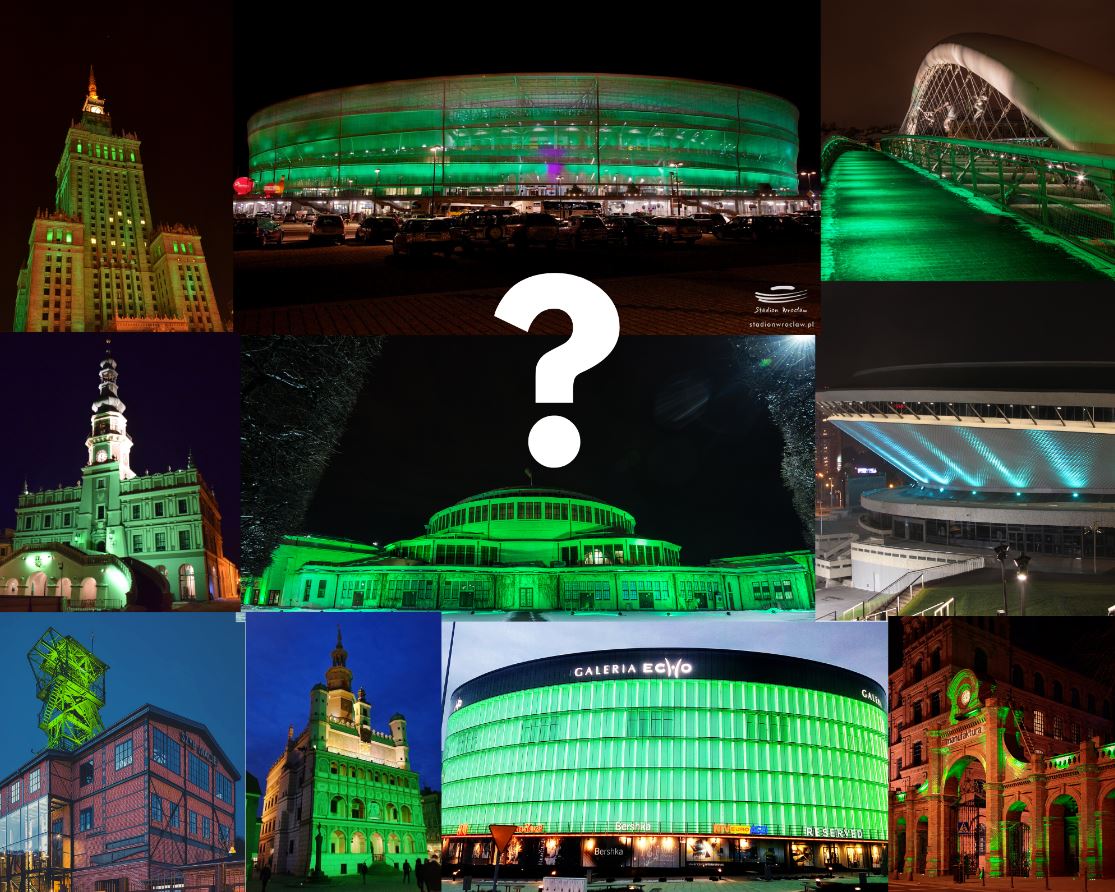 St. Patrick's Day, Ireland's National Day, is celebrated in Poland and around the world every year. Polish cities will join the Global Greening campaign and celebrate St. Patrick's Day by lighting up famous buildings in green on 17 March.
Polish landmarks across the entire nation will join the Empire State Building in New York, Niagara Falls, Moulin Rouge in Paris, Leaning Tower of Pisa, the Sydney Opera House, as well as many other iconic sites around the world in lighting up in green to mark Ireland's National Day!
In 2019, 53 landmarks in 21 Polish cities and towns took part in the famous Global Greening campaign.
Polish sites confirmed so far for 2020 are:
Warsaw

Palace of Culture and Science

Bydgoszcz

University Bridge

Gdańsk

Uczniowska Street flyover

Kościuszki Street flyover

Kalisz

City Hall

Centre of Culture and Art

KomodaClub Residence

Katowice
Spodek Sports and Entertainment Arena
Kielce

City Hall

Regional Cultural Centre

Echo shopping centre

Kraków

Father Bernatek Footbridge

Lipska-Wielicka Street flyover

Tauron Arena

Cardinal Macharski Bridge

Lublin
Centre for the Meeting of Cultures
Łódź

OFF Piotrkowska Center

Manufaktura

TME office center

Nowy Sącz

City Hall

Olsztyn

City Hall Tower

Astronomical Observatory Tower

Old Town's Amphitheatre

Opole
National Centre of Polish Song
Poznań

City Hall

MTP Spire

Poznań Główny railway station/AVENIDA Poznań

Adam Mickiewicz University Main Auditorium

Honorary Consulate of Ireland

Poznań Ławica Airport

The Raczyński Library

Poznań Archaeological Museum

Bishop Jordan Bridge

Przemyśl

City Hall

Brama Przemyska Bridge

Rzeszów
City Hall
Sandomierz
City Hall
Szczecin
Museum of Polish Big Beat in Willa Sorrento
Włocławek

Marshal Edward Rydz-Śmigły Bridge

Browar B. Cultural Centre

Wrocław
Wrocław Stadium
Zabrze
Szyb Maciej
Zamość
City Hall
Please be aware that the situation concerning COVID-19 is rapidly evolving. Individual event organisers may change their decision on participation in the campaign.