The Embassy of Ireland in Poland is 30!
News
01 June 2020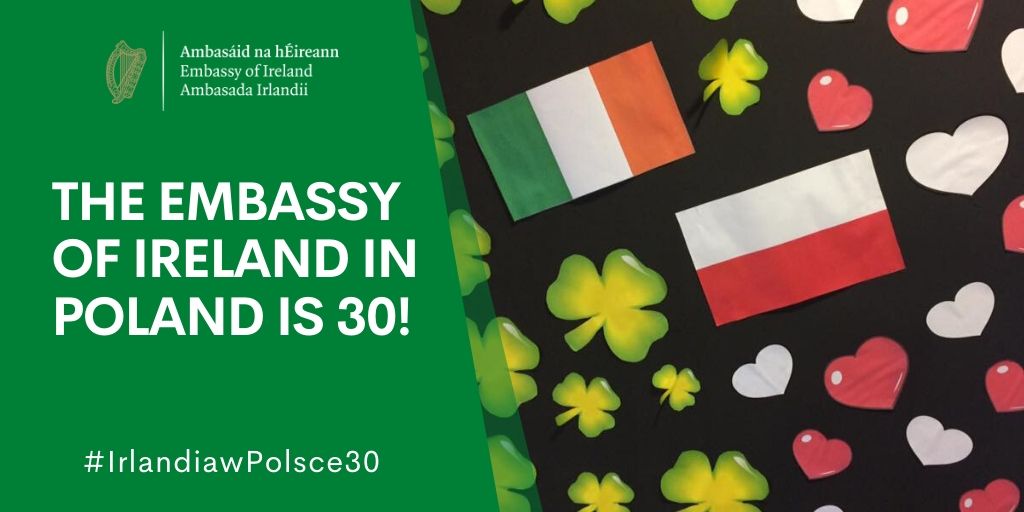 Our diplomatic relations began in 1929, but the Embassy of Ireland in Poland opened for the first time in 1990. We invite you to join us during the month of June to celebrate all the ways Ireland and Poland have grown closer together in the past 30 years.
1. Follow us on our Facebook page @AmbasadaIrlandii (in Polish) and our Twitter account @IrlEmbWarsaw (in English and Polish) where we will be sharing one fact a day for each of the 30 days in June with the tag #IrlandiawPolsce30. Comment, like, share or re-tweet to be in with a chance of winning a small token of appreciation from the Embassy.
1

To mark 30 yrs of Emb of Ireland in PL, in June we're sharing 1 fact/day about

#IrelandinPoland30

!

Link

2

When Poland joined the European Union in 2004, the official ceremonies were held in Dublin! Ireland had the Presidency of the EU at the time, as we did in 1990 when the Embassy in Warsaw opened.

Link
3

30 years ago Poles needed a visa to travel to Ireland and there were no direct flights! In 2019, 230 000 Poles visited Ireland and at the start of 2020 there were nearly 50 flights a week between 3 Irish and 11 Polish cities.

Link
4

There are very close links between Poland and County Cork on the south coast of Ireland. Red and white are the county colours of Cork! The most Polish town in Ireland is Millstreet, Co.

Cork.

Link
5

St. Patrick's Foundation has contributed over PLN 5.5 mln to Polish charities since 2010. It began as the "Irish Ball"

in Warsaw in 1995! They've since supported residential homes, schools, hospitals & charitable organisations.

Link
6

In 1993, Riverdance blew everyone away at the Eurovision Song Contest, and ever since then Irish dancing has been growing in popularity in Poland. In 2017, the European Championships were hosted by ISTA School Poland in Gdynia!

Link
7

The year after Pope John Paul II's visit to Ireland in 1979, 10% of baby boys in Ireland were named John Paul! All the best to everyone celebrating significant birthdays this year!

Link
8

#OTD

EURO2012 started! Thank you Poland for being such fantastic hosts to our team&fans in Poznan and Gdansk! Ireland's soccer team has played more friendly matches with Poland than with any other team: 28 since 1938!

Link
9

Adam and Amelia are both very popular baby names - top ten in both Ireland and Poland. In 2019, more unusual names like Cezary and Urszula in Ireland and Conor and Eileen in Poland were also chosen by parents!

Link
10

Nobel Prize winning poet Seamus Heaney was a great friend of a Pole and Nobel laureate poet Wisława Szymborska. He said about visits to Kraków "This is how human culture should develop-seriously and cheerfully, lightly, with a smile."

Link
11

Warsaw, Poznań, Wrocław are among Polish cities using innovative, Irish street furniture solutions from IPL Group

such as flexible bollards with shape memory to safely streamline car and bike traffic in city center.

Link
12

Wawel Cathedral is the very heart of Poland, but the candle burning system is from St. Killian's in Cahir, Co.

Tipperary.

Link
13

Irish butter and cheese is so good because our moderate, humid climate means cows can graze on lush, fresh grass almost all year round!

More about our sustainable food production:

origingreen.ie

Link
14

In 1990, the most successful Irish album release internationally was Sinead O'Connor's "I Do Not Want What I Haven't Got". 30 years later, it's Hozier's "Wasteland, Baby!"

Link
15

Irish company Kerry Group employs nearly 500 people in Kielce and Oleśnica! They process fruit for many iconic products in Poland: chocolates, ice-cream, yoghurts and tarts!

Link
16
James Joyce's modernist novel

#Ulysses

describes an ordinary day in Dublin. The fictional hero, Leopold Bloom, sets out on his city trip on 16 June 1904. Since 1954, every 16 June is marked by a worldwide

#Bloomsday

celebration.
Link
17

The UN Security Council election is today! Irish and Polish peacekeeping troops are currently deployed together on a UN mission

@irishpolbatt

! We thank you for your service in contributing to international peace and security!

Link
18
Irish headquartered building materials business CRH has been creating jobs in Poland since 1995! Its operating companies have contributed to many ambitious projects e.g.

@TAURONArenaKrk

,

@StadionWroclaw

, and the

@cnkopernik

.

Link
19

Sales of Irish whiskey have grown by 167% in the past five years! Can you believe last year Poles drank over 2.5 mln litres of Irish whiskey?

Link
20

In 1990, homosexuality hadn't been decriminalised in Ireland. Today, protecting&promoting rights of LGBTI+ persons is a key priority of Irish foreign policy. As an Embassy we've been proud to celebrate&support diversity at Polish Equality Parades.

Link
21
#OTD in 1994, the first State Visit from Ireland to Poland took place. We welcomed President Mary Robinson. Every Irish President since has visited Poland, including President Mary McAleese and most recently President Michael D. Higgins in 2020.
Link
22

U2 played Poland 3 times, in 1997, 2005 and 2009. Since the 1980s and "New Year's Day" inspired by events in Poland and Solidarity, Bono has often expressed support for Poland and appreciation for Polish fans.

Link
23

Irish company PM Group is one of the top providers of project management services for multinationals building factories in Poland. They've worked on projects manufacturing things as diverse as chocolates and airplane parts!

Link
24

In 1990, John McGahern's "Amongst Women" was one of the most successful Irish novels. In 2020, Sally Rooney's "Normal People" was a No. 1 bestseller in Poland!

Link
25

Polish is the most widely spoken foreign language in Ireland! 120 000 people speak Polish at home every day!

Link
26

Nuala Ní Dhomhnaill, an Irish poet, essayist, literary critic and author is a Laureate of the International Zbigniew Herbert Literary Award 2018, recognised for her contribution to the revival of the Irish language.

Link
27

Take a close look the next time you are in your local Biedronka! The chances are the refrigeration units are from market-leading Irish company Novum!

Link
28
Irish is one of Ireland's official languages. It is taught at three Polish universities: @UAM_Poznan, @KUL_Lublin, @Univszczecinski. You can also learn Irish online: www.futurelearn.com/courses/irish-language Lá maith agat!
Link
29

Launching this evening, Viral Sessions Ireland in Poland anniversary edition, a very special video of Irish music and dance in Poland! This is how it all began in March:

www.youtube.com/watch?v=IT56J9T21KU

Link
30

Hello from Embassy Warsaw Team! Thanks for following us! It's been 30 years since the Embassy opened in Poland.

Here's to many, many more!

Link
2. You are warmly invited to an online panel discussion on the theme "30 Years is a Generation" which will take place on Thursday 25 June at 10:30-12:00. Experts from Ireland and Poland will discuss the economic and social changes in Ireland and Poland affecting today's young people. More info and to register see: http://irlandiawpolsce30.eventbrite.ie.
Panelists:
• Jakub Sawulski, Macroeconomics Team Leader at the Polish Economic Institute and author of Pokolenie'89. Młodzi o polskiej transformacji ("Generation' 89: Young people and Polish Transformation").
• Kevin Myers, sociologist and research lead on Generation What? research project examining the chief attitudes of Europe's millennial generation
• Joanna Siewierska, President of the Students' Union of University College Dublin
3. While we can't organise a trad session in-person just yet, the Embassy is partnering with the organisers of the Viral Sessions project to make an online session for Irish and Polish music lovers. If you sing, dance, or play an instrument in Ireland or Poland please see the Viral Sessions Facebook page or the Embassy's social media for more details on how to participate.