Vacancy: Temporary Research Assistant
Job Vacancy
24 May 2019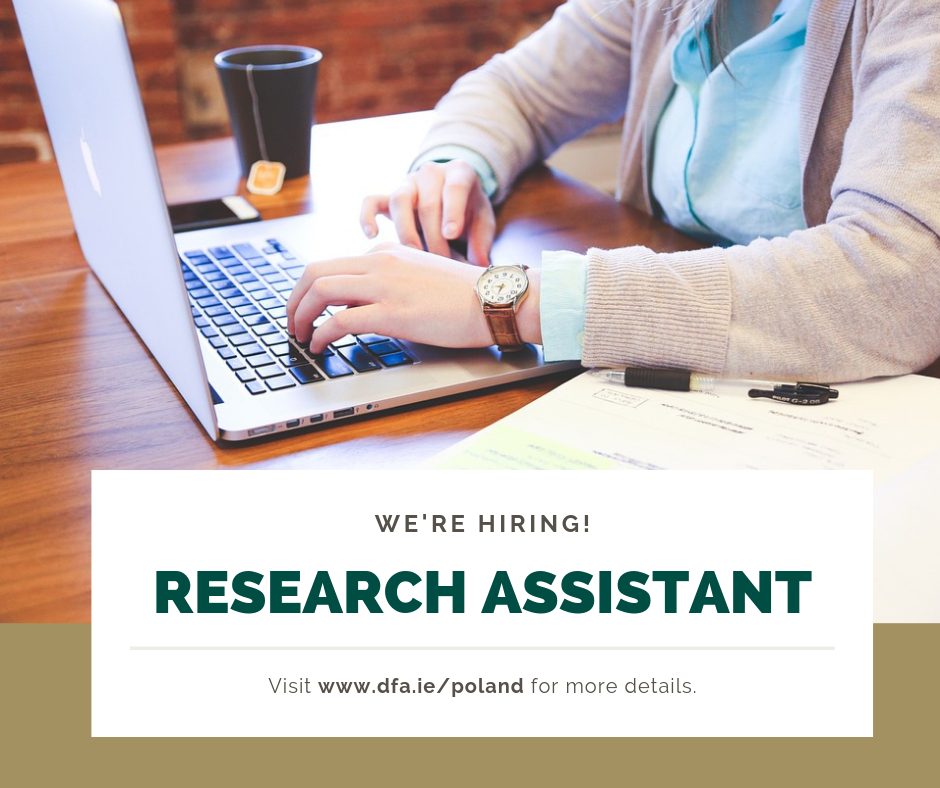 The Embassy of Ireland in Poland is seeking to hire a Temporary Research Assistant. The appointment will be for a period of 11 months starting on 2 September 2019.
This is a part-time paid position and applicants must be available for approximately 20 hours of work per week. Candidates must be under 26 and have the status of student for the 2019-2020 academic year. The precise hours can be flexible, but the ideal candidate will preferably be consistently available on weekday mornings, Monday to Friday.
The successful applicant will be part of the Embassy team and will focus on:
- Media monitoring and reporting;
- Translation and summary of print and online news articles and other documents;
- Contributing as part of the wider Embassy team to admin, communications, event organisation and other work as required.
Minimum Requirements:
- Excellent written language skills, at a minimum C1 or C2 level in both English and Polish;
- An interest in news media and knowledge of Polish current affairs;
- Experience in translating efficiently to and from both Polish and English;
- Ability to balance competing demands and manage time effectively.
Desirable Qualities:
- English at C2 level or native proficiency
- Expert knowledge of EU and Polish current affairs
- Interest in and experience of digital marketing or graphic design.
Applicants should send a CV (2 pages max) and a cover letter (600 words max) in English outlining their interest and suitability for the role to: warsawembassy[at]dfa[dot]ie, subject line: Temporary Research Assistant before 17:00 on Friday 14 June 2019. A shortlisting exercise may apply. Applicants may be called to an interview during July 2019. The successful candidate should be available to start work in Warsaw on 2 September 2019.
Data Protection Note:
By submitting information electronically, parties accept that data may not be fully secure. Any personal information submitted to us will only be used for its intended purposes and will be destroyed when no longer needed. Any other processing or disclosure of personal data is not allowed other than in the exceptional circumstances provided for under the Data Protection Acts. https://www.dfa.ie/about-us/our-commitments/
Security Clearance for Local Staff:
Police vetting will be sought in respect of individuals who come under consideration for appointment. Enquiries may also be made with the police force of any country in which the applicant under consideration for appointment resided. If unsuccessful this information will be destroyed. If the applicant subsequently comes under consideration for another position they will be required to supply this information again.
Please note that canvassing will disqualify applicants.
The successful candidate must have a legal entitlement to live and work in Poland prior to recruitment.
The Embassy of Ireland is an equal opportunities employer.