International Women's Day 2020 – Addressing the Gender Gap in Science, Technology and Innovation
News
16 April 2020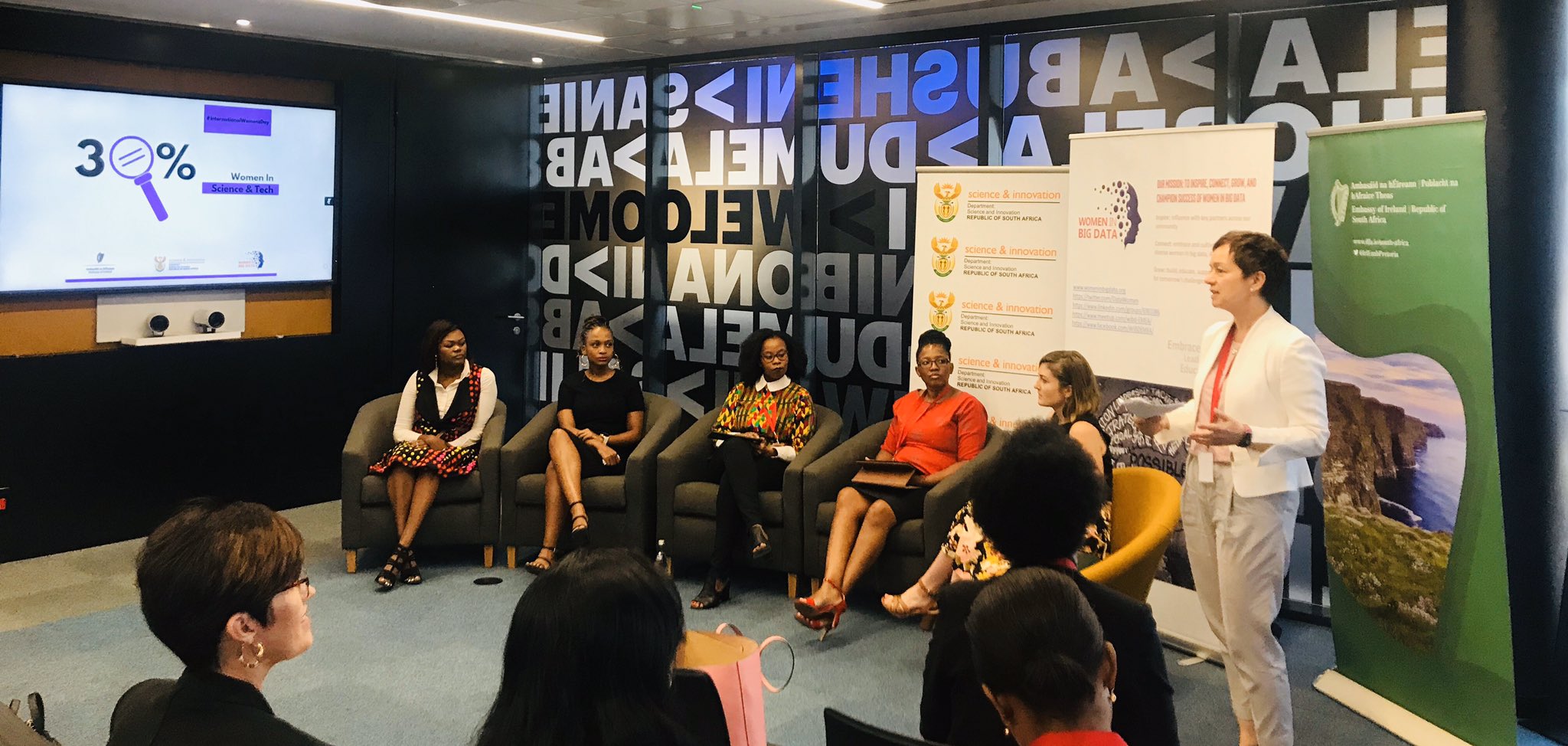 The Embassy of Ireland hosts an event with the Department of Science and Innovation exploring the challenges and opportunities for women in Science, Technology and Innovation in South Africa.
Under-representation of women in Science, Technology and Innovation – in both education and industry - is a global challenge. On average, around 30% of the world's researchers are women.
The Embassy of Ireland, Pretoria held a Women in Science and Technology networking breakfast to celebrate International Women's Day 2020 in collaboration with the Department of Science and Innovation in South Africa, the private sector and the non-profit sector.
The Ambassador of Ireland to South Africa, Ambassador Fionnuala Gilsenan opened the event by sharing South Africa and Ireland's shared recognition of the importance of women's inclusion in Science, Technology and Innovation.
"We are delighted to partner with the Department of Science and Innovation on this International Women's Day event exploring the challenges women face in Science, Technology and Innovation and the opportunities now to close the gender gap," stated Ambassador Gilsenan.
Four women panelists joined the discussion and shared their experiences as women in science and technology in South Africa.
Ndoni Mchunu, PhD researcher and found of Black Women in Science - an NPO focused on providing knowledge and awareness of science to rural women and exposing emerging female researchers to research opportunities - said that the needs of women scientists are not known. Not enough research has been done to find out what women scientists want.
Government representative, Mmampei Chaba, Chief Director at the Department of Science and Innovation supported Mchunu remarks further.
"We cannot afford to exclude women at any stage of science research," she explained.
"There is a perception that STEM is only for boys. We need to start with that perception to address the gender gap in science. Do girls have role models in STEM?" asked Kwena Mabotja, a private sector representative who leads a youth initiative at SAP
Naomi Molefe, a Kader Asmal Fellowship alumni and founder for Women in Big Data South Africa, a NGO whose mission is to encourage and attract more women into the big data and analytics field shared her own experiences of how Ireland and South Africa support women in science.
The networking breakfast was concluded with a robust discussion with the audience sharing their own concerns about women's inclusion in STEM and initiatives to bolster women's involvement in the sector.
Elisja van Niekerk, founder of Coding Mamas an NGO teaching mothers how to code, mentioned that there is a stigma that women can't work together and that women working in science together will break that stigma.
South African Technology Network CEO, Dr Anushu Padayachee, closed the event by calling for mentorship in science and a deeper understanding of the cultural dynamics around women's participation in science.