Addressing Gender-Based Violence in South Africa
News
16 April 2020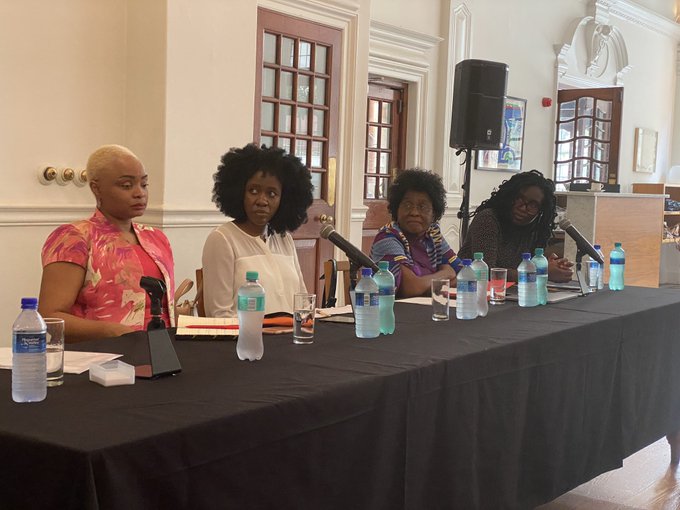 In collaboration with the Southern African Liaison Office (SALO), the Embassy of Ireland, South Africa convened a gender-based violence dialogue between civil society organisations, government and the international community following President Cyril Ramaphosa's State of the Nation address in February.
The discussion was centred around the South African government's approach to gender-based violence and gender equality at home and abroad.
Dr. Olive Shisana, the President's Special Advisor on Social Policy clarified the South African government's stance on gender-based violence and the work conducted to deal with gender-based violence.
Dr. Shisana asserted that there is a coordinated effort across ministries, provinces and societal organisations to have a wider reach on the ground. The government is moving towards a district government model that is results based.
Human rights defender and activist, Josina Machel, stated society needs to be capacitated to address gender-based violence symbiotically.
"Perpetrators have to face consequences form all sectors of society. What we have at present is that women are stigmatized and ostracized while men can engage freely," Machel stated.
"We need to tackle GBV at all levels, officials, police officers, clinicians, nurses, hospitals need to be adequately trained to understand, empathise with people who have suffered sexual and gender-based violence."
Kunyalala Maphisa, an entrepreneur and social activist who has served on a number of Boards of companies and non-profit organizations spoke on the role of business and the private sector in addressing gender-based violence.
"Government and private intervention have a limited scope in what happens in the home. However, it is something that's an issue across sectors, all parties should play a role in addressing the scourge of GBV. Even if legislations are passed, it may not eradicate it in the home, cultural shifts need to be made, multiple players and individuals need to play a role," she stated.
Executive Director of Mosaic Training Services and Healing Centre for Women, an NPO that works to prevent and reduce gender-based violence, Tarisai Mchuchu-MacMillan spoke about the mammoth task of addressing gender-based violence and, in particular, the realities on the ground.
Audience members asked about the role of judges and the courts and whether they are out of sync with the directives of the Presidency around gender-based violence.