National Gallery of Zimbabwe goes green for St. Patrick's Day
Press release
17 March 2022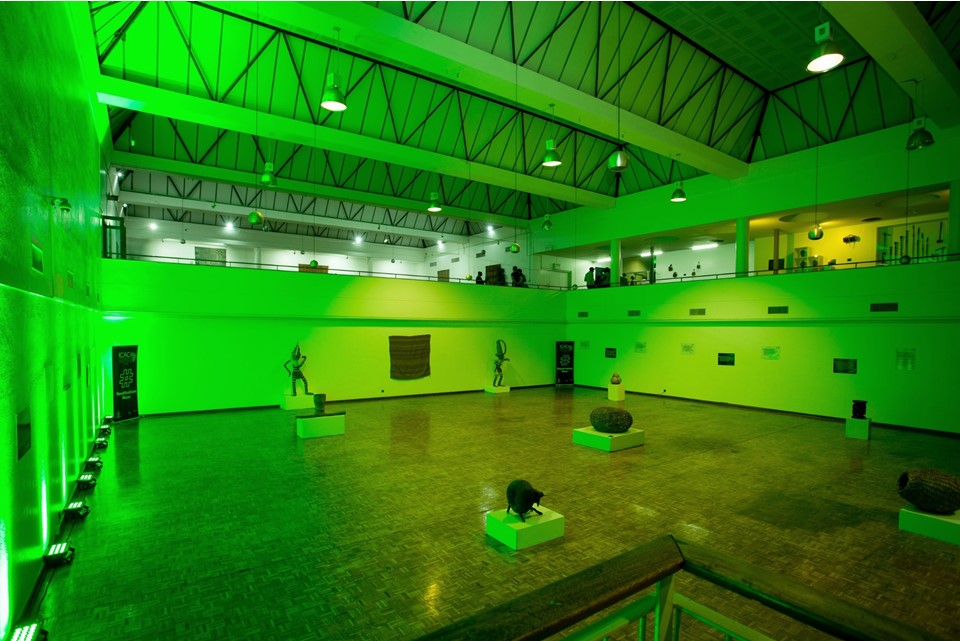 The National Gallery of Zimbabwe radiating in a green light to mark St. Patrick's Day.
HARARE – For the first time, the National Gallery of Zimbabwe will radiate in green light to observe St. Patrick's Day. To mark the occasion, the Embassy of Ireland will host an evening of Irish and Zimbabwean culture, highlighting the Gallery's ongoing International Women's Day exhibition and bringing together literary readings, music and visual arts from Zimbabwean and Irish artists.
"The Embassy is proud to mark our national day in this very special manner, by lighting the National Gallery of Zimbabwe in green," said Ambassador of Ireland to Zimbabwe, Fionnuala Gilsenan.
"As Ireland marks 100 years of independence, we look forward to partnering with this iconic Zimbabwean landmark and cultural institution. Thanks to our friends at the Mashonaland Irish Association, one of the world's oldest diaspora associations, and the Gallery, we will be able to shine a light on the universal values of community, solidarity and empathy during a challenging time in the world."
Situated in Harare, the National Gallery of Zimbabwe is a historic landmark and an important space for the preservation and promotion of Zimbabwean visual arts.
The National Gallery of Zimbabwe has been in existence for almost 60 years, and in its lifetime has witnessed the dramatic shift in the country from colonialism to independence. In addition, it has been central to the meteoric rise of Zimbabwean artists in the world art market.
"The National Art Gallery of Zimbabwe is happy to join the Embassy of Ireland in lighting our historic building green to mark St. Patrick's Day 2022. As an international cultural institution it is our hope to open a new chapter in cultural exchange between Ireland and Zimbabwe'' said Raphael Chikukwa, Executive Director, National Gallery of Zimbabwe.
"As the Mashonaland Irish Association embarks on its 131st year of existence, what better way to mark the occasion than to light the National Gallery of Zimbabwe. A building that truly represents partnership and our pride in Zimbabwe,'' said Ann Flanagan-Tsapayi, President Mashonaland Irish Association.
Ambassador Gilsenan added, "The longstanding relationship between our two countries is underpinned by our people-to-people connections, especially with our Irish diaspora present in Zimbabwe and Ireland's work in supporting key development programmes focused on health and gender in the country. Missionaries from Ireland and the Irish diaspora like Bishop Donal Lamont, Fr Paschal Slevin, Sr Janice McLaughlin and many others played a critical role in supporting education and access to health and were strong voices for justice, human rights and peace in Zimbabwe. Ireland is committed to continuing this tradition and expanding our relationship to support Zimbabwe on a path towards greater justice, peace and prosperity."
This year, Ireland will mark St Patrick's Day 2022 in solidarity with the people of Ukraine and all people suffering in conflict, oppression and injustice, acknowledging their resilience and courage and assuring them of our unwavering support, as we express our Irish identity including our strong commitment to democratic and humanitarian values. A priority focus of our national day will be to highlight that Ireland is an active, engaged, and fully committed member of the international community of free and democratic nations. In addition to expressing Ireland's support for the people of Ukraine and people in crisis everywhere, a core message of this year's St Patrick's Day is that Ireland is reopening. Our international programme is focused on the theme of rebuilding connections and supporting our communities across the globe, acknowledging the importance of Ireland's global diaspora. The greening of the National Gallery of Zimbabwe will occur on 17 and 18 March.
[ENDS]
Notes to Editors
For more information about the Embassy of Ireland see: https://www.dfa.ie/irish-embassy/south-africa/
Professional images and videos of the greening at the National Gallery of Zimbabwe will be provided on request.
Should media houses be interested in visiting the National Gallery of Zimbabwe during the greening of the site, please contact Dumisile Msimanga on dumisile.msimanga@dfa.ie or +263776446203.
__________________________________________________
Interviews:
For more information or to request an interview with the Embassy of Ireland or the National Gallery of Zimbabwe, please contact Dumisile Msimanga on dumisile.msimanga@dfa.ie or +263776446203.