Supporting Girls in Zimbabwe on International Day of the Girl Child
News
09 October 2020
This International Day of the Girl Child, the Embassy of Ireland affirms and recognises the rights of girl children. In Zimbabwe, the Embassy supports the Trinity Project, a non-governmental organization that advocates for children's and women's rights to secure identification documents.
Less than half of all Zimbabwean children under the age of five have a birth certificate. Without a birth certificate, a child cannot enrol in school, sit formal examinations, or take part in extra-curricular activities such as music or sport. A recent report by the Zimbabwe Human Rights Commission (ZHRC) states that approximately 2.3 million children under 18 in Zimbabwe do not have a birth certificate.
Trinity Project recognises that the reasons for the non-registration of children, especially girl children, have strong social and cultural roots. The organisation works to raise awareness of the social customs and traditions which prevent identity registration, and provides free legal services and advice to ensure that every child can access identity documents and grasp their fundamental right to education. This not only helps to promote and protect human rights, but also delivers social and economic benefits for Zimbabwe.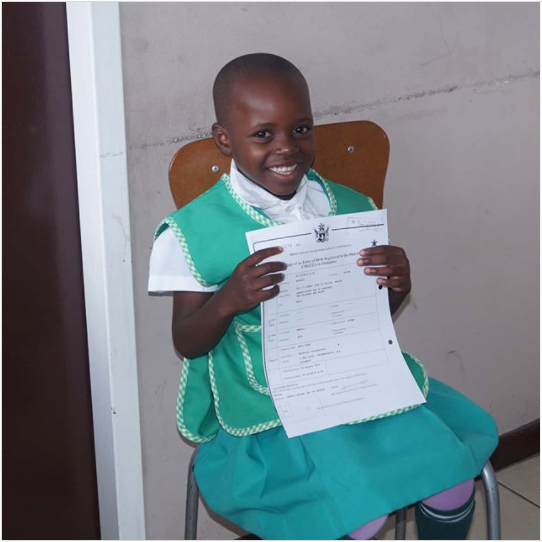 Living in an informal settlement in the outskirts of a southwestern city in Zimbabwe, a mother and her three girl children were destined to live a life of obscurity with no clear identity having no access to birth certificates and identity documents issued by the state. Interventions by the Trinity Project assisted Miriam* and her children, 16 year-old Tinashe*, 14 year-old Tatenda* and 12 year-old Lucy,* to gain access to justice and uphold the right to personal identity which is enshrined in the Constitution of Zimbabwe. Through this support, Miriam's children were able to attend school, access social services and better assert their rights as girl children. They can now look forward to a brighter future.
The government of Ireland believes that gender equality and the empowerment of women and girls, and in particular, access to education for girls, is a priority in achieving the Sustainable Development Goals. Ireland has committed to providing at least €250 million over the next five years to global education, with a focus on improving access to quality education, especially for girls, and access to education in emergencies. As we commemorate 25 years since the adoption of the Beijing Declaration and Platform for Action, the global agenda for advancing the rights and empowerment of women and girls, we reaffirm our commitment to the empowerment of women and girl children in Zimbabwe.