Blog - Empowering and Celebrating the Girl Child: International Day of a Girl Child
News
08 October 2021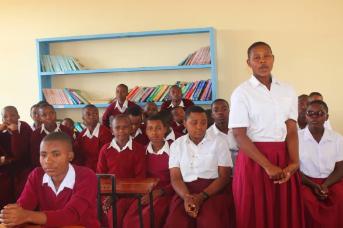 The rights of women and girls are high on Ireland's agenda, both in the work of the Irish Embassy here in Tanzania, and more broadly through Ireland's foreign and international development policies. The Embassy of Ireland's mission strategy 2017-2021 identifies gender inequality as one of Tanzania's most urgent development challenges, and consequently puts women and girls at the centre of all our work.
Gender Based Violence (GBV) remains unacceptably high in Tanzania. Early marriage and teenage pregnancy are core issues that further drive gender inequalities and hinder girls from realising their full potential. In Tanzania, almost two out of five girls are married before their 18th birthday, and one-in four start childbearing during their teenage years.
Emerging data shows that since the outbreak of COVID-19, violence against women and girls - and particularly domestic violence - has intensified. According to the LHRC Human Rights Report 2020, gender based violence and discrimination towards women and girls accelerated due to COVID-19, with an overall decrease in outreach services. There has also been a reported increase in teenage pregnancy, early marriage and female genital mutilation (FGM) practices. We know that COVID-19 has a disproportionate impact on the most vulnerable populations, and has already compounded existing gender inequalities, increasing the incidence and risks of GBV.
The Irish Embassy's commitment to advancing the rights of the women and girls is evident through its response to the impacts of COVID-19, supporting a wide range of programmes that aim to empower girls to amplify their voices, as well as address those structural barriers that continue to hold girls back. Working with both local and International partners, Ireland supports community level mechanisms to transform social norms and practices that perpetuate violence; build the capacity of effective response services to GBV; and amplify the voices of women and girls.
Keeping girls in school is a key priority to ensure that they can reach their full potential. Ireland supports adolescent girls to complete their secondary school studies through education, skills building and the provision of services on sexual and reproductive health and rights (SRHR). During school closures resulting from COVID-19, we supported partners in their use of radio to promote safety measures to contain the spread of the virus, and support parents in enabling their children to study and stay safe at home. To ensure justice for women and girls, the Embassy is supporting a programme to strengthen the capacity of criminal justice institutions to respond to GBV matters with a specific focus on matters relating to the investigation, prosecution and adjudication of child sexual abuse cases.
While much remains to be done, a key lesson from Ireland's experience is that sustainable development requires complementary social, cultural and structural change that supports the participation of all sections of society - women and men, girls and boys, young and old.
Today, we want to see the right of girls to dream and realise their goals safeguarded, no matter what their circumstances. As we celebrate the International Day of the Girl Child, Ireland is participating the #GirlsTakeOver event with an opportunity given to Sandra – a young aspiring Tanzanian leader and entrepreneur to learn and practice her leadership skills at the Embassy. Ireland will continue to support women and girls to live their lives to the full, unhindered by fear, oppression or prejudice.