Spotlight: Meet Our 2022-2023 Ireland Fellows!
News
18 July 2023
The Ireland Fellows Programme is a fully-funded scholarship opportunity open to professionals from eligible developing countries to study at Master's level in Ireland's world-renowned Higher Education Institutions, offered by the Irish Government.
The Ireland-Africa Fellows Programme (IAFP) and Ireland-SIDS Fellows Programme, aims to nurture future leaders and develop in-country capacity to achieve national Sustainable Development Goals. In Tanzania, the programme has supported hundreds of individuals over the past forty years to further their education and professional careers.
In 2022, sixteen Ireland Fellows from Tanzania and Seychelles went to Ireland to pursue Master's degrees.
Here, they share their experiences of their time in Ireland studying Climate Change, Development, Health, Innovation and Information Technology; as well as how they embraced Irish culture and how they intend to contribute to their communities after the completion of their studies.
Herieth Ismael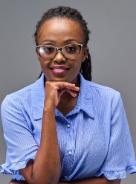 ‌
"My name is Herieth Ismael, a Clinician and Researcher working with Ifakara Health Institute currently pursuing a Master's in Global Health at Trinity College Dublin.
My experience with the IAFP has been incredible, filled with enjoyable moments and substantial personal growth, both academically and socially. It has been a truly remarkable and enriching experience. I've had the opportunity to connect with diverse individuals from various corners of the globe, allowing for cultural exchange, valuable insights, and the forging of meaningful friendships.
I am eager to cultivate and nurture the network I have built with fellow professionals from around the world to collectively drive the transformative changes we aspire to see in the realm of global health. Together, we can make a lasting impact and contribute towards creating a healthier and more equitable world."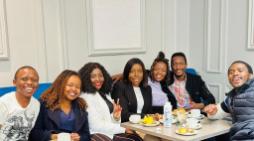 Sylvester Chigwala
‌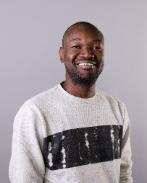 "My name is Sylvester Chigwala, a Civil Engineer currently doing a Master's of Engineering in Sustainable Infrastructure at Technological University Dublin.
Infrastructure is central in meeting the Sustainable Development Goals, however if designed and constructed wrongly, infrastructure can have detrimental impact to the environment. As an engineer, I have gained in depth understanding of infrastructure economics, analysis and designing options that will be helpful throughout my career and in meeting the SDGs.
My most memorable moment so far has been my participation in the PROFFESS12 summer school programme. This project was designed to equip engineering students with skills to address the SDGs, particularly SDG12 which focuses on responsible and sustainable consumption. As part of this program I was able to travel outside Ireland and visit Northern Ireland.
I am excited to put the knowledge and skills gained throughout my study here in Ireland into reality to address some real world challenges. My thesis is about assessing the potential of renewable electricity technologies in Tanzania and I hope through this case study that I can contribute to improving Tanzania's power supply mix by recommending the increase of more renewables to comply with the UN SDGs target of Zero Carbon by 2050."
Aidah Munissi
‌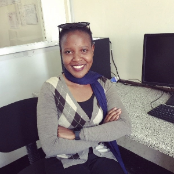 "My name is Aidah Elingaya Munissi, a Research Assistant at the National Institute for Medical Researchers in Tanzania, pursuing a Master's in Public Policy at Dublin City University in Ireland.
I have enjoyed acquiring the knowledge and skills that will enable me to improve policy making systems when I return to my home country, through building capacity and collaborating with other stakeholders. I look forward to helping my country to excel in the achievement of the Sustainable Development Goals, in order to improve the general welfare of the people of Tanzania."
‌
Calister Simba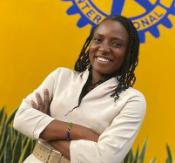 ‌
"My name is Calister Apollonary Simba. I'm an Information Systems Security Engineer, studying a MSc in Cybersecurity at Munster Technological University. I am so happy with the rich and warm welcome I have received in Ireland, exploring the diverse culture and people.
I have built strong networks with other Ireland Fellows and have received state of the art knowledge and insights in cybersecurity that will enable me to transform the cybersecurity industry in Tanzania and create a better cyberspace for both women and men."
George Uzice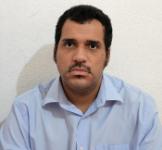 "My name is George Uzice from Seychelles. I am a Climate Change Negotiator in the Ministry of Agriculture, Climate Change and Environment, doing my Master's in Climate Change at Maynooth University in Ireland. This exciting opportunity has deepened my knowledge of climate change and has offered me amazing academic and cultural experiences in Ireland.
This experience has enabled me to develop the skills, ethic and values conducive to being not only an effective citizen of the world but also to become one of tomorrows' leaders. Upon completion of my studies, I would like to use the knowledge and skills that I have obtained to help Seychelles in the implementation of its National Determined Contribution."
Julieth Kweka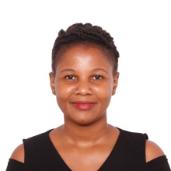 "My name is Julieth Kweka, and I am a Socio-Economic Researcher and Youth Specialist, with a specific focus on gender, education, and economic empowerment. As an awardee of the Ireland Fellowship Programme, I am pursuing my Master's degree in International Development Practice at the National University of Ireland, Galway.
This opportunity has equipped me with in-depth knowledge and skills to understand how well key strategies, policies, and practices can be attained to foster more just communities. I will be more prompt in advocating for equity and economic empowerment of the marginalized communities through policy analysis and innovatively offering relatable solutions to my country. It has also been a great chance to study, work and share experiences with people of different backgrounds around the world."
Mohamed Madati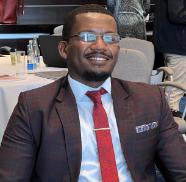 "My name is Mohamed Madati, I have been in the financial inclusion space for the past 6 years and I am currently working as a Product Development Manager for Brac Tanzania. I joined Maynooth University, pursuing a Master's of Science in Strategy and Innovation.
I wanted to study in Ireland to learn from subject experts and apply this knowledge to create real change in Tanzania. Following Covid-19, supply chains have been disrupted and markets are less accessible. Now I'm learning how organisations and businesses can design strategies and innovate around these new challenges so that we can deliver value for clients while ensuring economic viability."
Neema Mollel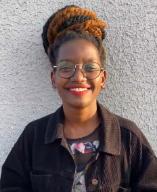 "My name is Neema Mussa Mollel, a proud Maasai from the village of Engaruka in Arusha. My Maasai heritage is a vital part of who I am and drives my passion for empowering others.
Currently, I am pursuing a Master's degree in International Development at UCD, and this academic journey has been nothing short of exceptional. Through the Ireland Fellows Program, I've formed inspiring connections with fellow students from around the world, and my professors have become invaluable mentors. These relationships have opened doors for me, including a summer internship with Trocare, a top INGO in Ireland.
My one year in Ireland has been eye-opening and inspiring. The diversity at my university has made my experience fun and enriching. Now, I'm excited to bring my skills and experiences back home to support and guide young people in their career paths. I'm determined to give back to my community, particularly through the mentorship program I started for Maasai students across Universities in Tanzania."
Noel Mdoe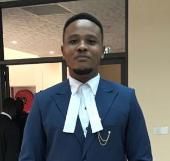 "My name is Noel James Mdoe. I am a Lawyer who specializes in Environmental Law and I have been practicing for four years now. I am undertaking a LLM in Environmental and Natural Resources Law at University College Cork in Ireland.
This opportunity has given me the chance to gain an immersive international cultural experience as well as access to world-class education. On my return home I plan to broaden my environmental law practice, in collaboration with non-government organizations and governmental agencies, I will work towards enriching the climate action process in my country through providing essential expertise gained from this opportunity."
Patricia Mhekwa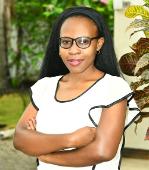 "My name is Patricia Mhekwa. I work as a Finance Assistant and Communications Officer, currently undertaking a Master's of Business at South East Technological University. This programme has provided me with extensive knowledge and practical aspects of management, leadership and tools of analytical thinking and decision making as a strategic leader.
I aim to champion socio-economic empowerment of youth in building sustainable enterprises and it is my intention to utilize the learnings and tools provided from this course to build capacity among youth-led enterprises on financial literacy and strategic management so as to contribute towards their accountability and sustainability."
Sia Ukwai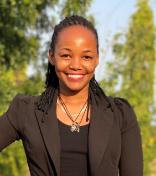 "My name is Sia Ukwai and I am a Data Analyst, doing a MSc in Geographic Information Science at Technological University Dublin. Ireland is known for championing innovation in many sectors including Computer Science. This has been the perfect setting for a Data Analyst like myself to gain necessary and up to date knowledge needed to address the SDGs especially Life on Land, which is my main focus through Computational Science.
With the knowledge and skills, I have acquired I will be able to transform and create data analysis tools that will assist in making informed decisions for proper utilization and allocation of the vast resources that Tanzania has. I strive for positive change in our environment and I believe GIS is one of the essential stepping stones in addressing environmental and socio-economic challenges in Tanzania."