Spotlight: 2019 - 2020 Ireland-Africa Programme Tanzanian Fellows – 2
News
04 July 2022
In 2019- 2020, 8 Tanzanian fellows under the Ireland-Africa Fellows Programme (IAFP) went to Ireland to pursue to their Master's degrees. Read about Zaynab and Kemilembe's experiences studying in Ireland, discovering Irish culture, and how their courses adapted following the COVID-19 pandemic and its restrictions.
Zaynab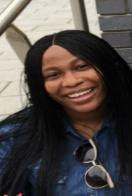 My name is Zaynab Turuku, and I am a Politics, Peace, and Security Analyst. Through the IAFP, I went to Dublin City University (DCU) to do a Master's in International Security and Conflict Studies.
My experience studying at DCU was quite enlightening. DCU offers an excellent education and the lecturers were supportive and exposed. The university has a conducive learning environment with many amenities; I especially enjoyed the well-stocked libraries.
DCU is also quite developed in terms of using information technology as a mode of delivery for learning; I like how DCU uses its Loop app to share readings and assignments for every module, students' progress, and administrative updates. It offers a student almost everything at their fingertips.
My accommodation at All Hallows Campus - also known as the "Harry Potter" building was very quiet and peaceful. I have fond memories of its spring blossoms; they looked wonderful.
I was a member of the International Relations club where I had an opportunity to hear from other international students as well as guests from other countries, which helped me to learn a lot about cultural and political diversity.
DCU was adaptive once the COVID-19 pandemic hit. Lectures were delivered over Zoom and we even had guest lectures via the app. I recall some of my quizzes were done on Zoom too. In addition, lecturers scheduled office hours to talk to students about classes and the pandemic, to encourage students to persevere.
My study experience at DCU has enhanced my analytical skills a lot, as well as improved my multi-tasking abilities since the course was very extensive. These skills will definitely be useful as I advance further in my career.
The highlight of my experience was being exposed to Ireland's rich culture and its good people.
Kemilembe
‌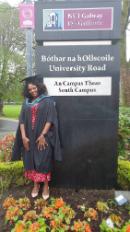 My name is Kemilembe Barongo and I am currently working as an Environmental and Social Auditor with ECOCERT, which promotes good environmental and societal practices across all sectors. I studied a Masters of Sciences in Climate Change, Agriculture and Food Security at the National University of Ireland, Galway.
I had a great experience; the student-focused course structure enabled me to explore and understand the topics more. The friendly lecturers ensured that my studies were well understood. Before the COVID 19 pandemic, studies were delivered in-person and later entirely virtually due to COVID 19 restrictions. The course involved a few insightful study tours as well.
The campus environment was excellent, with all the necessary facilities to support my studies. I joined many student clubs in my first semester and although it was short-lived due to the subsequent COVID-19 restrictions, I thoroughly enjoyed them.
The university representatives responsible for overseeing the COVID-19 issue called frequently to ensure I was safe and sent regular emails on all updates concerning the pandemic.
I found that the assignments and presentations in the course targeted engaging research topics and case studies and strengthened our ability to construct and share ideas. Different organizations, successful personnel, and PhD students were invited to share their experiences on topics during each module, which gave us great insight for our careers.
I am grateful for the amazing opportunity I got to further my studies in Ireland. I had the best experience and advanced greatly in my career building. Ireland and specifically Galway is the best place to be.