Spotlight: 2019 - 2020 Ireland-Africa Programme Tanzanian Fellows – 1
News
19 July 2021
In 2019- 2020, 8 Tanzanian fellows under the Ireland-Africa Fellows Programme (IAFP) went to Ireland to pursue to their Master's degrees. Read about Deborah and Fredrick's experiences studying in Ireland, discovering Irish culture, and how their courses adapted following the COVID-19 pandemic and its restrictions.
Deborah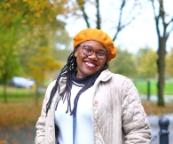 My name is Deborah Esau, currently working for the Partnership for Nutrition in Tanzania (PANITA) as Nutrition Program Officer. My main duties include project design, implementation and monitoring; advocacy and capacity building in Nutrition; as well as coordination of civil society organisations (CSOs) dealing with nutrition specific and sensitive sectors.
In Ireland, I attended Trinity College Dublin (TCD) studying a Master's of Sciences in Community Health. It was amazing to be among those selected to join this university to further my education. At Trinity, I had a great experience; from the learning environment and facilities, to the supportive lecturers and staff that made sure that I was well cared for and could assimilate to the new learning environment as an international student.
The classes were delivered face to face through seminars, workshops, or presentations. This was great as it encouraged dialogue and discussion on topics given the complexity and importance of human health and community interactions. In the last semester, courses moved online due to the COVID-19 pandemic. This was a major shift for me personally, but the sessions were tailored to be as interactive and inclusive as possible and the lecturers were very accommodative of us. The Student Learning Department was also very keen to make sure that our wellbeing and mental health was prioritized.
Apart from the academic life, Ireland is a beautiful country, rich in nature and breath-taking scenery. While I didn't enjoy the cold, travelling across Galway, Cork, and Limerick I found Irish people to be very kind and they made sure to make you feel less lonely in the foreign country. My trip to Belfast, Northern Ireland was worthwhile too.
To sum it all up, I had an amazing experience and great time at Trinity College Dublin and Ireland as a whole. I hope more people get this opportunity to further their studies and experience life in this beautiful country.
Fredrick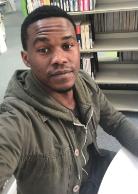 My name is Fredrick J. Sigalla. I am currently consulting with Tumaini University Dar es Salaam College as a Senior Systems Analyst where I lead process automation as well as upgrading of their IT Infrastructure.
I did a Master's of Science in Data Analytics at Athlone Institute of Technology (AIT) in Ireland.
AIT is a great college with all the necessary resources for a student to study comfortably. The best part of the college was its International Student Department; they helped me a lot in getting to speed, both academically and socially.
The campus is located very conducively; it was remote enough to allow students to concentrate on their studies but central and convenient as well. My overall experience was very adventurous.
Although the COVID-19 restrictions resulted to all classes being moved to online platforms, prior to the pandemic, the school organized study tours to big IT companies like Microsoft, Dell and Ericsson. This not only gave us an opportunity to see what is happening in the real world, but it also gave us a chance to get career advice from the people who are the top in their field.
The study tour the school organized to Microsoft is definitely at the top of my highlights during my study period in Ireland.