Visit of the Secretary General of Ireland's Department of Foreign Affairs to Tanzania 3-5 June 2022
Press release
03 June 2022
Press Release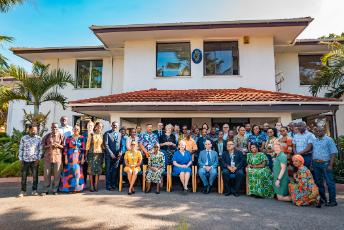 The Secretary General of Ireland's Department of Foreign Affairs, Joe Hackett, visits Tanzania from 3 to 5 June 2022, accompanied by incoming Director General of Irish Aid, Michael Gaffey. The visit is an important opportunity for the Secretary General to engage with the breadth of work of Ireland's Embassy in Tanzania, including political engagement and development cooperation. It comes as Ireland prepares to launch its new mission strategy, Ireland in Tanzania 2022-2026, which builds on 43 years of Irish-Tanzanian relations and envisages a total development cooperation spend of €110 million over five years through its Embassy in Dar es Salaam.
The Secretary General pays a courtesy call to Tanzania's Foreign Minister, Liberata Mulamula on Friday June 3rd, accompanied by Ireland's Ambassador to Tanzania, Mary O'Neill. The delegation then commences a two-day field visit to Pwani and Tanga regions to view a number of programmes supported by Ireland.
In Bagamoyo District, the Secretary General meets with Bagamoyo District Commissioner, Zainab Abdallah Issa; District Executive Director, Shauri Selenda; and District Administrative Secretary, Ms. Kasilda Jeremiah. The delegation visits the home of Halima Hamisi Dumba, a beneficiary of Tanzania's productive social safety net programme, the PSSN – which Ireland supports - and meets officials from TASAF who are implementing the programme.
In Pangani District, the delegation visits Kimang'a village, where the Secretary General engages with the local community and Embassy partner UZIKWASA about their pioneering work challenging the social and cultural norms that underpin violence against women and girls. This is followed by a visit to Pangani District Hospital, which Ireland supports through the innovative financing facility of the multi-donor Health Basket Fund. The delegation then move on to hear about the emerging work of the International Union for the Conservation of Nature (IUCN), a new Irish Embassy partner that supports environmental protection and sustainable livelihoods development in the coastal regions of Tanga and Pemba (Zanzibar). The delegation meets with JIFUTE, a cooperative of local youths, to learn about their crab fattening initiative and plans for future expansion.
In Tanga town, the delegation meets with Regional Commissioner, Honorouable Adam Kighoma Malima, as well as representatives of the Tanzania Livestock Research Institute (TALIRI). The Irish Embassy supports a two-way exchange between TALIRI and its Irish counterpart on sustainable dairy value chains in Tanga.
[ENDS]
Notes:
Ireland has had diplomatic relations with Tanzania since 1979.
Ireland's Ambassador to Tanzania is Mary O'Neill.
Ireland's new mission strategy, Ireland in Tanzania 2022-2026, is due to be published in September 2022. It will cover all areas of Ireland's engagement with Tanzania and secondary accreditation countries, including political, trade, development cooperation (Irish Aid), consular assistance and cultural links.
Ireland's new mission strategy anticipates a total of €110 million in bilateral assistance to Tanzania over five years (2022-26).