Building Africa's Capacity through the Ireland-Africa Fellows Programme
News
25 May 2021
Over the last 45 years, the Ireland Fellows Programme has supported more than 2,000 successful awardees with the opportunity to pursue their Master's degrees at some of the top higher education institutions in Ireland.
On their return home, these graduates have committed to putting their acquired knowledge and skills into practice for the benefit of the wider community. They have also contributed to building long-lasting positive personal and professional relationships with Ireland.
In 2019- 2020, 8 Tanzanian fellows under the Ireland-Africa Fellows Programme (IAFP) went to Ireland to pursue to their Master's degrees. Keep reading to hear about their experiences, including how their courses adapted following the COVID-19 pandemic.
Lilian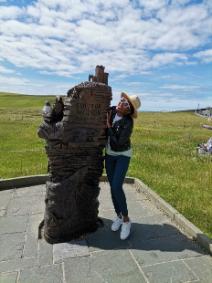 My name is Lilian Simule and I currently work as the Managing Director for Agrosteps Tanzania Limited. I also serve as the Chairperson for Tanzania Development Lightening Initiative (TDLI), a local NGO supporting girls' access to quality education.
In November 2020, I graduated from University College Dublin (UCD) with a Master's in International Development under the IAFP.
Being an international student in Ireland was a great experience. I enjoyed the lectures and seminars, which were interesting and interactive. The best part was drawing from the experiences of students with varied backgrounds through discussions and group assignments.
I think UCD has one of the most spectacular campuses in Dublin. I was mesmerized from my first time on campus; the architecture and environment in general was very serene and comforting. I appreciated the wood trails around the campus that I took for my morning runs and the ample picnic space. The university provided the best structures to support my academic performance and personal growth.
The campus also provided a range of social activities and I found a new passion for Tae-Kwon-Do. This defensive martial arts training became one of my biggest hobbies and I became a gold medallist for Female white belt sparring Tae-Kwon-Do Intervarsity competition for East Coast Ireland held in February 2020.
In response to the COVID-19 pandemic, UCD provided sufficient support for students, with special care for international students; including consistent communication on the pandemic and its impact on our learning structures, flexible study and assessment options and free counselling services for students. I believe the university's effort to provide access to these services through the Student Health and Counselling centre was one of the most effective ways to support students.
Apart from the excellent academic delivery, the university continuously provided opportunities to explore my field of study and prepare for work in the real world. I had access to the career centre, which organized seminars on professional branding, job search and career talks with UCD Alumni working in the development sector.
I also got a chance to attend workshops that brought together renowned practitioners and scholars to discuss contemporary issues in development. Such spaces provided practical insights on global issues and the opportunity to network and expand my social capital.
One of my most cherished memories was my trip to Donegal in the Northern part of Ireland where I explored the Malin Head (Ireland's most northerly point) and drove through lovely towns like Letterkenny and Killybegs. I was also lucky to cycle to the Slieve League cliffs and swim at the Silver strand beach in Carrick during this trip.
I would like to extend my gratitude to the IAFP and ICOS for the opportunity. Their support was key in ensuring that I successfully completed my studies and returned home safely. Their openness and flexibility allowed me and other fellows to reach out and get the help we needed throughout the program. I hope to pay this forward through service to others.
Magreth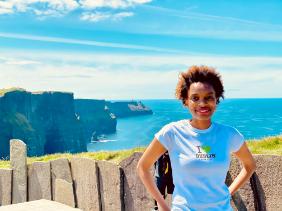 My name is Magreth Thadei Mwakilasa and I am a Research Fellow Trainee in Medical Sociology at Muhimbili University of Health and Allied Sciences.
My work at involves writing research proposals, teaching and researching in medical sociology and so I have always wanted to become a social researcher to be able to understand how diseases are socially constructed.
In August 2019, I was awarded the Irish Aid Fellowship to undertake a Master's of Sciences in Applied Social Research at Trinity College of Dublin (TCD). The programme provided me with a deeper understanding of data analysis and research writing skills. I loved how the teaching and supporting staff in Ireland were friendly and provided their maximum support to ensure that students have wonderful learning experiences.
I was also amazed by how the university is packed with many extra curriculum activities. My friends and I enjoyed going to the gym in the evening.
Another interesting aspect of my course was my field placement, which I did with the Health Information and Quality Authority on their National Inpatients Experience Survey where I worked as a research intern. During my work placement, I worked with top researchers in the country gaining hands-on skills on how to manage and deal with large data from surveys. I was able to utilise this insight to carry out my dissertation.
I was amazed by how quickly TCD changed to an online mode of teaching following the COVID-19 pandemic. With the continued support from teaching and supporting staff, it was easy to carry on with online classes and dissertation. Trinity sports centre even offered online workout sessions during the pandemic to ensure a healthy lifestyle.
I can confidently say that the programme equipped me with competent skills in research, which have proved to be useful in carrying my daily research and teaching activities at Muhimbili. As academic staff, it is crucial for me to further my education and this master's course has laid a foundation into my PhD applications and development of my PhD research proposal.
In recognising the important of publishing, TCD offered workshops on how to develop a manuscript that enabled me to gain valuable skills on how to write and publish research articles in reputable journals. Currently, I am developing a research article based on the results of my dissertation.
My worry over moving abroad for studies was extinguished by the humbleness of the Irish people and their culture. I enjoyed every aspect of my time in the country. This fellowship did not only give me the chance to study abroad but it provided me with an opportunity to meet and network with fellow students from different countries with a drive to make changes in their countries.