Covid-19 Information for Irish Citizens
News
29 April 2020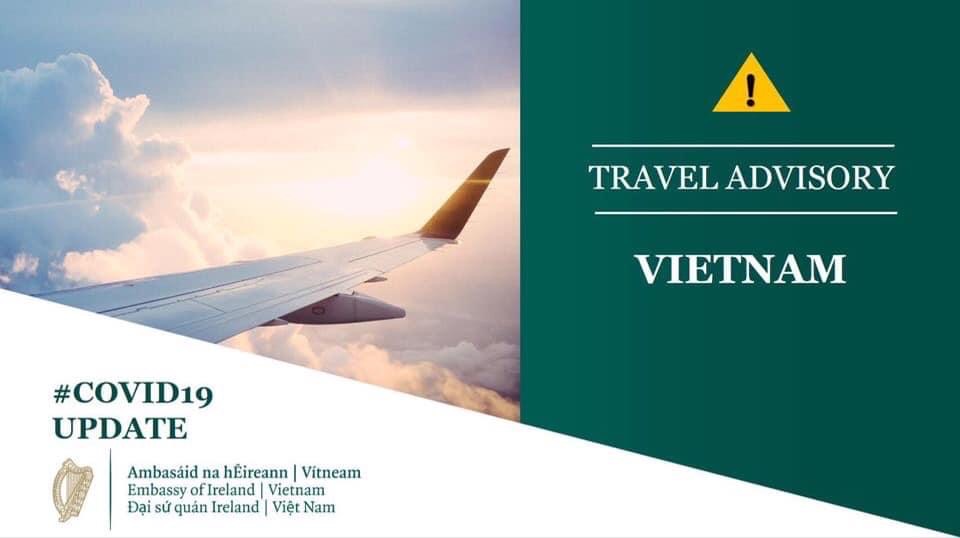 Information for Irish Citizens in Vietnam (updated 27 July 2020)
GENERAL
Supporting Irish citizens remains our number one priority.
The Irish Embassy in Hanoi is operating normal office hours, 9AM – 12PM and 1PM – 4:30PM by appointment. Please sanitize your hands, practice social distancing and always wear a facemask in the Embassy.
We strongly encourage all citizens to register with the embassy on the Citizens Register
Irish citizens should follow our Travel Advice

.

We are monitoring the situation closely and update our advice regularly.
Make sure to follow us on social media for the latest updates:
https://www.facebook.com/irishembassyinvietnam/
https://twitter.com/irlembvietnam
AVOID ALL NON-ESSENTIAL TRAVEL
The Government of Ireland advises against all non-essential to Vietnam.
If you are a tourist, you should seek to return to the Ireland as soon as possible by commercial means.
If you are residing in Vietnam without stable employment, a long-term visa, family, health insurance or savings, you should be thinking about returning to Ireland.
Vietnam has temporarily suspended the issuing of visas and the entry of foreign nationals into Vietnam. The Embassy has no information on when this suspension will be lifted.
There are a very small number of exceptions foreign experts and high skilled workers, which are decided on a case-by-case basis. Applications for permission to travel are led by Vietnamese employers who must work directly with provincial government offices. If you are permitted to travel please note you will be required to complete 14 days quarantine during which you will be tested for COVID19 on approx. 5 occasions. Please contact your employer in Vietnam or your nearest Vietnamese Embassy for more information.
COVID-19 IN VIETNAM
Thus far, Vietnam have largely managed to contain the spread of COVID-19 with the majority of cases being detected at quarantine facilities following the arrival of inward repatriation flights.
From 25 July 2020 a cluster of cases of COVID-19 have been detected in Da Nang and Quang Ngai. Additional cases have been detected which are linked to DaNang in Hanoi, Ho Chi Minh city, Quang Nam and Dak Lak.
If you have been in DaNang since 1 July 2020 it may be necessary to have a COVID19 test. Please complete a health declaration at https://tokhaiyte.vn/ and notify your accommodation provider or employer.
The authorities are responding strongly to these cases of community transmission with partial lockdown of DaNang from 29/07 and Hoi An from 31/07 for a period of 14 days.
Authorities in other provinces in Vietnam, including Hanoi, Ho Chi Minh city and Hue have increased social distancing measures.
Irish citizens are asked to wear a mask in public places and follow the instructions of local authorities in their containment efforts.
If you are affected by the latest outbreak and have any concerns please contact us at https://www.dfa.ie/irish-embassy/vietnam/contact-us/.
ADVICE FOR IRISH CITIZENS RESIDENT IN VIETNAM
If you are financially secure and resident here in Vietnam, we are not advising you to return to Ireland at this time.
Irish citizens who choose to stay in Vietnam should be aware that returning to Ireland might not be possible for some time.
You should comply with the social distancing and domestic restrictions put in place by local authorities during the pandemic.
Irish citizens who choose to remain in Vietnam should note that mandatory quarantine is part of the Vietnamese government response to Covid-19. Should you have serious concerns about undertaking quarantine in Vietnam, you should consider returning to Ireland.
INTERNATIONAL FLIGHTS
There are a growing number of airlines allowing people to book flights from Vietnam online where you can find a route back to Ireland. These airlines include Korean Air via Seoul to London, Cathay Pacific via Hong Kong to London, Qatar via Doha to London/Dublin and Emirates via Dubai to London/Dublin. There are numerous flight options from London to Dublin. You should check directly with the airline or your travel agent to ensure that flights are guaranteed to fly.
For transit, please ensure that you have purchased a through ticket and that your transit time is less than 24 hours. You are not permitted to enter transit countries. Currently you cannot transit through airports at Bangkok, or Moscow. Please see here for more information on airport restrictions: https://www.iatatravelcentre.com/international-travel-document-news/1580226297.htm
From 1 August 2020 transit through Dubai is only possible with a negative COVID-19 test certificate issued no more than 96 hours before arrival in Dubai.
Due to COVID19, flights are still prone to changes with little notice. Please check with your airline or travel agent for the most up to date information on flights, travel, transit and visa requirements. The Embassy cannot take any responsibility for changes made to airline schedules.
VISAS
The Embassy, has worked together with the Delegation of the European Union, and engaged with the authorities in Vietnam to seek flexibility in order to enable EU citizens who are tourists in Vietnam to extend visas and/or obtain exit visas.
Irish citizens who are tourists and have been unable to leave Vietnam for good reason (due to quarantine/self-isolation or flight cancellations) as a consequence of COVID-19 may qualify for an automatic visa extension depending on the date you entered. Please follow this link for more information https://www.dfa.ie/irish-embassy/vietnam/news-and-events/news-archive/vietnam---visa-extension--exit-visa.html
Citizens who are in Vietnam on business, employment or other forms of immigration status will need to discuss their options with their employer or immigration agent as normal.
If you want to stay long term in Vietnam, you should only do so legally and with the correct visa. It is unlawful to work in Vietnam while on a visit visa.
QUARANTINE AND SOCIAL DISTANCING
Contact tracing and mandatory quarantine is a major part of Vietnam's COVID-19 response. Quarantine facilities in Vietnam are basic.
If you meet someone who is positive with coronavirus, you must expect to undergo quarantine in a government centre. It lasts for a minimum of 14 days and in some cases longer.
These are mandatory requirements from the Vietnamese Ministry of Health. The Irish Government is limited to the support it can offer citizens who find themselves in quarantine. We are unable to have these requirements changed or shortened.
Irish citizens choosing to stay in Vietnam must be prepared to comply with Vietnamese public health rules.
RETURNING TO IRELAND
If you are returning to Ireland from any country, you will need to restrict your movements for 14 days. This includes Irish citizens returning home. Restricting your movements means staying indoors and completely avoiding contact with other people. During this time you are permitted to go outside for exercise but should ensure that you keep 2 metres distance from other people.
You will need to complete a 'Public Health Passenger Locator Form' before you arrive in Ireland and hand it to Border Management Staff on arrival. You may be contacted during the 14 days after you arrive in Ireland to check that you are self-isolating. You can download the form: https://www2.hse.ie/file-library/coronavirus/covid-19-passenger-locator-form.pdf
Further advice for people who have recently returned from abroad from the Health Service Executive: https://www2.hse.ie/conditions/coronavirus/coronavirus.html