Covid-19 Information for Irish Citizens
News
29 April 2020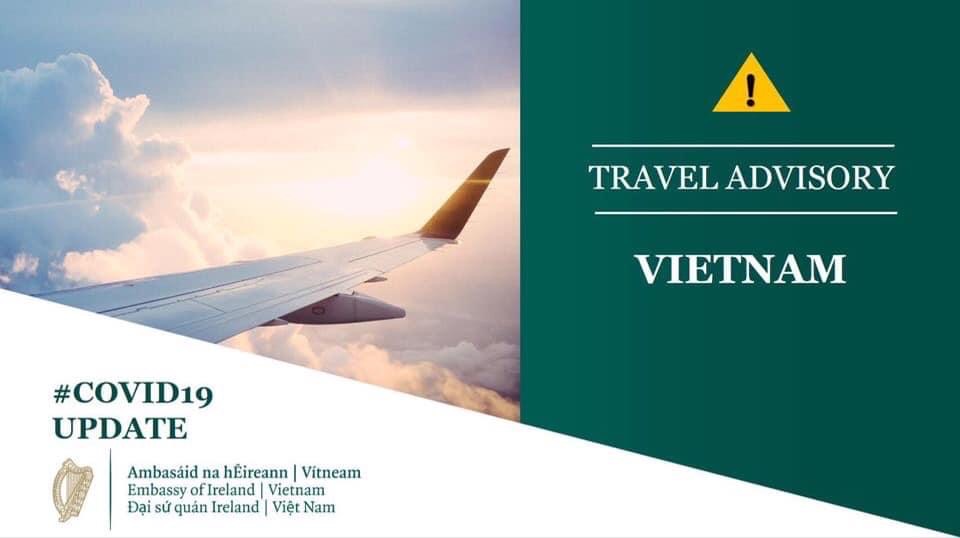 COVID-19 Update:
Information for Irish Citizens in Vietnam
GENERAL
Supporting Irish citizens remains our number one priority.

The Irish Embassy in Hanoi is operating normal office hours, 9AM – 12PM and 1PM – 4:30PM by appointment. Please sanitize your hands, practice social distancing and always wear a facemask in the Embassy.

We strongly encourage all citizens to register with the embassy on the Citizens Register

Irish citizens should follow our Travel Advice. We are monitoring the situation closely and update our advice regularly.

Make sure to follow us on social media for the latest updates:

https://www.facebook.com/irishembassyinvietnam/

If you need to contact the Embassy please do so at the following link - https://www.dfa.ie/irish-embassy/vietnam/contact-us/
AVOID ALL NON-ESSENTIAL TRAVEL
The Government of Ireland advises against all non-essential travel globally, including to Vietnam.

If you are a tourist, you should seek to return to the Ireland as soon as possible by commercial means.

If you are residing in Vietnam without stable employment, a long-term visa, family, health insurance or savings, you should be thinking about returning to Ireland.
ADVICE FOR IRISH CITIZENS RESIDENT IN VIETNAM
If you are financially secure and resident here in Vietnam, we are not advising you to return to Ireland at this time.

Irish citizens who choose to stay in Vietnam should be aware that returning to Ireland might not be possible for some time.

You should comply with the social distancing and domestic restrictions put in place by local authorities during the pandemic.

Irish citizens who choose to remain in Vietnam should note that mandatory quarantine is part of the Vietnamese government response to Covid-19. Should you have serious concerns about undertaking quarantine in Vietnam, you should consider returning to Ireland.
INTERNATIONAL FLIGHTS
Since March, the Embassy has been warning citizens of a significant reduction in the availability of flights and advising Irish citizen wishing to leave, to do so as soon as possible.

A very limited number of commercial flights are now available; however, prices remain high for the foreseeable future.

Please note that it is not currently possible to transit through Hong Kong, Bangkok, Singapore or Moscow.
VISAS
The Embassy, working together with the Delegation of the European Union, is engaging with the relevant authorities in Vietnam, Cambodia and Lao PDR in light of COVID19 and related challenges, to seek flexibility from the authorities in order to enable EU citizens who are tourists in Vietnam to extend visas and/or obtain exit visas for each country.

From 1 April 2020 - 23 April 2020, in line with new social distancing policy, the Vietnam Department of Immigration announced the closure of their offices. For citizens whose visa expires during this period or, as a consequence of COVID-19 (flight cancellations etc.), you will not be penalised and will be able to depart Vietnam during this period without penalty.

Irish citizens who are tourists and have been unable to leave Vietnam for good reason (due to quarantine/self-isolation or flight cancellations) as a consequence of COVID-19 and who wish to extend visas to prepare for their departure can now do so. Please follow this link to instructions for Irish tourists in Vietnam who are impacted by COVID-19 - https://www.dfa.ie/irish-embassy/vietnam/news-and-events/news-archive/vietnam---visa-extension--exit-visa.html

Citizens who are in Vietnam on business, employment or other forms of immigration status will need to discuss their options with their employer or immigration agent as normal.

If you want to stay long term in Vietnam you should only do so legally and with the correct visa. It is unlawful to work in Vietnam while on a visit visa.
QUARANTINE AND SOCIAL DISTANCING
Contact tracing and mandatory quarantine is a major part of Vietnam's COVID-19 response. Quarantine facilities in Vietnam are basic.

If you come into contact with someone who is positive with coronavirus you must expect to undergo quarantine in a government centre. It lasts for a minimum of 14 days and in some cases longer.

These are mandatory requirements from the Vietnamese Ministry of Health. The Irish Government is limited to the support it can offer citizens who find themselves in quarantine. We are unable to have these requirements changed or shortened.
Irish citizens choosing to stay in Vietnam must be prepared to comply with Vietnamese public health rules.
On 25 April, Vietnam Prime Minister Nguyen Xuan Phuc recently issued a new directive on measures against the COVID-19 pandemic:
Non-essential services will continue to remain closed until further notice.

Services like wholesale and retail, lotteries, hotels and other accommodation facilities, and restaurants, sport training facilities, tourist sites are allowed to reopen provided that the safety measures are deployed.

Provinces and cities with high risk of COVID-19 shall continue to implement the preventive measures of the Directive No. 16 dated on March 31, 2020.

Those with risk of COVID-19 shall encourage citizens not to leave home if not necessary and follow preventive instructions provided by competent authorities.

People are encouraged to keep minimum distance of one meter from each other.

Restrictions on public transport have been loosened since April 23 as Viet Nam moves to gradually ease social distancing rules.

Passenger road transport services are allowed to resume but all drivers and passengers shall have to wear face masks while soap and sanitizers must be available for passengers to wash hands.
Returning to Ireland
If you are returning to Ireland from any country, you will need to self-isolate for 14 days. This includes Irish citizens returning home. Self-isolation means staying indoors and completely avoiding contact with other people.
You will need to complete a 'Public Health Passenger Locator Form' before you arrive in Ireland and hand it to Border Management Staff on arrival. You may be contacted during the 14 days after you arrive in Ireland

to check that you are self-isolating. You can download the form:

https://www2.hse.ie/file-library/coronavirus/covid-19-public-health-passenger-locator-form.pdf

Further advice for people who have recently returned from abroad from the Health Service Executive: https://www2.hse.ie/conditions/coronavirus/coronavirus.html