Travelwise App
News
05 July 2017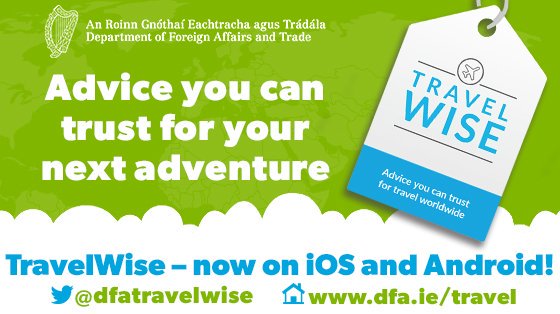 For citizens who have downloaded it, the TravelWise app is the most sophisticated crisis tool the Department of Foreign Affairs and Trade has to communicate in real time with Irish people abroad caught up in a crisis, and was developed to help Irish people to stay safe and informed while travelling or living abroad. TravelWise is a free smartphone app that provides comprehensive and trusted travel advice for 200 countries in a user-friendly and appealing way. All content is available offline, meaning that emergency contacts for our global Embassy network are always in your pocket, with no need for roaming charges.
Increasing numbers of Irish people travel abroad - more than 7 million trips in 2016 – and increasing numbers travel to higher risk locations, driving sharp increases in the demand for security, health and other information, and a 54% increase this year in the number of serious consular cases (deaths abroad, hospitalisations, detentions, etc). The changing global security context also means that the demand for information and support is also higher in countries that would not traditionally have been considered to be of particular risk.
The development of the TravelWise app puts Ireland, internationally, at the top of the class: both in having the most advanced and sophisticated travel app of any Foreign Ministry, and in our ability tointeract and communicate instantaneously with our citizens around the globe in the event of a terrorist incident or other crisis, as demonstrated during recent attacks in Munich and in Thailand.
TravelWise is the most popular government travel app (per capita), with 9500 downloads in less than six months and over 300,000 screen views since its launch on 10 June 2016. And it is the highest rated app of its kind, with an average rating of 4.6 on Android and a similar reception on iOS (the German app is next, on 4.3). Information on the app is currently been sent with all new passport books when being delivered to our citizens.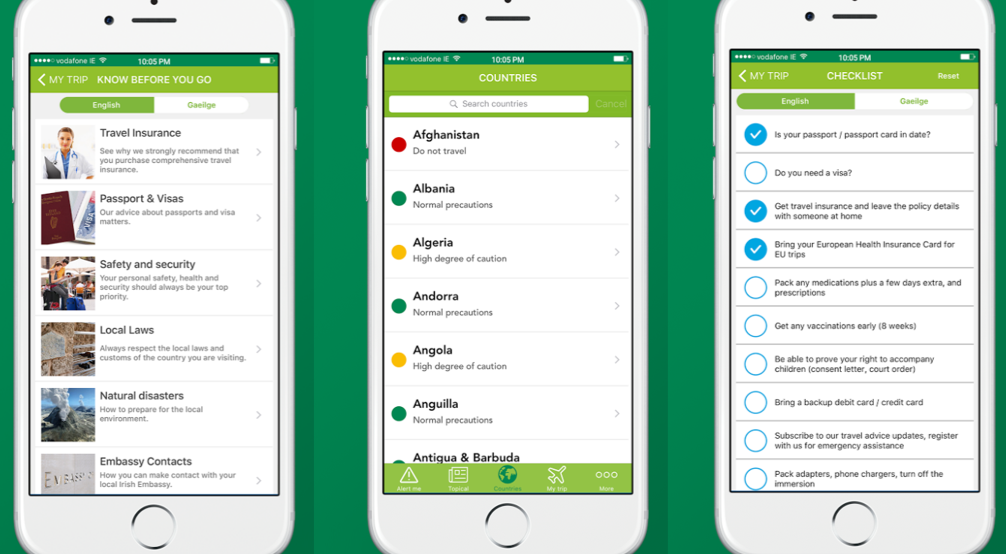 As a communications tool, the app allows users to customise alerts, to get security and other updates about their destination direct to their smartphone. Two-way communication and feedback to the Department is encouraged. A new alert feature allows targeted messaging to be pushed directly to the user's phone. The offline Embassy and emergency contact details puts this information into the hands of citizens when needed most. The app project has facilitated an upgrading of the work procedures and systems to provide assistance to citizens abroad - while offering a new, free, user-friendly product.
The app was Irish led and Irish developed, drawing on the expertise of domestic companies to support the Department's work. The result of this cooperation has been very positive with the app's strong design values recognised in its shortlisting for "Best Mobile App" by the Irish Internet Association and shortlisting for the Civil Service Excellence and Innovation Awards.
You can downled the TravelWise app through App Store or Google Play. You can also find out more information on our website.