Generation Green: Zoe Loughrey, 18
News
10 March 2021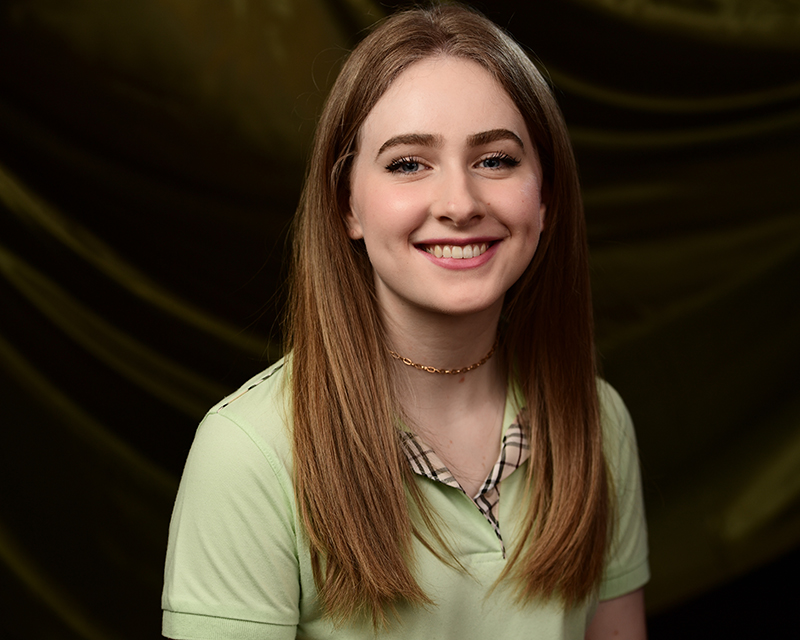 First Year Student of Social and Political Science
Irish Heritage
My father Hugh is from County Dublin and moved to Australia in 1996.
Between Two Worlds
The primary challenge of being a first generation Irish-Australian is clarifying where I am from.
I have always had to face a certain ambiguity in my heritage, a sense of disconnect with the surrounding Australian culture.
That lack of deep association is odd because I have never lived in Ireland, but I definitely feel more affiliated to my Irish ancestry. During my childhood I was obsessed with staying at Ashford Castle in County Mayo: its turrets and towers were the screensaver that I used to daydream over because the grounds are my dream location.
I grew up amongst my dad's Irish friends and relatives. One characteristic that really stands out for me is their unity, camaraderie and sense of pride in being Irish, which fostered my own strong connection with my heritage. My Irish dad always stood out. I remember my Aussie friends always liked his accent, even if it meant that they could barely understand what he was saying.
Even though mum is from Lake Macquarie, she is also connected to Dublin: her mum's grandmother was Irish and we have visited her birthplace in Ireland as a family. Funnily enough, mum shares that cultural tie almost as much. She is very drawn to Irish culture and feels affiliated through her grandparents. My dad has been a gateway for mum to reconnect, so she has adopted the old country too.
Being able to travel to Ireland has fostered a real appreciation for the culture there, giving me a thirst to discover more about the world, which my dad has always encouraged. Primarily, growing up with an Irish father has been a really positive experience, opening up an avenue to European culture and the exploration of other places.
Flying The Flag Downunder
In a match, my dad is always a fervent supporter of Ireland. He watches soccer occasionally, but is a major rugby fan. The World Cup is the one time that he can reconnect in person with his Irish best mates and brothers. They all meet up wherever the World Cup is playing and have a boy's week, which is a huge life highlight once every four years.
My mother will always support the Irish team as well, even if they are playing Australia. My twin brother Liam likes to be contrary, so he'll barrack for Oz, just to stir things up a bit. He loves Ireland though: his deep-rooted connection is based on a keen interest in Irish pop culture and childhood memories of the easy going local people.
My dad tried to convince me to do Irish dancing when I was growing up, and we would see Irish concerts and listen to traditional Irish music. I remember seeing Brian McFadden perform on Saint Patrick's Day - we'll usually mark the day by heading out to a pub to see some traditional performers and singers perform live.
Fortunately my dad worked for Qantas, which gave our family an amazing opportunity to travel over to Ireland once, even twice a year during my primary school years. My dad grew up in Malahide, so that's where I have spent the majority of my time in Dublin, amongst our family. My favourite place in Ireland so far is Malahide Castle where my grandmother lives. I am amazed by this gorgeous, preserved medieval castle right in the centre of the village, surrounded by trails and gorgeous greenery. I have nostalgic memories of taking afternoon tea at the Avoca Cafe there.
Potentially, my dad will want to go back there to live in retirement. He is extremely proud of his country, so he may want to reignite his life there after spending so much time on the other side of the world, disconnected from his first home.
Pressing Pause on Trinity College
This was going to be a big Irish year for our family. Dad was going to take a career break and bring the whole family there for the entire year - until the Coronavirus response blocked the plan. Liam and I both had offers to study in Ireland, at UCD (University College Dublin) and Trinity College respectively. The timing was ideal because my brother and I didn't have any academic obligations here, my mum was transitioning from a job and dad could take long-service leave. Fate intervened however and the outbreak of Covid-19 momentarily derailed the family plan to try Irish life on a more long-term basis.
My academic interests lie in political theory and international relations.
That feeling of being from two countries has really inspired me to find out what makes the world tick.
The early exposure to that part of the world has also expanded my interest beyond Ireland to Europe as a whole, and in my current degree in Social and Political Science. Fashion, language, history - I want to learn about it all.
I do have regrets about having to put off my education in Dublin, as I was really keen to explore our home country at a different age, especially from the perspective of a university student. Maturity would have brought even more appreciation. Student life was the perfect way to follow my deep-rooted desire to form lifelong connections and immerse myself in the culture for an extended period - living as opposed to temporary tourism. My father has six siblings, so there is a wide network of cousins. Relatives help you feel less isolated and disconnected, especially moving somewhere with no friends.
I'll Be Back
Although I am supposed to be studying Politics and Law at the hallowed Trinity College right now, it remains a goal. Being in an institution with such history, heritage architecture and that amazing location in the centre of Dublin would be so cool: what an inspiring environment! I'm an Irish citizen with a passport, which frees me from having to worry about visas. I have never studied in Ireland, so I'm not eligible for reductions in tuition fees like my cousins, who have a free university education; the college tuition is considered private.
Now that I have committed to studying here in Australia, the most viable option is to return to Ireland for postgraduate study. I'd like to study History at Trinity, which feeds my passion for both the subject and the place.
In the meantime, I am increasingly interested in learning the Irish Gaelic language - they are teaching classes at the Gaelic Club, which sounds intriguing. My family and I have an inside joke when someone is being slightly idiotic or annoying. One of us will turn to the other and say, 'gombeen', which is dodgy, shady, a bit of a crook in Irish. It's our private family code.
My boyfriend is extremely Australian and I am keen to take him to see my homeland - luckily he is really curious. He's a history buff and Ireland has such a rich history to explore. Apart from studying, I can't wait to go road tripping all around the countryside and southern coastline, visiting as many Irish castles as I can.
When it comes to my own children, ideally I would like to raise them in Ireland. It's interesting to think that everything would be topsy turvy, and that they would feel the disconnect from their Australian mother's country of birth. I would immerse them in the other culture like my dad did with us.