Generation Green: Anna Power, 25
News
10 March 2021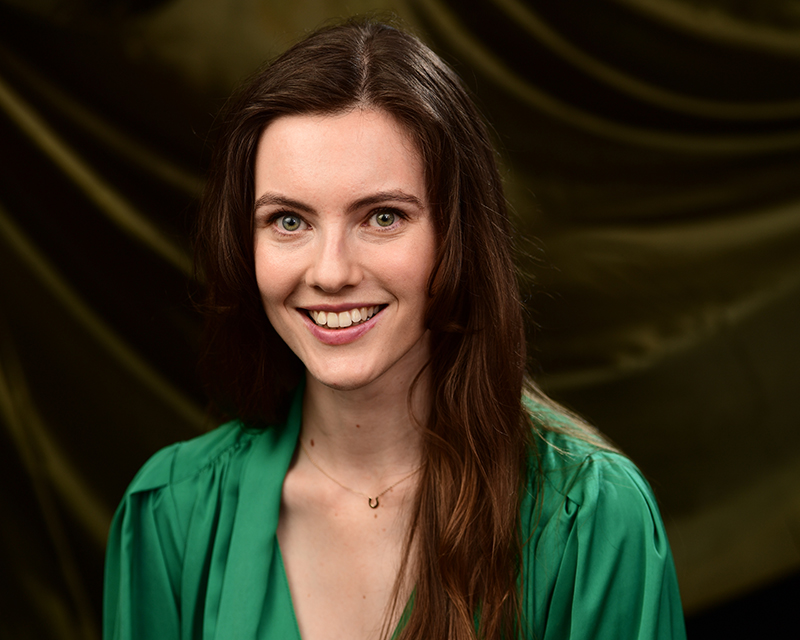 Equestrian and trainee in the Godolphin Flying Start program, an international thoroughbred racing and breeding scholarship.
Irish Ancestry
My parents Walter and Catherine Power are both from Wexford and emigrated to Australia together.
Home Is Where The Heart Is
I was born into an Irish family in Australia. Our location may be Sydney, but step inside the door and you are transported to Wexford. Irish humour, values, morals and antics characterised my upbringing and shaped me into the person I am today.
Mum and dad were in their mid-20s when they emigrated to Australia, joining two of my uncles who were already here. Like so many Irish people before them they arrived thinking, 'maybe we'll stay for a few years…' but never left. Mum was a midwife and dad got a job in construction, then eventually set up a civil engineering business with his brother.
I had an extremely happy Australian childhood. Sundays were always a day for family adventure: my parents, four siblings and I would drive up the coast, have picnics in the park or visit the sites of Sydney (the fountains in Darling Harbour were always a crowd favourite).
What I remember most is the feeling of summer heat that smacked me in the face at 8am each morning as I left the house. As we applied copious amounts of sunscreen before school mum warned us not to stain our white uniform collars. I grew up during drought season and am still conscious of not wasting water. I vividly remember standing in our Inner West backyard during the Black Christmas bushfires, when the sky was lit up a bright red and ash was falling from the sky.
My dad was a sheep farmer in Ireland before arriving in Australia. When he first visited rural properties, he was astonished by the size of the farms and the high volume of stock - as were the steady stream of friends, cousins and grandparents who came out to stay over the years. The heat and scale of farming in Australia were realities that they struggled to grapple with.
While the landscape was very Australian, the Irish influence was always present. I studied in Catholic primary and high schools, where my school friends would admire my parents' Irish accents. Mum would light a candle when we sat for exams and whenever we lost something, she would tell us to 'pray to St Anthony'. Participating in the Wexford float for Sydney's annual St Patrick's Day was always a highlight. We grew up surrounded by other Irish families and enjoyed cheering on the Sydney Shamrocks hurling team on the weekends. In 2004 my dad played Phillip Cunningham, the leader of the rebels in a reenactment of the 1804 convict rebellion, Battle of Vinegar Hill.
Even though they were thousands of miles away from their homeland, mum and dad would fill the house (and their cars) with wonderful Irish music by artists such as The Dubliners, Celtic Woman, Mary Black and Shannon Sharon. In July I got engaged and look forward to including traditional music in our celebrations.
The County Is Calling
I will forever be grateful for the sacrifices that my parents made so that they could bring us back to Ireland every three years. Traveling with five children halfway across the world was no easy feat! Both sets of grandparents live three miles apart outside New Ross, with many aunts and uncles in close proximity.
To me, Ireland is another home. I instantly think of my family, winding roads, home cooking, farming and laughter.
I look forward to hugging friends and family, as well as eating curry chips from The Penguin.
My grannies are both brilliant cooks, as is my mum; aromas of scones and brown bread baking filled the house. My mum's parents live in a home built by my grandfather when mum was 4; my dad's parents live in a farmhouse that has been in the family for seven generations. Both houses are filled with photos of their children and grandchildren, highlighting their life milestones and accomplishments.
Our trips to Ireland occurred during the Irish summer when our cousins were on holidays. Accustomed to the Australian heat, my siblings and I were constantly cold. Local relatives would shake their heads when we stepped out in jeans. Other things got lost in translation: we said 'truck' instead of 'lorry', 'ute' instead of 'pick up', and 'thongs' instead of 'flip-flops'. Our Irish grandparents would have a hot lunch in the middle of the day, then a light supper in the evenings, which we really struggled with because we would be starving again by night. Mum eventually decided to feed us what we were used to: Vegemite sandwiches in the day and a dinner at night.
On each visit, I always take the time to visit my favourite spot, the Hook Lighthouse at the tip of Hook Peninsula, the oldest operating lighthouse in Europe. In 2014 my family travelled up the West Coast along the Wild Atlantic Way. The highlight was driving to Sliabh Liag, a beautiful mountain in Donegal. It was so raw and isolated, with waves crashing beneath us - truly one of the most beautiful places I have ever been to.
I experienced living in Ireland in 2018, working on a farm in Kildare and spending every moment I could with family, which was brilliant. The age of technology has made it so easy to stay in contact despite distance. Our family regularly use WhatsApp to talk and celebrate together.
We are incredibly lucky that so many of our Irish family members and friends have come to visit us in Australia. While the heat is always the biggest shock to them, our natural wildlife is a close second. Mosquitos, snakes, scary looking spiders and swooping magpies are always met with fear. Some visitors had not spent much time in a big city, so the traffic and amount of people in Sydney were a big shock for them.
Our whole family had tickets when the Irish Lions played rugby union here in 2018. Our dad said, "None of you better turn up wearing gold". As soon as he said that our teenage defiance kicked in and on went the gold. Of course, my parents wore green and were ultimately victorious because the Wallabies lost. We will always be wearing green on the inside too.
I will always return to Ireland, not only because it is where my parents grew up but to honour my own childhood memories. My siblings and I always cry when we leave. I cannot even imagine my own future children not also being extremely proud of their grandparents' home and heritage.
Horses For Courses
Despite growing up in the middle of Sydney, I developed a passion for horses at a very young age. Every year for my birthday I would ask to go on a trail ride and was filled with excitement whenever I saw a horse.
When I was 12 years-old my dad bought a share in a racehorse, and we visited the racetrack to watch it run. Seeing that there was a way to have a career with horses, I instantly wanted to be part of that world. I began working on farms and at the racetrack, throughout school and university during holiday periods, caring for horses in the early morning hours. My undeniable connection and passion for the land led to my decision to study a Bachelor of Commerce majoring in Agricultural Economics and Accounting at the University of Sydney.
In 2018 I was selected as a trainee on the Godolphin Flying Start program, a two-year, full time Management and Leadership training scholarship program that specialises in the international thoroughbred racing and breeding industry, sponsored by Sheikh Mohammed bin Rashid Al Maktoum. The program allowed me to travel and experience equine culture across five countries in two years. I got to study in Ireland, Dubai, Newmarket, the United States and back home in Australia.
The program was an invaluable experience and provided me with unique access to industry leaders. Horses all have four legs, however management techniques differ around the world. Weather and climate are a great influence: Australians horses spend a lot more time outdoors, growing up in paddocks under the sun, while horses in American, England and Ireland spend more time in warm stables protected from harsh winters. But in every country, one thing remains the same - the Irish are ever present.
The Irish are brilliant horsemen: working the land for so many generations has made them phenomenally astute in thoroughbred breeding and caring for horses. Over the decades, the Irish immigrant staff have become the backbone of the industry worldwide. You would be hard pressed to find a stud, racing stable or racetrack that hasn't been heavily influenced by a hard-working Irish horseman or woman.
So, where did my initial passion and obsession with horse's stem from? Ireland. My dad's father is a keen breeder of national hunt and flat racing horses, and his two brothers were both talented riders who were on an All-Ireland winning team in high school. My mum's father rode in hunts until well into his 60s and her younger sister was a professional showjumper who breeds and prepares showjumpers.
My Irish heritage and connection to the land spurred this city girl on to work with horses - I now work for Arrowfield Stud, Australia's leading thoroughbred stud.
I'll Be Back
The outbreak of Covid has been hard on family members who cannot cross closed borders, especially as cherished people grow older. However my granddad has always said, "don't carry a plank to cross a river that you may never meet". With that in mind, I'm not worried about potential problems ahead and look forward to being reunited with my family again soon.
In 2018 we had a large family gathering in the yard of an old farmhouse. Both sides of our family were there at some point and the day was filled with laughter, games and storytelling. If I had one day in Ireland, I would do that day all over again.
This time in ten years I just hope to be happy and close to a horse. There is a good chance that it will be in Ireland.