Generation Green: Greg Eckels, 26
News
10 March 2021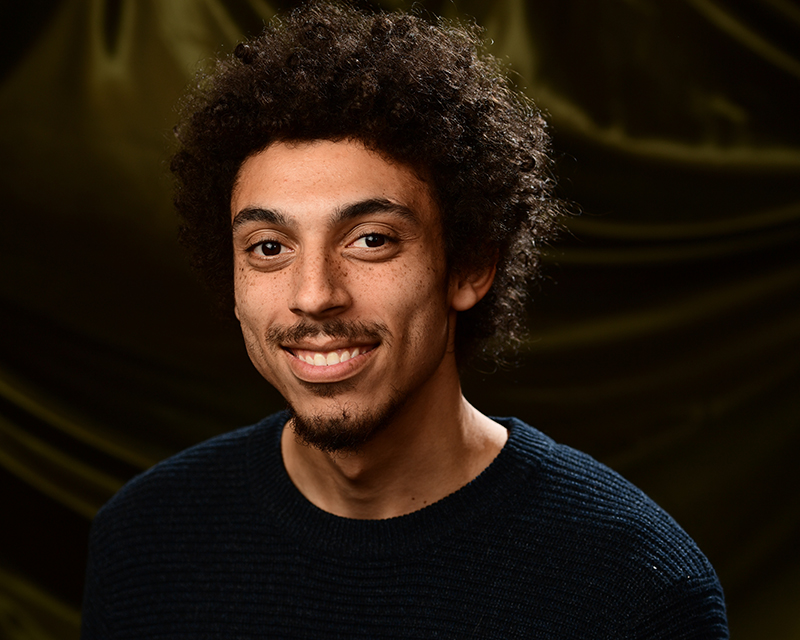 Film-maker, photographer and parkour practitioner
Irish Heritage
My Scottish great-great-great grandfather Harold Eckels migrated to Ireland and married Eileen O'Kelly from Belfast.
We are Family
I may not look it but yes, I'm Irish! I have that classic melting pot, New World mixed heritage that blends people from vastly different parts of the planet. I was born in America, my dad is straight from Jamaica and my mum is - like so many New Yorkers - of Irish descent. As a kid I grew up in New York's Spanish Harlem, which had a really cool, vibrant street culture, especially before it was gentrified.
My ancestor Harold Eckles had an Irish mother and when he returned there he fell in love with Eileen O'Kelly from Belfast. Perhaps she was a fiesty redhead with a big personality like my mother, who looks so Irish. Because we look so different, people often didn't see the connection when I was growing up: they thought she was my nanny or would try to speak Spanish to me. Others actually think we're very alike - my girlfriend Freya says that I am her carbon copy.
We both have that really boisterous, fun loving persona, so the Irish blood is still pumping!
I'd love to actually visit Belfast and research my cultural background so that I can meet some of the O'Kellys and Eckels. I want to open that Pandora's box.
Becoming an Aussie
We moved permanently to Australia when I was 11. My mum is entrepreneurial and wanted to start a new life, a new business. One day she flat out asked me, "would you rather move to England or Australia?" I shot back, "Australia!" A young American kid's perception of Australia is sunny and adventurous - red desert, kangaroos hopping around, Crocodile Dundee taming the wild beast. Wild animals are a kid's dream. England sounded a little too dark, grimy to me, like a Guy Ritchie gangster movie.
The move was a massive culture shock initially, but I'm actually grateful for becoming a teenager here, which was such a positive, formative experience. Australia is super chill and I have internalised those great Aussie traits: greater appreciation for cultural experiences, seeing the world and adventuring. America is much more caught up in the rat race and the almost superhuman pursuit of material success. My temperament is quite the opposite to that.
I am attuned to the beauty of Australia. Coming here as a city kid, I was fascinated by the nature, space and wildlife that is just everywhere. We can live in a modern, built up city yet within an hour can access breathtaking, untouched places like the Blue Mountains with an abundance of wildlife and birds making the most incredible sounds. My Australian teen years have helped me become a wilder, adventurous person.
Passion for Parkour
I have always been a very movement-based kid. I was climbing trees, running around and getting into all sorts of mischief. When I came across videos of people doing parkour on YouTube it instantly clicked.
Parkour is basically moving and tumbling from point A to point B as quickly as possible and over obstacles, using a human body. It is literally like being a real life spider-man - how seriously awesome!
I started off like everyone, doing super silly twirls and jumping off benches. As I stuck with it, I got deep into the Sydney parkour community; it has grown massively as a sport and is very addictive.
There is a moment when time stops still and you're jumping, flipping or leaping into the unknown. You don't really fathom being in the air; it's just this complete calm.
Suddenly, you make it to the end of that movement and there is this moment of emptiness. Then you're on the ground again, 'oh, I'm back in real life.'
You keep active and enjoy the world from vantage points that most people don't ever see, like rooftops or walls. It's not an adrenaline junkie thing: our body is our tool and we do not want to damage it under any circumstances. We train on the ground, learn how to land and fall safely. Funnily enough, it's technically not as dangerous as snowboarding or skiing. I have been to Greece to compete in Red Bull's Art Of Motion and other events, but now I just train for fun.
Landscape through a Lens
I first picked up the camera because of parkour. Any extreme sport has a filming aspect, because you want to showcase all the cool stuff that you are doing or seeing others do. When I went to study in London at 19 for two years I started documenting my life. Film school taught me that making feature films doesn't suit me. The industry is super structured with long hours and each person is locked into doing their one thing, which is the complete opposite of me. I'm a one-man band who thrives on the freedom of my own creative ventures. Photography and filmmaking on the road allows for that a lot more.
Australia has been a big influence. The first time that I explored the waters of the Great Barrier Reef it literally set me on a new path in life. Being underwater was like being on another planet, from the vibrant colours to the different way you move. All life moves as one giant organism, it's just incredible. Now I want to pursue underwater photography amongst marine wildlife. Swimming with whales? It sounds about the best thing you can do.
A Van and a Plan
My partner Freya, who has an Irish father, and I always wanted to travel the world gypsy style, one of those 'maybe one day' fantastical dreams. You can see imagery all over Instagram: people traveling around these amazing locations, taking their tiny house on wheels with them. They just arrive at a waterfall, or somewhere remote, simple and pure and open up their back doors. Now that's traveling - and living.
When Covid-19 hit it was the chance to drop all our old plans and actually go for it. So we took out a loan, bought this brand new van, which is just an empty shell, and are now customising it - adding wood framing, back bunk windows, electrics, paneling, cabinetry and all the cosiness. We can roll up somewhere we like, hunker down and stay there for a while, then head off to the next place and adventure. We found out that it only costs $3500 Australian to ship this thing around the world, which was a pleasant surprise as we were guesstimating $10,000.
4 Wheels, 32 Counties - Road Trip to Ireland
I can't think of a better way to road trip around Ireland than living out of our new van. Our plan is to travel around the Australian coastline until the borders open back up, then we're off to Ireland to chase dive and heritage experiences. I hear the Wild Atlantic Way is one of the most amazing road trips in the world.
Freya and I don't want to stay contained in the tourist bubble: we want to hang with the locals and see the real Ireland. The flexibility of just stopping along the way in any area of Ireland that strikes our interest - a village, an area of beauty - will allow us to soak it all in, explore the area, meet the people, experience the culture, and get some amazing shots for photography.
It will be a whole new kind of wild for me. I imagine Ireland's richly green landscape; sombre, atmospheric fog, mist and rain; a sort of serenity and an almost fantasy setting with castles, ruins and even elves, as if you're stepping back in time.
I want to see the cliffs of the west coast and hit up the ancient sites of the east. I'm seeing mindblowing, inspiring shots on instagram, like one image of someone herding thousands of sheep over green, rolling hills, the sunset light flooding them in a bright orange. I love capturing the glory of moments in time like that; photographing landscapes and people are my big things. The gyspy life is calling. Funnily enough, I just found out that Ireland has spectacular dive sites, such as Blasket Island - even Dublin Bay is a great spot for seeing seals. To see such sights in a city is mindblowing to me. I find the world super interesting below water, so I need to go to Ireland and dive.
An Irish working visa would completely change the game for us: we could stop down and stay each time we find a place that we click with, joining everyone down at the pub, listening to their music and storytelling. I'm one of those people that likes to be spontaneous. Working around Ireland would be incredible, allowing us to stay longer and actually live. I see us scouting for wedding photo locations, being commissioned for travel stories or doing local promotional stuff for restaurants and pubs. It's the perfect way to just keep rolling in the van.