Visit of Minister Dara Murphy to Copenhagen
News
23 September 2016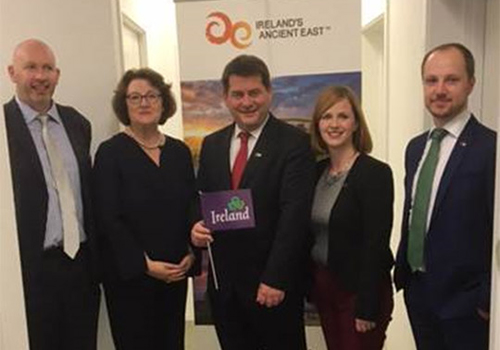 The Minister for European Affairs, Data Protection and the EU Single Digital Market Mr. Dara Murphy was in Copenhagen on Friday, 23 September to meet with the Danish Minister for Business and Growth, Mr Troels Lund Poulsen. Ministers Murphy and Poulsen discussed a number of issues including the Digital Single Market.
In addition to meeting with Minister Poulsen, Minister Murphy also visited the Tourism Ireland office in Copenhagen. He also attended a lunch with the Danish branch of the Irish Professional Nordic Network at the Embassy, where he was met with about 30 Irish professionals who work in a wide variety of industries in Denmark.
Minister Murphy also met with the European Committee in the Danish Parliament, the Folketing. The European Affairs Committee plays a central role in Danish EU policy, it examines the Danish Government's policy in EU matters.