St. Brigid's Day 2021 - Programme of Events
Event
27 January 2021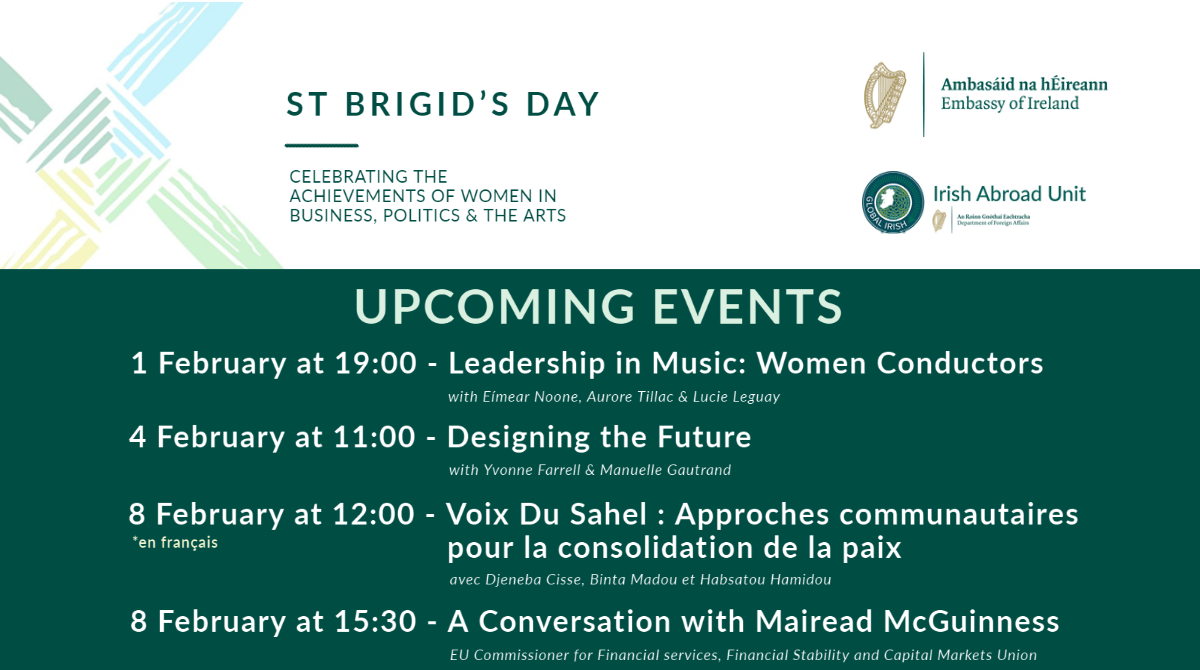 In Ireland, St Brigid's Day, 1st February, is associated the ancient pagan tradition of celebrating the beginning of Spring and Ireland's patron saint known for her work in the education of girls. Every February, Irish Embassies around the world celebrate the achievements of Irish women and their counterparts in their host countries, and take the opportunity to discuss women's empowerment and societal change.
En Irlande, Saint Brigid's Day, qui a lieu le 1er février de chaque année, est associée à l'ancienne tradition païenne qui fête l'arrivée du printemps et à la sainte patronne d'Irlande connue pour son rôle dans l'éducation des filles. Chaque année, les ambassades irlandaises du monde entier célèbrent la réussite des femmes irlandaises et de leurs homologues dans leur pays d'accueil et profitent de cette occasion pour parler du rôle des femmes dans la société.
This year we are marking Brigid's Day with a series of online events aimed at celebrating the achievements and talents of Irish and French women in many areas. Register for each of these exciting events using the links below!
Cette année, nous fêtons St Brigid's Day avec une série d'événements en ligne pour célébrer la réussite et le talent des femmes irlandaises et françaises dans de nombreux domaines. Inscrivez-vous à ces événements passionnants en utilisant les liens ci-dessous!
1 February at 19:00 (CET) - Leadership in Music: Women Conductors
1 février à 19h00 - Leadership en Musique: Les femmes cheffes d'orchestre
https://www.eventbrite.ie/e/brigids-day-leadership-in-music-women-conductors-tickets-138438087045

4 February at 11:00 - Designing the Future
4 février à 11h00 - Dessiner l'avenir
https://www.eventbrite.ie/e/designing-the-future-tickets-137980201497
8 février à 12h00 CET- Voix du Sahel : approches communautaires pour la consolidation de la paix (en français)
https://www.eventbrite.ie/e/inscription-voix-du-sahel-approches-communautaires-pour-la-consolidation-de-la-paix-138743169555
8 February at 15:30 - A conversation with Mairead McGuinness, EU Commissioner
8 février à 15h30 - Échange avec Mairead McGuinness, Commissaire européenne
https://register.gotowebinar.com/register/1510699702376927759