Visite officielle du Taoiseach à Paris
News
25 November 2022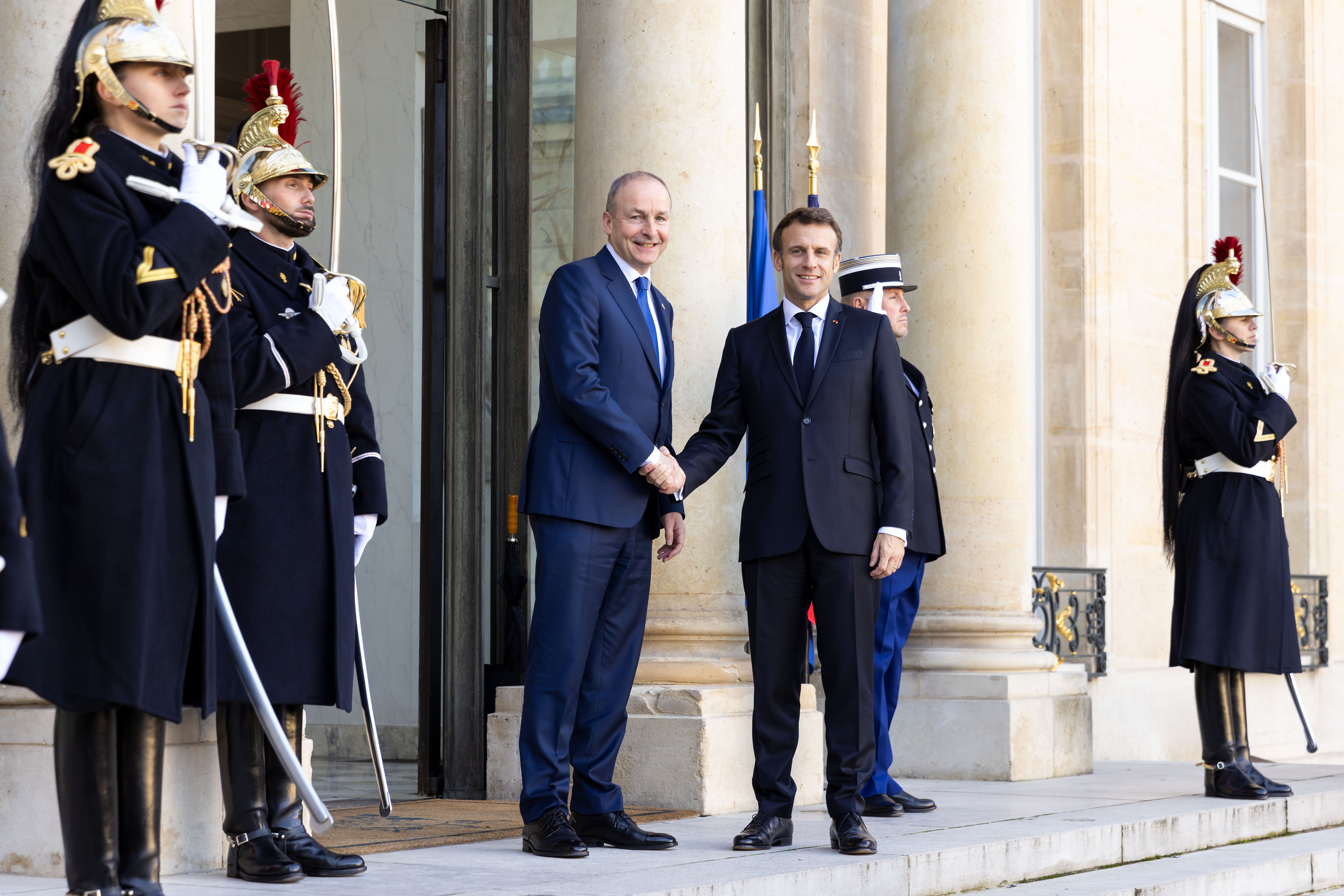 Le Taoiseach s'entretient avec le Président de la République Emmanuel Macron.
Le Premier ministre irlandais, An Taoiseach Micheál Martin, et le ministre irlandais de l'Énergie, Eamon Ryan, se sont rendus à Paris les 24 et 25 novembre 2022 pour une visite officielle. Cette visite fut l'occasion de marquer une étape importante dans le développement de projet d'interconnexion éléctique, Celtic Interconnector, portée par Eirgrid et son homologue français, Réseau et transport d'éléctricité de France (RTE)
Le Taoiseach s'est entretenu avec le Président de la République Emmanuel Macron pour faire le bilan de la première année du plan d'action conjoint Irlande-France. Le Taoiseach et le Président de la République ont également échangé au sujet du développement du Celtic Interconnector, le plus grand projet entre la France et l'Irlande.Le Taoiseach a assisté à la signature des contrats à l'Ambassade à Paris entre Eirgird et RTE en présence du Taoiseach, du ministre Eamon Ryan, de la ministre française de la transition énergétique Agnès Pannier-Runacher, et de représentants de la Commission européenne et de la Banque européenne d'investissement.
Le Taoiseach a également rencontré des entreprises irlandaises et françaises afin d'encourager les liens commerciaux et d'investissement entre nos pays, notamment dans le domaine de l'énergie et du développement durable. Alors que les relations bilatérales entre l'Irlande et la France se renforce, cette visite fut l'occasion d'approfondir les liens avec notre voisin le plus proche au sein de l'Union européenne.
Taoiseach Micheál Martin and Minister Eamon Ryan visited Paris on 24-25 November 2022 for a programme of events focused on expanding bilateral cooperation with France and marking a significant milestone in the development of the Celtic Interconnector.
The Taoiseach met with President Emmanuel Macron to consider progress made in the first year of the Ireland-France Joint Plan of Action. The Taoiseach and President Macron also discussed the development of the Interconnector, our largest ever bilateral project with France. Key contracts for the Interconnector were signed at the Embassy by operators Eirgrid and RTE, in the presence of the Taoiseach, Minister Eamon Ryan, French Minister for the Energy Transition Agnès Pannier-Runacher, the European Commission and the European Investment Bank.
The Taoiseach also met with Irish companies and French companies driving trade and investment links between our countries, including in the area of energy and sustainability. As Ireland's bilateral relationship with France grows ever closer, this visit was an important occasion in which to deepen links with our closest EU neighbour even further.