Ouverture du consulat honoraire de l'Irlande en Bretagne
News
02 September 2022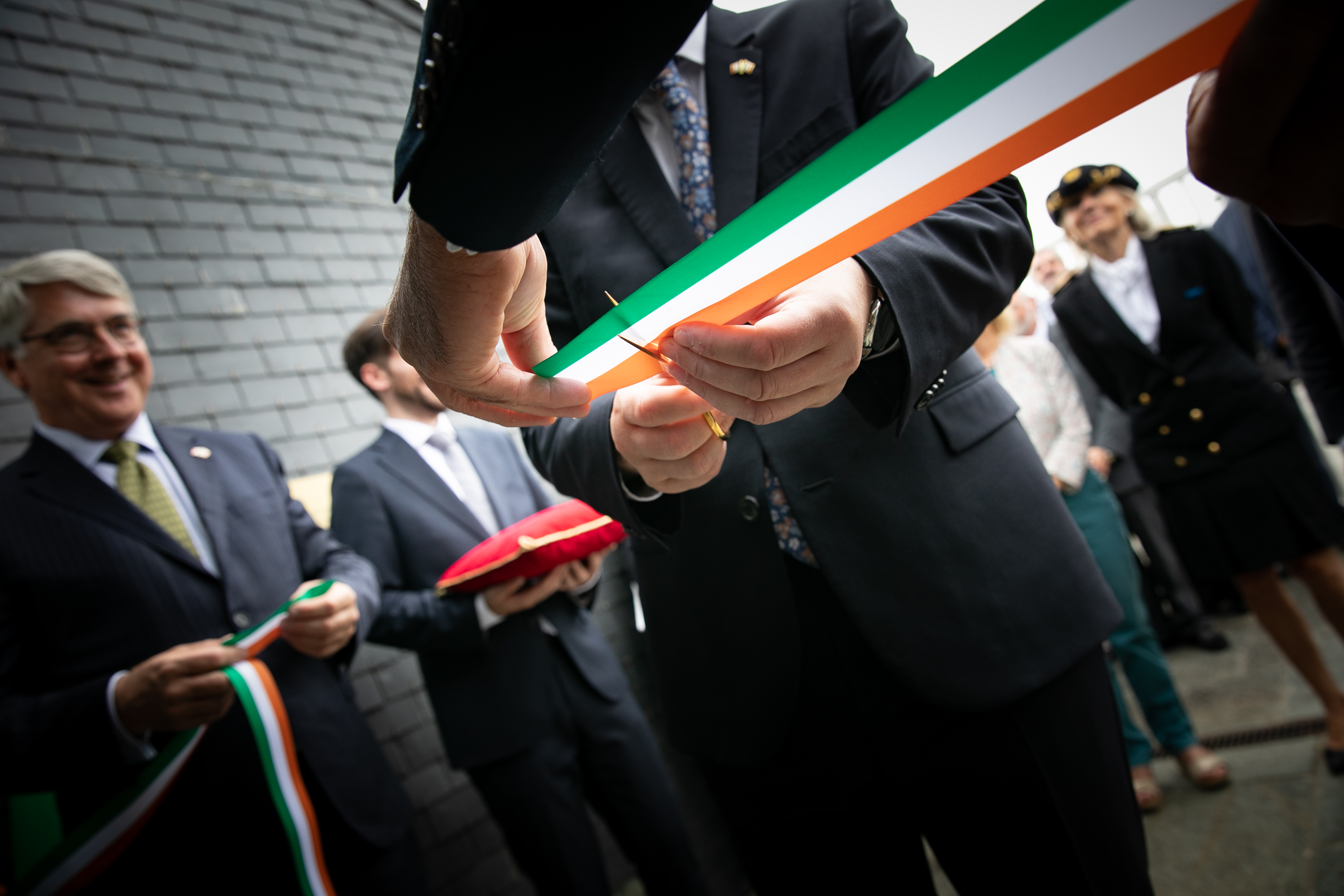 Le consulat honoraire d'Irlande en Bretagne est inauguré par le ministre James Browne en présence de l'ambassadeur Niall Burgess.
Le ministre James Browne a inauguré le consulat honoraire de l'Irlande en Bretagne le 2 septembre 2022, une étape importante dans le renforcement de la présence diplomatique irlandaise en France. Le consulat honoraire est situé dans le siège de Brittany Ferries dans le port de Roscoff, un point d'entrée clé pour les visiteurs irlandais en France. M. Jean-Marc Roué, président de Brittany Ferries, a été nommé Consul honoraire d'Irlande en Bretagne.
En tant que voisin le plus proche de l'Irlande dans l'Union europénne, la France et la région de Bretagne sont des partenaires politiques et économiques importants. L'ouverture du consulat honoraire marque l'approfondissement des relations entre l'Irlande et la France et s'inscrit dans le plan d'action conjoint Irlande-France pour développer davantage les relations bilatérales au niveau régional. Le Consul honoraire travaillera avec l'Ambassade pour promouvoir les liens économiques, culturels et politiques entre l'Irlande et la Bretagne.
L'Ambassade d'Irlande, en partenariat avec Tourism Ireland, l'agence du tourisme irlandais, a organisé une série d'événements à Roscoff pour marquer l'inauguration du Consulat Honoraire. Le navire de guerre irlandais LÉ Róisín a fait escale dans le port de Roscoff pour l'occasion. Tourism Ireland a organisé un concert en plein air du groupe de musique traditionnelle irlandaise Torcán. Des représentants des clubs de football gaélique, GAA de Bretagne, ont participé à un match de football gaélique.
Minister James Browne inaugurated the Honorary Consulate of Ireland in Brittany on 2 September 2022, a significant milestone in the deepening of Ireland's diplomatic footprint in France. The Honorary Consulate is situated in the headquarters of Brittany Ferries in the Port of Roscoff, a key entry point for Irish visitors to France. Mr Jean-Marc Roué, the President of Brittany Ferries, will be Ireland's Honorary Consul in Brittany.
As Ireland's closest neighbour in the EU, France and the Region of Brittany are key political and economic partners. The opening of the Honorary Consulate is a sign of the deepening of relations between Ireland and France and is one of the strategic actions identified in the Ireland-France Joint Plan of Action to further develop bilateral relations at regional level. The Honorary Consul will work with the Embassy to promote economic, cultural and political ties between Ireland and Brittany.
The Embassy of Ireland in partnership with Tourism Ireland hosted a series of events in Roscoff to mark the inauguration of the Honorary Consulate. The Irish naval vessel the LÉ Róisín visited the Port of Roscoff, Tourism Ireland organised an open-air concert by Irish traditional music group Torcán, and representatives from some of the 10 GAA clubs Brittany took part in a Gaelic football challenge match.