Covid-19 measures in Poland from 15 March
News
12 March 2021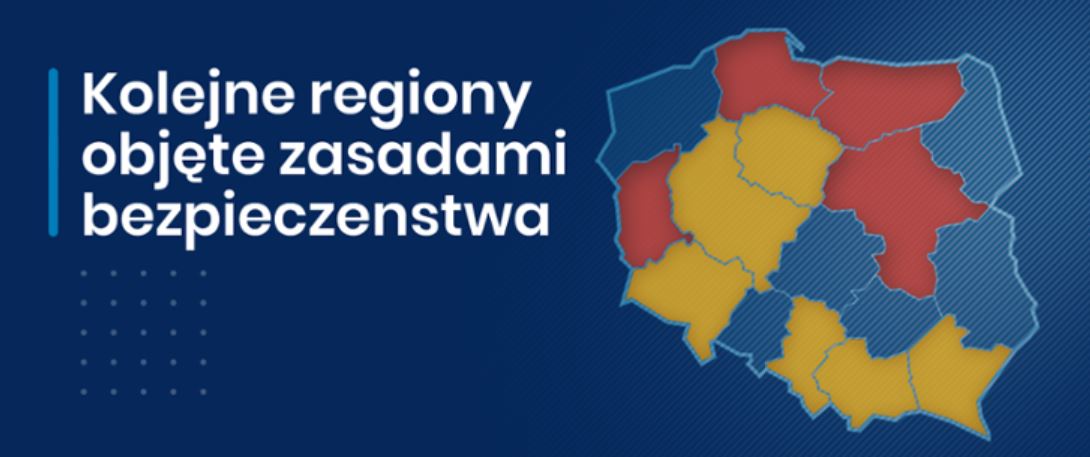 The Polish Government has announced a number of additional updates to the Covid-19 measures from 15 March.
From 15 March until 28 March, additional restrictions will be in place in two additional Polish voivodeships/provinces: Mazowsze (Mazovia) and Lubuskie (Lubusz).
This brings the number of voivodeships/provinces with additional restrictive measures to four:
Warmia-Mazury (Warmia-Masuria) – measures extended until 28 March
Pomorskie (Pomerania) – measures from 13 to 28 March
Mazowsze (Mazovia) – measures from 15 to 28 March
Lubuskie (Lubusz) – measures from 15 – 28 March.
Measures include a suspension of activities in the following places: pools, saunas, ski slopes, sports venues, cinemas, theatres, art galleries, hotels (except for business travel), shopping centres (except for grocery stores, pharmacies, bookstores, pet stores, DIY and others).
Full detail is available here: https://www.gov.pl/web/koronawirus/od-15-marca-mazowsze-i-lubuskie-dolaczy-do-regionow-z-zaostrzonymi-zasadami-bezpieczenstwa
Travelling to Poland
Please note that there remains a requirement for all passengers arriving in Poland by public transport to quarantine for 10 days. This also applies to those arriving into Poland by private car from Czechia and Slovakia. There are limited exceptions to this, including students, those who are fully vaccinated against Covid-19 and those who provide a negative/'not detected' test for Covid-19 on entry and within 48 hours of the test result.
Full information on all current measures can be found here: https://www.gov.pl/web/koronawirus/aktualne-zasady-i-ograniczenia
Image: Poland's government website