Covid-19 measures in Poland from 24 October
News
30 October 2020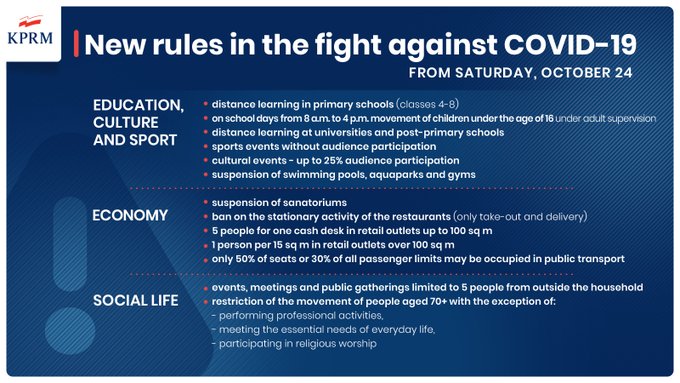 In response to an increasing number of cases of Covid-19 in Poland, the Polish Government announced new measures, which came into effect on Saturday 24 October. From then all of Poland became a Red Zone. An overview of the restrictions is provided above and full details on the new measures can be found here: https://www.gov.pl/web/koronawirus/regionalne-obostrzenia-dla-wybranych-powiatow
Demonstrations have been taking place across Poland in recent days. We would encourage Irish citizens in the vicinity of protests to take all necessary care and to follow the advice of the local authorities.
Last updated: 30 October 2020; please note that updates may be announced and changes introduced rapidly.
Image courtesy of the Chancellery of the Prime Minister of Poland.