Message from the Ambassador on St. Patrick's Day
News
17 March 2022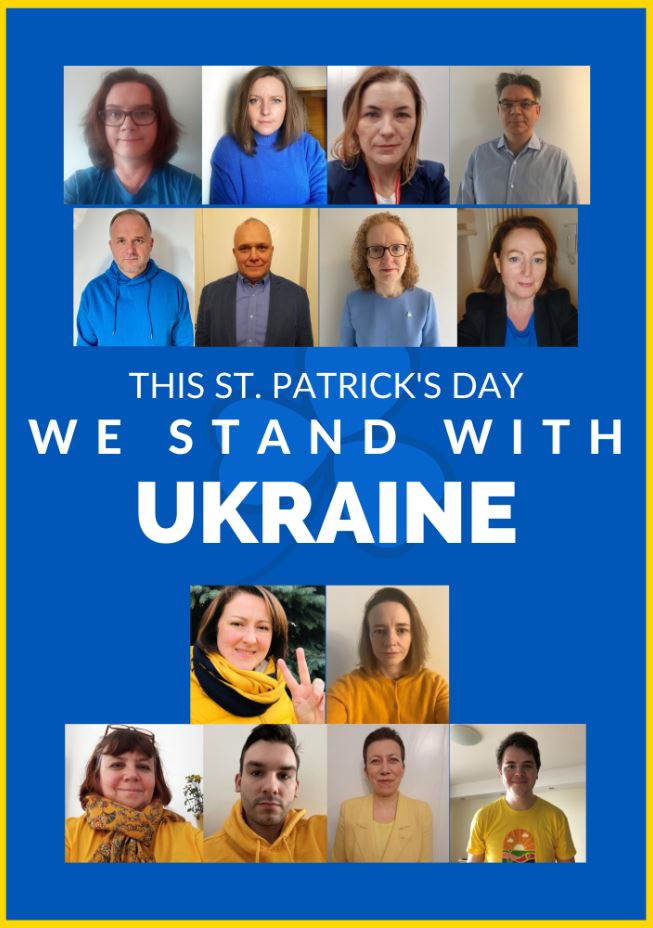 A Chairde, Drodzy Przyjaciele
Today we mark Ireland's National holiday – St. Patrick's Day.
Globally – and none more so than here in Poland – we mark our national holiday with the people of Ukraine to the forefront of our thoughts.
We watch with horror, trying to make sense of what is utterly senseless. We struggle not only to bear witness to what is happening to the Ukrainian people, but also to find words to explain what is utterly unexplainable.
Yet, amidst the horror, is also a story of human compassion - none more so than here in Poland.
Daily, we witness the extraordinarily generous, empathetic and open response of Polish society, including amongst all our friends of Ireland and the Irish community.
For that, we are most grateful.
Like Poland, Ireland is a country that long struggled to gain our own independence. History demands that we be unrelenting in calling out actions that fundamentally undermine independence, international law and bring nothing but untold human suffering.
On St Patrick's Day we re-dedicate ourselves to that democratic and humanitarian spirit. We will continue to stand unambiguously and unapologetically with Ukraine and its people.
This evening to mark our national holiday, I invite you – together with the Embassy - to share a light in solidarity with our Ukrainian friends.
Beannachtaí Lá Fhéile Pádraig oraibh go léir.
May the blessings of St. Patrick be with you.
Emer O'Connell
Ambassador of Ireland