The Embassy of Ireland celebrates Bloomsday 2021!
News
14 June 2021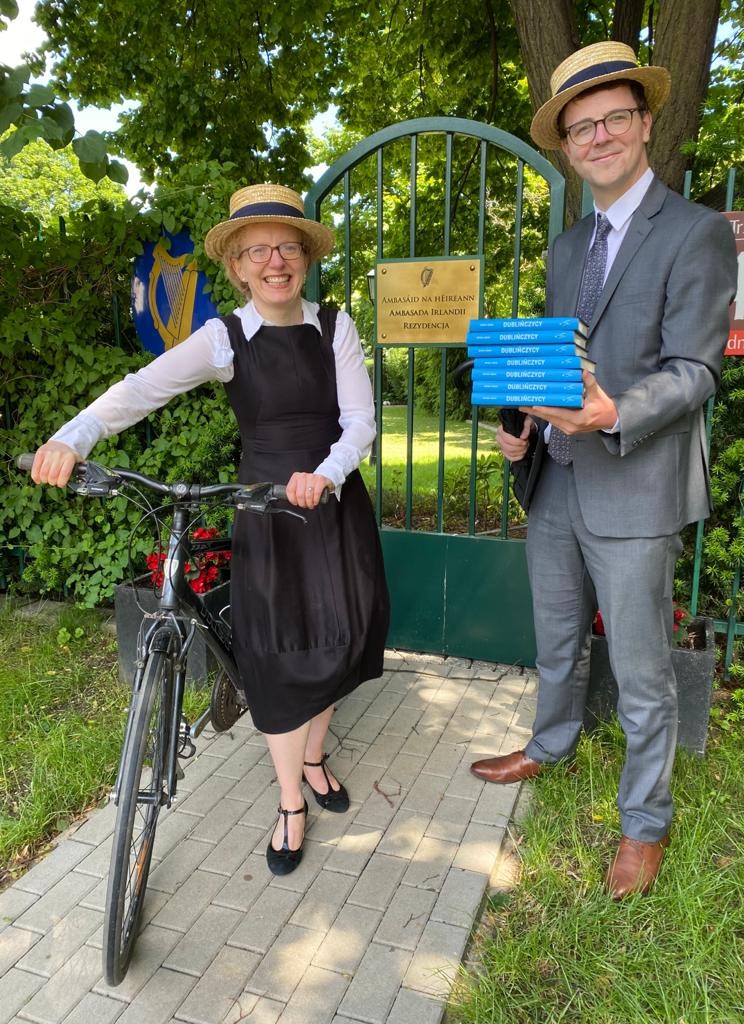 Ambassador Emer O'Connell and Consul Dominic Berkeley launch the Embassy of Ireland's book giveaway in Warsaw to celebrate Bloomsday in 2021.
#Bloomsday2021
Join the Global Celebration of James Joyce on Wednesday, 16 June 2021
Ambassador Emer O'Connell encourages Polish audiences to #GiveJoyceaGo!
James Joyce is one of Ireland's most celebrated writers. His best-known work is Ulysses. Based on Homer's Odyssey, it follows Leopold Bloom in his wanderings across Dublin on a single day, 16 June 1904. We remember the story each year on Bloomsday. This year, as we approach the 100-anniversary of the first publication of Ulysses in 1922, the Irish Embassy is proud to help to bring the global celebrations of #Bloomsday2021 to Poland.
Speaking about Bloomsday, Ambassador O'Connell said:
"Born in Dublin in 1882, James Joyce was a globetrotter, living in cities from Paris to Trieste and Zurich. Since coming to Poland, I have been delighted to see that his memory lives on here in Poland too.
This Bloomsday, I am encouraging everyone in Poland to #GiveJoyceaGo and to share their stories with us via our social media. Look out, in particular, for our free Joyce Book Giveaway in selected cafés across Warsaw!"
Global Joyce Book Giveaway in Warsaw, 16 June 2021
The Embassy is collaborating with a number of popular cafés across Warsaw for our first ever #Bloomsday Book Giveaway on 16 June. We have a limited number of Joyce's Dubliners (Dublinczycy) translated into Polish to give away. The initiative is part of a #GlobalBookGiveaway supported by Ireland's Department of Foreign Affairs. On Bloomsday, over 5,000 copies of Joyce's works - in 18 different languages - will be available for free in 100 cities worldwide.
We hope that new and returning readers will embrace the book and will share their Joyce-inspired Facebook (@AmbasadaIrlandii) and Twitter (@IrlEmbWarsaw) posts with us throughout Bloomsday using #GiveJoyceaGo and #BloomsdayGiveaway.
The following cafés will be participating in our Book Giveaway in Warsaw:
- Café Kafka, ul. Oboźna 3
- Klubokawiarnia Jaś i Małgosia, al. Jana Pawła II 57
- Big Book Café, Jarosława Dąbrowskiego 81
- Będę Póżniej, Słupecka 4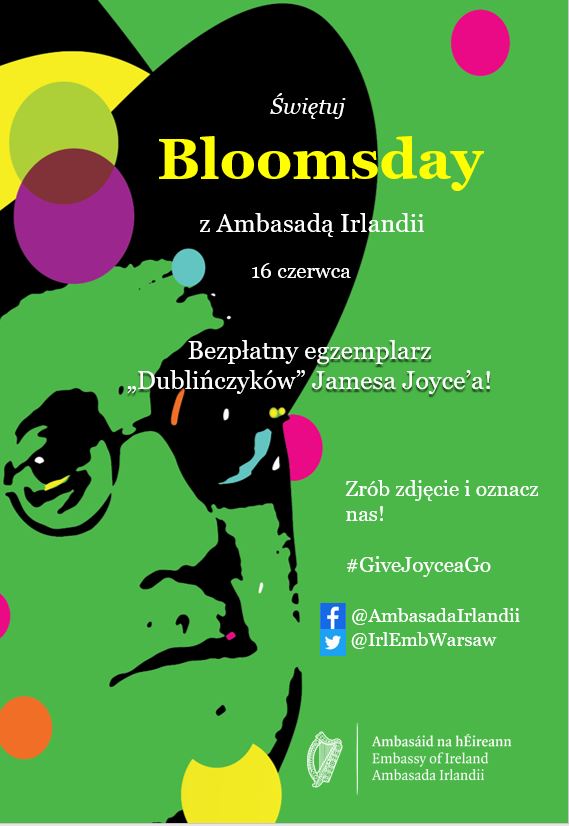 Other Global Bloomsday Initiatives
To mark Bloomsday 2021, Ireland's Department of Foreign Affairs, together with the Museum of Literature Ireland, has released an exciting short film - Opening Ulysses. Filmed in 40 locations across six continents from Alaska to Abuja, Santiago to Seoul, and Washington to Warsaw, this light-hearted call aims to inspire global audiences to 'give Ulysses a go' in advance of the centenary of its first publication! Watch out, in particular, for contributions from Poland on the Embassy's social media channels on Facebook (@AmbasadaIrlandii) and Twitter (@IrlEmbWarsaw)
The Embassy will also participate in an online event to mark #Bloomsday2021, organised by the Irish Culture Foundation in Poznan. This event will bring together Joycean experts from across Poland to discuss Joyce and his works. Register for this event here.
Notes to Editors:
Bloomsday falls on 16 June each year and celebrates James Joyce's most famous work Ulysses. Ulysses follows Leopold Bloom as he wanders around Dublin on one single day, 16th June 1904.
James Joyce is widely celebrated in Poland with many translations of his work available in Polish. This includes Dubliners, Portrait of the Artist as a Young Man and Finnegan's Wake. In October 2021, a new Polish translation of "Ulysses" will be published by Wydawnictwo Officyna.
Follow Embassy of Ireland on Facebook (@AmbasadaIrlandii) and Twitter (@IrlEmbWarsaw) for details of initiatives in Poland. Check out also www.Ireland.ie/Bloomsday for Bloomsday initiatives happening across the world supported by Ireland's Embassies and Consulates.
Further information on Bloomsday activities in Ireland also available on the website of the Bloomsday Festival, which will run from 11-16 June.