Tree Planting at Wilanów Palace Gardens, 26 April
News
06 May 2021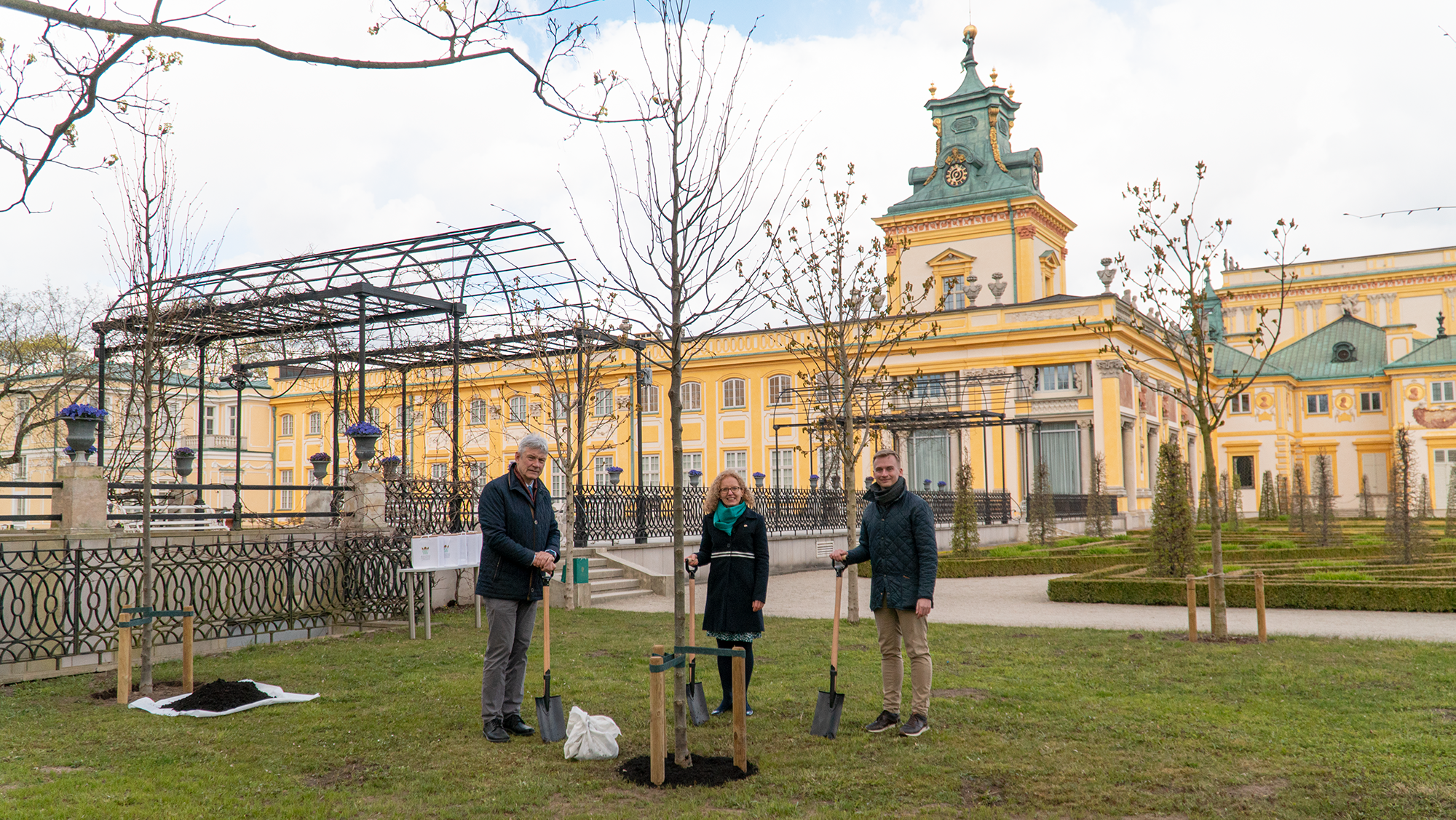 Director of Museum of King Jan III's Palace at Wilanów, Paweł Jaskanis, Ambassador of Ireland to Poland, Emer O'Connell and Vice President of the European Route of Historic Gardens, Łukasz Przybylak.
Tree Planting at Wilanów Palace Gardens, 26 April 2021
The Embassy of Ireland was delighted to work with Wilanów Palace in Warsaw on the occasion of the European Day of Historic Gardens on 26 April.
This was an opportunity to celebrate the historical links between Wilanów Palace and Ireland. Irishman Bernard O'Connor lived at Wilanów Palace during his brief time as personal physician for King Jan Sobieski III in the late 17th century. Not only was O'Connor a medical practitioner, he was also an avid historian and story-teller. In 1698 he produced a two-volume book on the history of Poland. This was the first history of Poland to be published in English, and was also subsequently translated into Polish, German and Latin.

Almost a century after Bernard O'Connor, another Irishman played a central role in the design and cultivation of many historical gardens in the region. Denis McClair (later adopting the Polish name Dionizy Mikler) came to Poland in the 1790s and soon became known for the magnificent gardens at the estates at Puławy and Arkadia. He subsequently designed over 50 gardens, predominantly in the south-east of what had been the Polish-Lithuanian Commonwealth.
Both Bernard O'Connor and Denis McClair feature in an Embassy exhibition, entitled From Strangers to Neighbours: Encounters between Ireland and Poland, first launched in 2017.
In 2018, the Embassy had the pleasure of planting an Irish oak tree at Wilanów to commemorate the links between Bernard O'Connor and the palace. In 2021, we are very happy to work with the Palace again, to plant three lime trees to further commemorate the important links between Ireland and Poland. The trees we plant today will continue to grow living symbols of those connections. In addition, they are a clear symbol of our commitment to sustainability, preserving historical gardens and further enhancing the living, natural environment around us – an environment, which has been such a source of solace for us in these pandemic times.
Each March, for St Patrick's Day, buildings and monuments across Polish cities are lit in green to celebrate the ties of friendship between Ireland and Poland. Our trees at Wilanów Palace provide a different type of 'greening' – namely a living memory of the historical ties that connect us in the beautiful surroundings of the Wilanów Palace gardens.
For more information about the Palace and the events on 26 April, please visit Muzeum Pałacu Króla Jana III w Wilanowie (wilanow-palac.pl).