A Celebration of Ireland's Shared History with South Africa
News
17 March 2021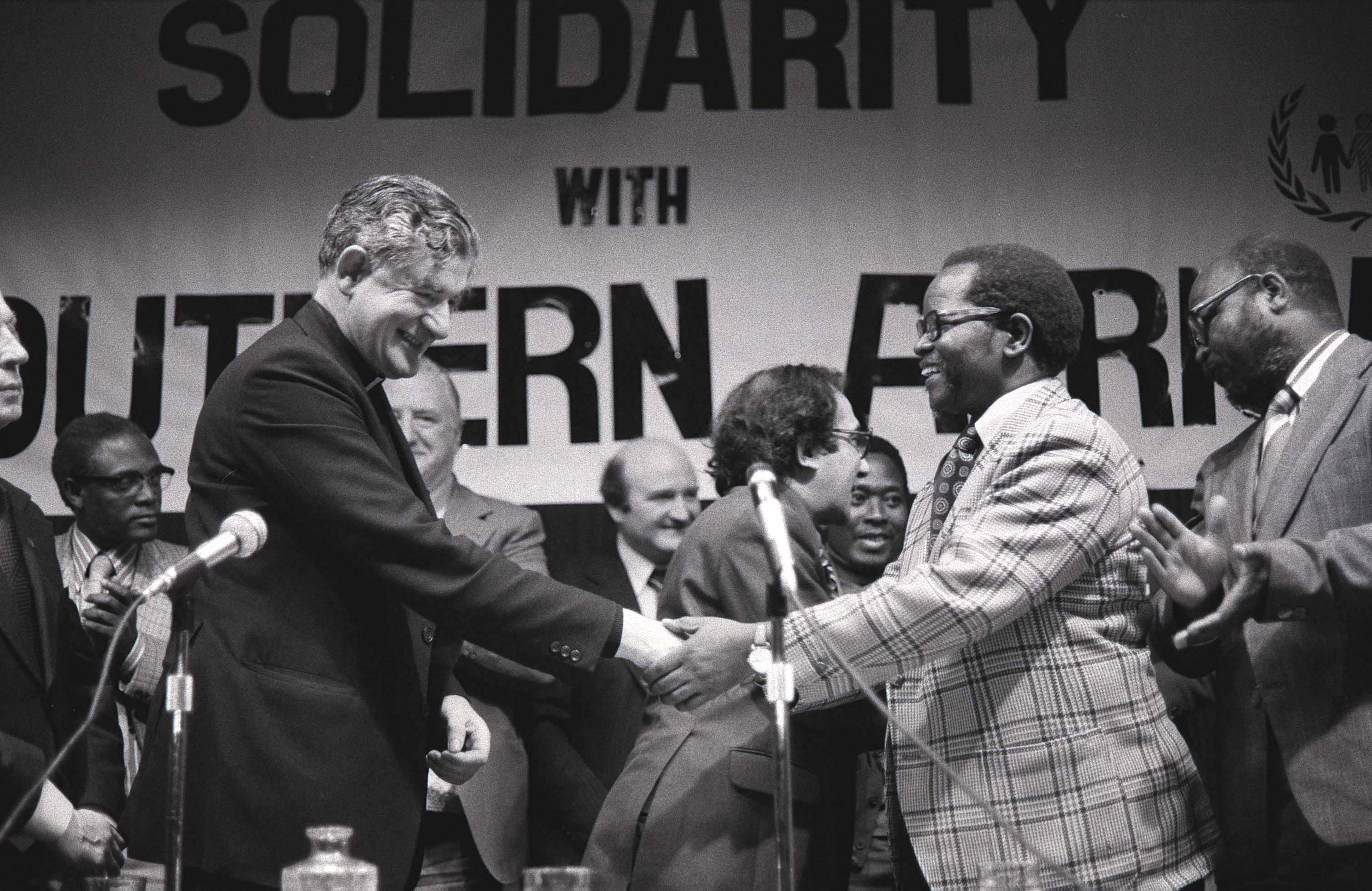 First major conference on links between the European Economic Community & South Africa organised by the IAAM in Liberty Hall. Oliver Tambo, then President of the ANC, pictured shaking hands with Fr. Austin Flannery. ©Photo by Derek Speirs.
Typically, Saint Patrick's Day is marked worldwide with effusive celebrations of Irish culture. In 2021, Ireland's National Day will be a slightly different affair. In South Africa, we are celebrating Saint Patrick's Day by looking back on the shared history between our two countries, and reminding ourselves that our lasting solidarity and friendship bring great hope for the future.
The first Irish Society was founded in Cape Town in 1829 and St Patrick's Day has been celebrated in South Africa ever since. When we cancelled the annual St Patrick's Day festivities in 2020, we were acutely aware of the historical break the pandemic demanded. St Patrick's Day is quintessentially a social occasion, a time for enjoying music, "craic" and conversation with friends old and new. A global pandemic is perhaps the only thing that could have stopped us in our tracks!
St Patrick's Day is celebrated with great enthusiasm across the world by Irish people who are far from home, people of Irish descent who treasure their heritage and identity, and many more who simply enjoy Irish music, literature, dance and film. The pandemic has forced us to think anew about how to share our joy and pride in our heritage during this extraordinary period. As the pace has slowed, we have taken time to reflect on Ireland's historical and contemporary relationship with South Africa.
Our historical relationship is deep and multi-faceted. Today, South Africa is home to over 38,000 Irish citizens, and even more descendants of the many Irish migrants who arrived in this country as early as 1880. Over 30,000 Irish soldiers fought in the Anglo-Boer War on the British side, while a much smaller number, known as the Irish Brigade, joined the Boer side against the Empire. At one time, there were over 3,000 Irish missionaries active in South Africa, who dedicated themselves to providing health and education services, often in the poorest and most marginalised communities, and often becoming vigorous opponents of the apartheid system because of what they learned there.
Thanks to these connections, and a deep sense of justice born out of our own anti-colonial struggles, Ireland was a fertile ground for one of the most successful Anti-Apartheid Movements in Europe. I believe that the story of this solidarity movement can offer hope and inspiration to young people in both South Africa and Ireland, and should not be allowed to fade from our collective memory as time goes by.
That is why the Embassy of Ireland has created a new exhibition celebrating the ordinary heroes of the Irish Anti-Apartheid Movement, whose many small feats added up to a striking historical contribution. The exhibition follows the journey of the Irish Anti-Apartheid Movement, from its beginnings in 1964 in the small Dublin flat of Kader and Louise Asmal, to the pivotal Dunnes Stores strike, and the sustained boycotts that sought to isolate the apartheid regime.
The Dunnes Stores strike is perhaps the greatest example of how ordinary people, who take a stand against injustice, can achieve extraordinary things. In 1984, Mary Manning, a cashier in large supermarket, refused to handle produce from South Africa. To uphold her principles, she went on strike, joined by a small group of her colleagues at a time when Ireland was blighted by high unemployment and emigration. These courageous workers persisted for two and half years, quietly gathering public support as their determination deepened, and only returned to work when the Irish government banned the sale of South African produce in Irish stores.
This was one small but powerful action among many. The Irish Anti-Apartheid movement successfully organised academic, artistic and sporting boycotts throughout its thirty-year campaign. This vocal and visible Irish solidarity was felt by those struggling on the frontline here in South Africa, and laid the foundations for the warm and deep modern relationship between our two Republics.
During our own time of conflict, South Africa's peaceful transition served as an inspiration to those working for peace on our island, and South Africa's democratic leaders were generous with their time and expertise in helping the Northern Irish Peace Process. We remain grateful to President Ramaphosa, who brought his experience and empathy to the vitally important and sensitive work of overseeing the decommissioning of paramilitary weapons.
This St Patrick's Day is an opportunity to celebrate our successes in building a better world, founded on the shared values of justice, equality and democracy. Many iconic places and monuments across the world will be illuminated with green lighting on St Patrick's Day to symbolise Ireland's solidarity and friendship with nations around the world. At Constitution Hill, we will be greening the Flame of Democracy in this spirit, while in Cape Town, we will green the Long March to Freedom monument. In both places, the Irish solidarity exhibition will be installed, making the connection between those historical sites and heroes and Ireland's small part in supporting their struggle.
During this challenging time for the world, I believe this occasion represents a valuable opportunity to reflect on what the nations of the world can achieve when we work together, and to look forward with optimism to our shared future. Happy St Patrick's Day to all!