Women, Peace and Security in Zimbabwe
News
28 January 2021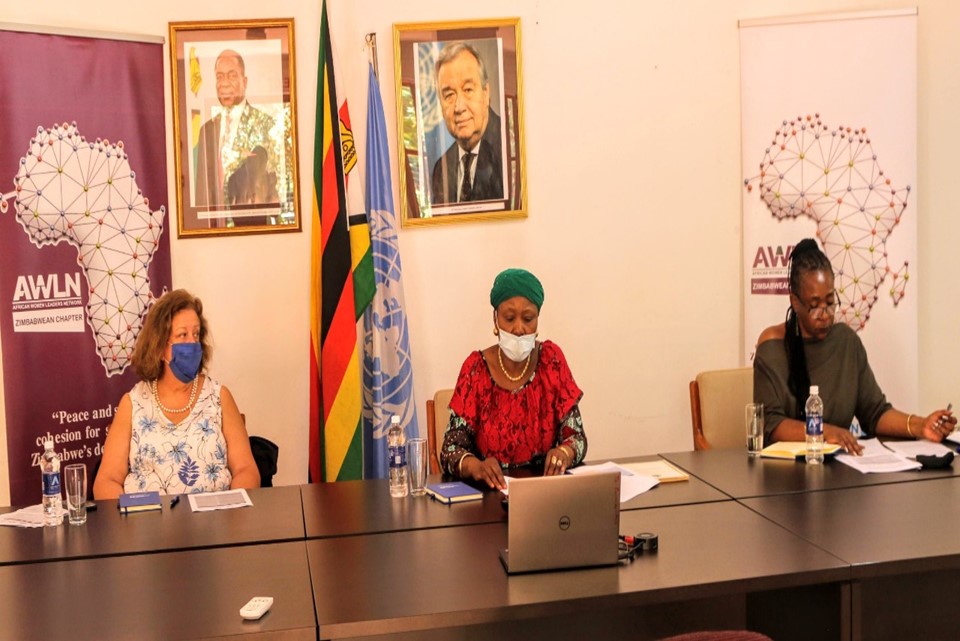 H.E Maria Ribeiro, UN Resident Coordinator, Minister Oppah Muchinguri Kashiri, Minister of Defence and War Veterans and Delphine Serumaga, UN Women Country Director listening to deliberations during UNSCR 1325 commemoration.
As part of the 16 days of Activism against Gender-based violence, the Embassy of Ireland in South Africa and HIVOS co-hosted a webinar aimed at interrogating the state of Women, Peace & Security in Zimbabwe. The webinar was held under the Theme: "The State of Women, Peace & Security in Zimbabwe: A collective review of women's realities, vulnerabilities, policy implementation and strengthening accountability to women's rights and gender equality". The focus of the webinar was to identify steps that can be taken by women to effectively participate in decision making processes, improve women's knowledge on international instruments Zimbabwe has signed that promote women's equal participation and representation in leadership. Despite women constituting approximately 51 percent of the population in Zimbabwe, women are still under-represented in institutions responsible for peace and security. Whilst the country celebrates that women occupy the Minister of Defence and Minister of Sports and Youth Affairs Positions for the first time in the country's history, these appointments fall short of the 50-50 gender equality provisions as per the Constitution of Zimbabwe. Throughout 2020, sexual violence in domestic and public spaces has increased, including the use of rape as a political weapon. There is a call for the government to implement in full the AU Master Roadmap for Silencing the Guns which offers practical steps for achieving Agenda 2063 and recognizes the specific role of women in creating a peaceful and prosperous Africa. This includes silencing the non-physical guns such as poverty, inequality and the impact of Covid-19 on women as well as advocating for the development of a National Action Plan on Women, Peace and Security in Zimbabwe.
Through UN Women Zimbabwe, the embassy also participated in a webinar to commemorate the 20th anniversary of the adoption of the United Nations Security Council Resolution 1325 (UNSCR 1325). The webinar focussed on the lessons learned from women peacebuilders and on ways to nurture the next generation of peacebuilders in SADC and Zimbabwe. The event initiated a critical conversation around the implementation of the UNSCR 1325 in SADC and Zimbabwe through the sharing of lessons learned from women peacebuilders and peacekeepers in the region. Building on these lessons the panel proposed actions needed to build a cadre of upcoming young peacebuilders and charting a path for the next decade of implementing UNSCR 1325.
The embassy also continues to strengthen gender coordination in Zimbabwe and is currently undertaking an evaluation which will inform future programming.