Applications for the Courtney Fellowship Programme in Burindi Now Open
Announcement
27 November 2018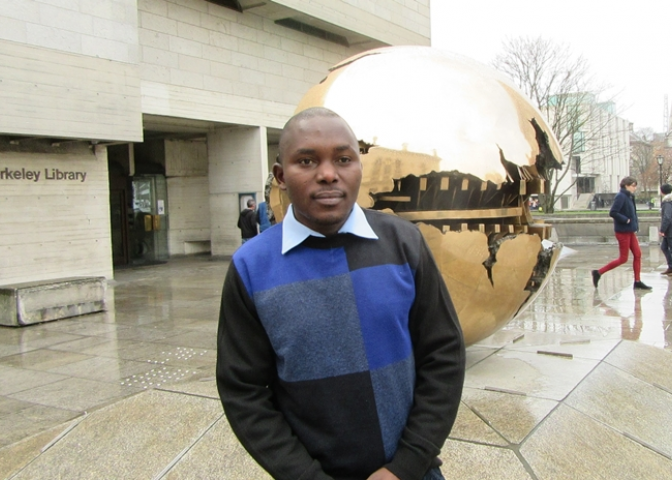 Dismas Ndayikengurukiye Courtney Fellow 2017/18
The Embassy is pleased to announce a new call for applications for the Irish Aid Courtney Fellowship. The Irish Aid Courtney Fellowship was set up in 2004 to commemorate the late Archbishop Michael Courtney, the Irish-born Papal Nuncio to Burundi, who was murdered in Burundi in 2003. Each year the scholarship programme supports suitably qualified candidates from Burundi to study for a MPhil in International Peace Studies at Trinity College Dublin.
The scholarship award covers course fees, required flights, accommodation, monthly allowances, insurance and other incidental expenses. Applications are now invited for study commencing in September 2019.
The scholarship programme provides a unique opportunity for Burundian citizens, committed to promoting peace and development in their country to study in an Irish university and spend a year living in Ireland. Irish universities are consistently ranked in the top 1% of research institutions in the world, with research programmes that are driving innovation and seeking to change lives worldwide.
To be eligible for The Irish Aid Courtney Fellowship, an applicant must:
be a citizen of Burundi and be residing in Burundi
have achieved the necessary academic standard to be accepted onto the MPhil in International Peace Studies Programme at Trinity College Dublin and not already hold a Masters in the area of Peace Studies
have a minimum of three years relevant work experience.
be able to demonstrate a strong commitment to the development of Burundi.
be able to take up the fellowship in the academic year for which it is offered.
provide a letter from their employer granting study leave for the duration of the fellowship and guaranteeing that they will be able to return to an equivalent position in the organisation at the end of the fellowship period.
In addition, all candidates for study at an Irish Higher Education Institute must demonstrate their skills in academic English via the IELTS test and must either:
provide an original copy of a previous test result - IELTS (minimum 6.5) - certificate dated September 2017 or later, or
obtain a minimum IELTS score of 6.5 if shortlisted (see www.ielts.org for IELTS details)
An applicant will not be considered further in either of the following circumstances:
They already hold a master's qualification.
They have applied for an Irish Aid Fellowship on two or more previous occasions without being awarded a fellowship. (Cases where an applicant withdrew from the process previously may be considered if there were exceptional or unforeseen circumstances for withdrawal in that instance).
They are currently working, or it is anticipated that they will work in the future, at an Irish Embassy/Mission or in an office of the Department of Foreign Affairs and Trade in Ireland. Those personnel who have worked with any of our embassies/missions in the past must allow a full year before becoming eligible to apply for a fellowship.
All successful applicants will be required to sign a commitment to return to their home country within 14 days of completing their studies in Ireland.
More information on the application process, including the application form is available here: https://www.irishaidfellowships.ie/strands/courtney-fellowship
The deadline for applications is: 17th December 2018
Applications should be submitted to the offices of Concern Worldwide, #38 Avenue Muyinga, Q. INSS, Rohero II, Bujumbura.
Any applications submitted directly to the Embassy of Ireland in Dar es Salaam will not be accepted.
Learn more about Ireland's relationship with Burundi: https://www.dfa.ie/irish-embassy/tanzania/about-us/ireland-in-burundi-drc-comoros/