Earth Day 2021: Climate Action and Supporting Efforts to Restore our Earth
News
22 April 2021
Earth Day 2021: Climate Action and Supporting Efforts to Restore our Earth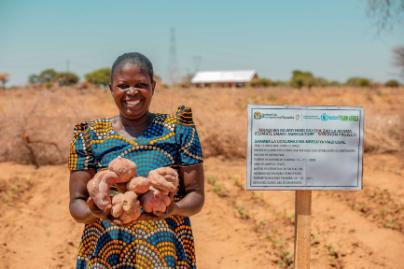 Earth Day, celebrated every year on 22 April, provides an opportunity for us to reflect on our relationship with our planet and environment. It is a chance to advocate and promote conservation and sustainability, honour environmental movements and celebrate our precious natural world. Arresting climate change is the major global challenge of this generation and this year's Earth Day theme; Restore our Earth, focuses on natural processes, emerging green technologies and innovative thinking to restore ecosystems.
Recognising that developing countries often feel the consequences of climate change most acutely, Climate Action, including a focus on sustainability and blue economy, is one of Ireland's four key priorities in our policy for international development, A Better World.
To this end, the Embassy currently supports programmes in the area of climate-smart agriculture, nutrition and sustainable livelihood. This year, the Embassy made its first grant with a focus on the blue economy, supporting sustainable fisheries in Small Island Developing States through the Fisheries Transparency Initiative. The Embassy plans to expand its support to an additional programme on blue economy, and to a green dairy value chain programme this year.
With a new Country Strategy for Tanzania due next year, issues related to climate resilience, environment management and sustainable development will be at the core of the new plan. This will include, among other things, supporting integration of climate action into local government planning, climate and gender justice, blue economy, and contributing to policy dialogue.
Acknowledging that change starts at the individual level, the Embassy has also set itself the goal of becoming Ireland's Greenest Mission. As part of Ireland's Department-wide Green Foreign Ministry Initiative, through which the Department of Foreign Affairs is committed to becoming a leader in Green Government through implementing sustainable practices, the Embassy launched its own Greening the Mission challenge in 2019.
Guided by annual action plans and implemented by all staff, the first year focused on optimising staff understanding, facilities and systems to improve sustainability, and raising the Embassy's green public profile. This year our focus is on strengthening our understanding of climate change, and reducing our carbon footprint both at work and at home.
While we still have more to do, so far we have managed to reduce our electricity consumption by 60% by installing a 30KWp solar electricity system with motion-sensor LED lights in the premises. A rainwater-harvesting system and automated water taps have also been installed, reducing water usage by 21%.
In a bid to improve staff understanding of greening actions, we have held trainings on waste separation for recycling and composting and climate-smart vegetable gardening. We have reduced printing and single-use plastics in the office. To raise staff awareness around plastic waste and the importance of recycling, we organised a beach clean-up.
We hope that these small steps at Embassy level will contribute to greater understanding and commitment amongst all our colleagues to take Climate Action and to try to embody the values we espouse.