"A Farther Shore" Goes West in April
News
20 April 2021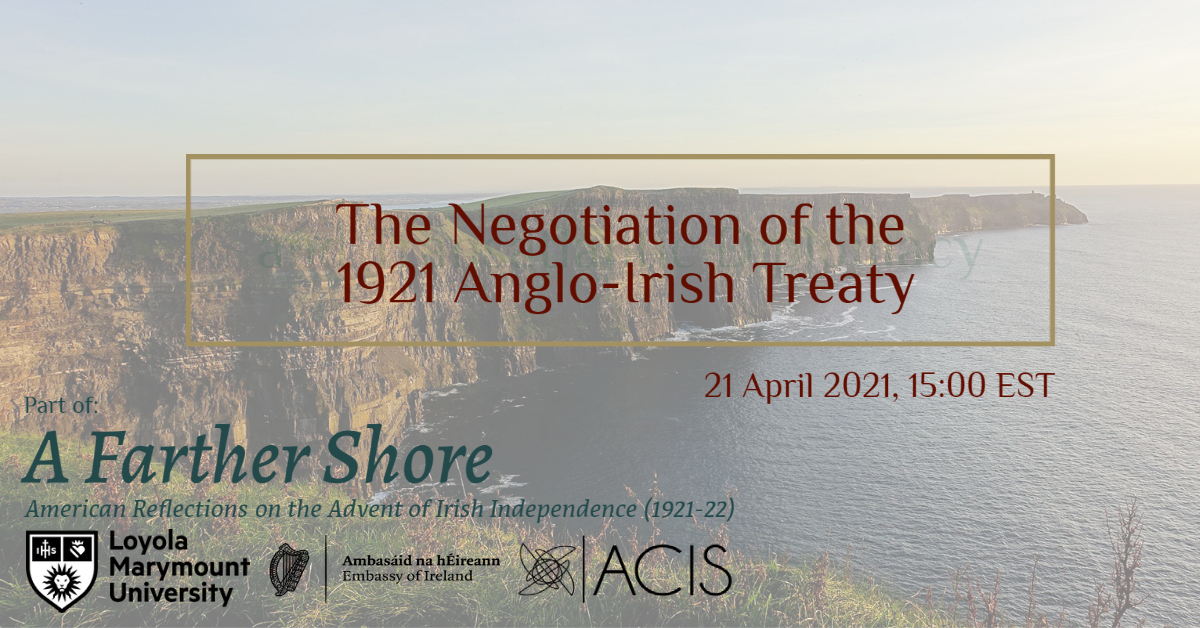 We are halfway through the "A Farther Shore" series! Thank you to everyone who has attended and to all our partner organizations for such fantastic conversations.
Tomorrow (21 April) we will explore the 1921 Anglo-Irish Treaty. Hosted by Loyola Marymount University and the Consulate General of Ireland Los Angeles, our distinguished panel will discuss the treaty negotiations, which culminated in the 1921 agreement that ended the War of Independence and established the Irish Free State 100 years ago.
The panel includes Dr. Kathryn McClurkin (Western Kentucky University), Dr. Oliver P. Rafferty (Boston College), and Dr. Amy Woodson-Boulton (Loyola Marymount University). The talk will be moderated by Professor Dermot Ryan (Director of Irish Studies, Loyola Marymount University) with concluding remarks by Ambassador Daniel Mulhall.
Sign up for the event here. The event recording will be posted on the Embassy's Facebook page, where you can find recordings of all previous lectures, in the coming days.
Our next lecture, "The Irish Civil War", will be on 21 May 2021 at 13:00 EST with University of St. Thomas and the Consulate General of Ireland Austin. Registration details is available here.