Out in the World: Celebrating the Extraordinary Lives of Ireland's LGBTQ+ Diaspora in the US
News
27 May 2021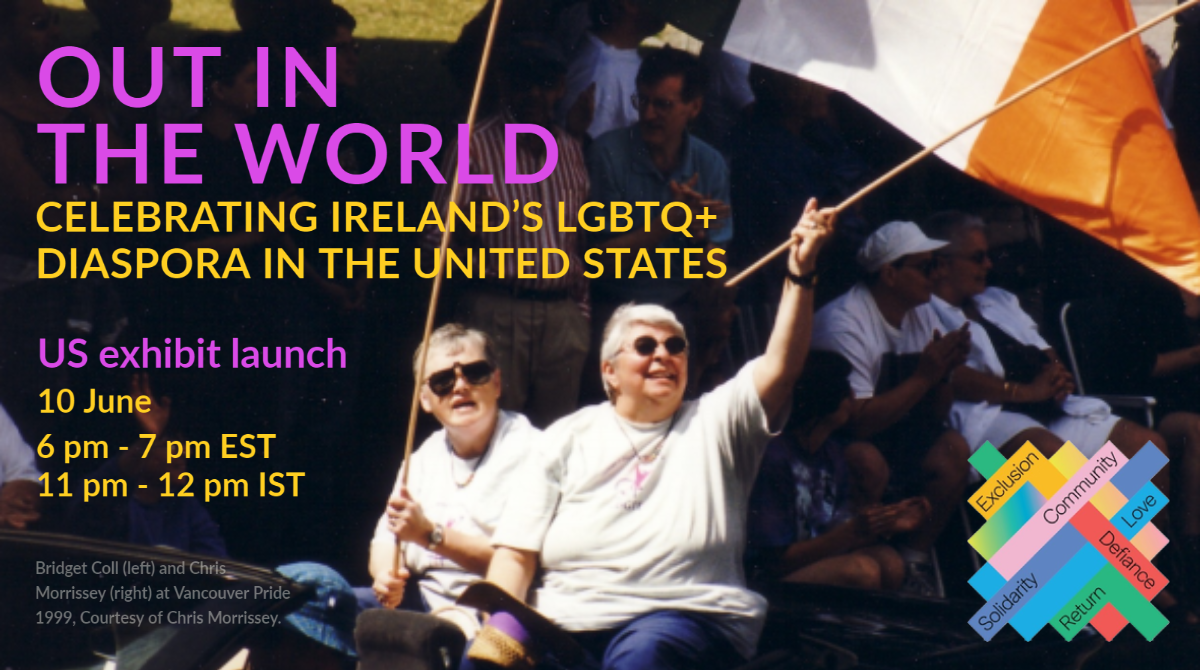 Bridget Coll (left) and Chris Morrissey (right) at Vancouver Pride, 1999. Photo Courtesy of Chris Morrissey
The Embassy of Ireland, Irish Network DC, Irish Network USA and EPIC The Irish Emigration Museum invite you to join us on 10 June, as we mark Capital Pride in Washington DC and Dublin Pride in Ireland with the US launch of Out in the World, a new EPIC exhibition celebrating the extraordinary lives of Ireland's LGBTQ+ Diaspora.
Out in the World: Ireland's LGBTQ+ Diaspora presents a dozen stories from the vast yet largely untold history of Ireland's LGBTQ+ diaspora. It is the first exhibition to celebrate the role that Irish emigrants have played in making Ireland and the world a more inclusive place for LGBTQ+ people. The Irish in America feature prominently, with compelling profiles of the Irish ties to the 1969 Stonewall Rebellion and the landmark equality campaigns of the Irish Lesbian and Gay Organization (ILGO), alongside remarkable personal histories of Irish LGBTQ+ emigrants to the US who found love and fought for the rights of their community abroad.
Joining us to mark the exhibition's opening, celebrate Pride and reflect on the contribution Irish emigrants have made in advancing LGBTQ+ rights on either side of the Atlantic are:
• Senator Edward Markey
• Daniel Mulhall, Ambassador of Ireland to the United States
• Katherine Zappone, leading human rights advocate, author and former Irish Minister for Children and Youth Affairs as well as Independent Senator
• Quentin Fottrell, acclaimed journalist & leading LGBT activist
• Reggie Greer, Director of Priority Placement and President Biden's Senior Advisor on LGBTQ+ issues
• Paul O'Dwyer, founding member of the Irish Lesbian and Gay Organization, member of ACT UP, and immigration attorney
• Dr Maurice Casey, Historian-in-residence at EPIC Museum & Out in the World Curator
The launch will be hosted on Zoom at 18:00 EDT/23:00 GMT. Register for the event here.