Remembering John Hume in America
Press release
15 March 2021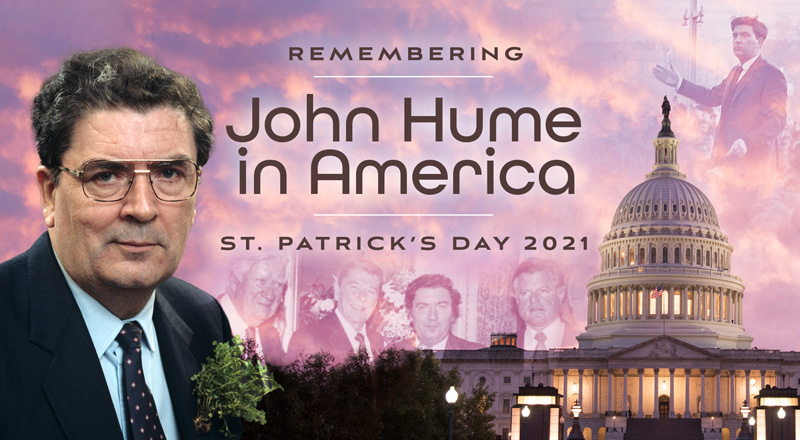 ‌Remembering John Hume in America 17 March 2021
Press Release
The Embassy of Ireland has joined with the US Congressional Friends of Ireland caucus and the John and Pat Hume Foundation to host a special event this Saint Patrick's Day to remember John Hume in America, on this, the first Saint Patrick's Day since his passing.
Titled ''Remembering John Hume in America'', the program will feature a selection of his many friends and admirers in the USA and Ireland who knew John since his earliest trips to the US to seek support for peaceful resolution to the conflict in Northern Ireland. Among the contributors are President and Hillary Clinton, Nancy Pelosi, Mary McAleese, An Taoiseach, and past and present members of the Friends of Ireland. Phil Coulter will give an exclusive performance of The Town I Loved So Well from the Guildhall in Derry in tribute to his friend the legendary peacemaker John Hume. There will also be contributions from members of the Hume family and close family friend, Bono.
Announcing the event, Ambassador Mulhall said: ''This is a chance for people from both sides of the Atlantic, from all walks of life, to celebrate the life of a titan, a giant, a man of vision who changed the future of a people and a nation. In a year when the global pandemic prevented his many US friends from travelling to Derry to pay their respects, we are honoured to remember John Hume in America this Saint Patrick's Day. ''
Remembering John Hume in America has been developed with the assistance of RTE, the Library of Congress, the Irish Times, the SDLP, William V Carson, on behalf of the William Carson Collection, The Irish News, the Faith and Politics Institute, as well as Derry City and Strabane District Council, Visit Derry and Tourism Ireland. The program was produced and directed by Michael Colbert, Capitol Concerts.
The program will be broadcast on www.rememberingjohnhume.com from 3.30pm Eastern Daylight Time (USA) and 7.30pm Greenwich Mean Time (Ireland) on Wednesday 17 March. This webpage is live and will not need any registration or passwords.
Embassy of Ireland, Washington D.C.
15 March 2021
Note for Editors:
The US Congressional Friends of Ireland caucus, the oldest caucus in Congress, is dedicated to fostering and strengthening ties between the United States and Ireland. It is an important bipartisan organisation, co-chaired by Congressman Richard E. Neal (D-MA) and Congressman Mike Kelly (R-PA).
The Friends of Ireland Caucus was formed on 17 March 1981 by Senator Ted Kennedy, Senator Daniel Patrick Moynihan, and House Speaker Tip O'Neill to recognize the unique relationship between the US and Ireland and to support a just, lasting and peaceful settlement to the conflict in Northern Ireland.
The John and Pat Hume Foundation was established in 2020 to support and inspire Leadership for Peaceful Change built on a respect for difference, guided by the Hume Principles. For more information see www.humefoundation.org
Quotes from contributors:
President William J. Clinton:
"I think there's no greater testament to John's legacy than the fact that all these years later an entire generation has grown up outside the shadow of hatred. And his spirit now will live on in every new generation that makes the same choice he did: to give up violence, open their hands and hearts, bridge our divide, lift up our common humanity and share a peaceful, hopeful future".
Secretary Hillary Rodham Clinton:
"John was a visionary who believed that what we have in common is far more important than what divides us. For decades he worked tirelessly to end the bloodshed in Northern Ireland. And through his inspiring example, the strength of his non-violent convictions and his dogged persistence, he slowly brought more and more people along with him, one heart and mind at a time".
Speaker Nancy Pelosi:
"It was my family's honor to welcome John to our home in San Francisco in the late 1980s where he said to us: "As we bring down the walls in Belfast we must also bring down the walls in our hearts if we are going to have peace."
Chairman Richard Neal:
"His embrace of non-violent change I think serves as a model for men and women across the globe. His ability to influence the Good Friday Agreement knowing that his political party would now be treated as a co-equal in terms of nationalism, also changed the dynamic of political party alignment across the north. But the Good Friday Agreement has been an example of how two traditions living in one community might see the future".
Micheál Martin, T.D. Taoiseach of Ireland:
"We would not be where we are today with a generation of children in Northern Ireland raised in peace, without the tireless bi-partisan US engagement and support that John Hume inspired for the peace process. By investing his time in deepening understanding and building relationships, John ensured that the United States would invest in Northern Ireland and the island of Ireland in so many ways".