Presidential Distinguished Service Award 2022
News
08 December 2022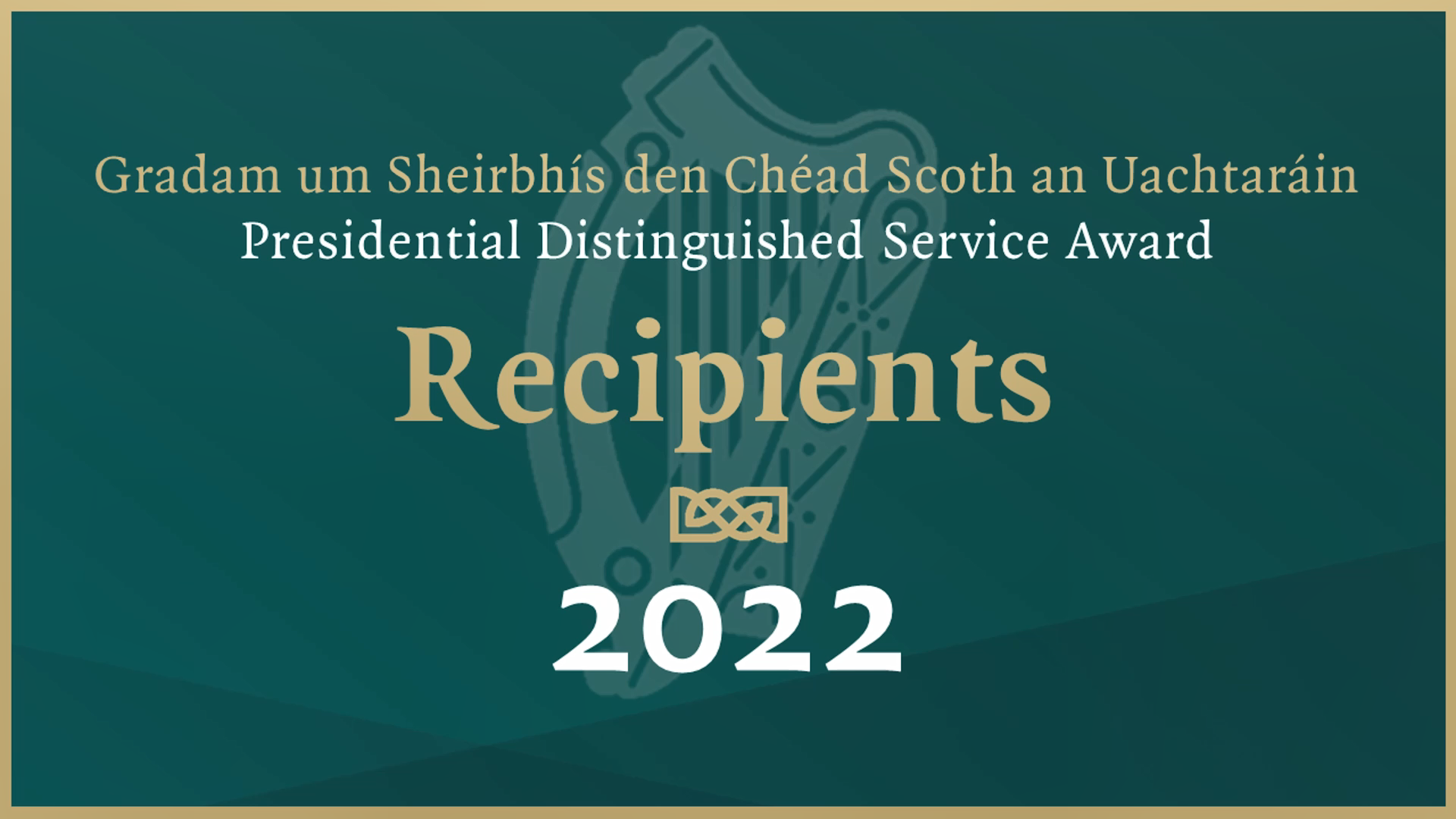 This years recipents of the Presidential Distinguished Service Award
Congratulations to all the recipients of the Presidential Distinguished Service Awards!
This year we have four from the United States. Congratulations to Morgan Bullock and Joseph M. Hassett who recieved their award under the Arts, Culture and Sport catagory and Ciarán Staunton & Orlaith Staunton under the Charitable Works catagory.
Morgan Bullock (US)
Morgan Bullock is a well-known Irish dancer from Richmond, Virginia USA, who took the internet by storm. She is popular on TikTok and other social media platforms for her videos of her Irish dancing to contemporary music, where she blends traditional Irish dance choreography with hip-hop hits to produce something truly unique and exciting. It has generated a great deal of positive attention for Irish dancing in the US and beyond. It all started in 2020, during the early stages of the pandemic lockdown, when Morgan posted a 12 second video clip on TikTok of her Irish dance moves. It went viral and made universal news. As a result of these videos, she was asked to join the Riverdance tour, becoming the first African-American female dancer to do so.
Joseph M. Hassett (US)
Joseph M. Hassett is a proud Irish American whose great-grandparents emigrated from counties Clare and Cork. He is both an accomplished leading trial lawyer who has successfully handled major corporate and securities cases in trials, appeals and arbitration; and a Yeats Scholar. He has written extensively on Yeats, Joyce and other Irish writers and balances his achievements in law with a passion for Irish culture and academia. He has long been an important patron of Irish literature in Ireland, with The National Library, Yeats's Tower, Thoor Ballylee, and the Yeats Society among Irish arts organisations to benefit from his support. He holds a PhD in Anglo-Irish Literature from University College Dublin and is a graduate of Harvard Law School.
His interest in W.B. Yeats stems from the generosity of Irish Americans in his hometown of Buffalo, New York, who funded a scholarship that took him to the Yeats International Summer School in Sligo following his junior year in college in 1963. Joseph has lectured on Yeats and other Irish writers at such venues as the Yeats International Summer School in Sligo, the James Joyce Summer School in Dublin, the Princess Grace Irish Library in Monaco, and Oxford University.
Ciarán & Orlaith Staunton (US)
In the wake of the tragic death of their son, Rory, from sepsis in 2012, Ciarán and Orlaith Staunton (from Mayo and Louth respectively) founded the Rory Staunton Foundation, now known as End Sepsis, to ensure the preventable tragedy that befell them would not affect others. This foundation has had huge success in passing laws requiring protocols that can identify and treat sepsis before it becomes terminal thereby leading to far fewer deaths from the killer infection, the number one cause of death in hospitals across the United States. Their work has undoubtedly saved thousands of lives and the introduction of the protocols reduced deaths by 21% in New York State, and a study attributed 16,000 lives saved as a direct result of their implementation.
The Foundation is working state by state to introduce these protocols (known in New York as Rory's Regulations). 43 million Americans are now protected by sepsis regulations due to the tireless, selfless and life-saving work of the Stauntons in memory of their son.
The Stauntons are emblematic of the indelible impact that the Irish have made in New York.