Yeatsday Talk: ''Yeats/Joyce - The Heroic meets the Mock-Heroic''
News
12 June 2021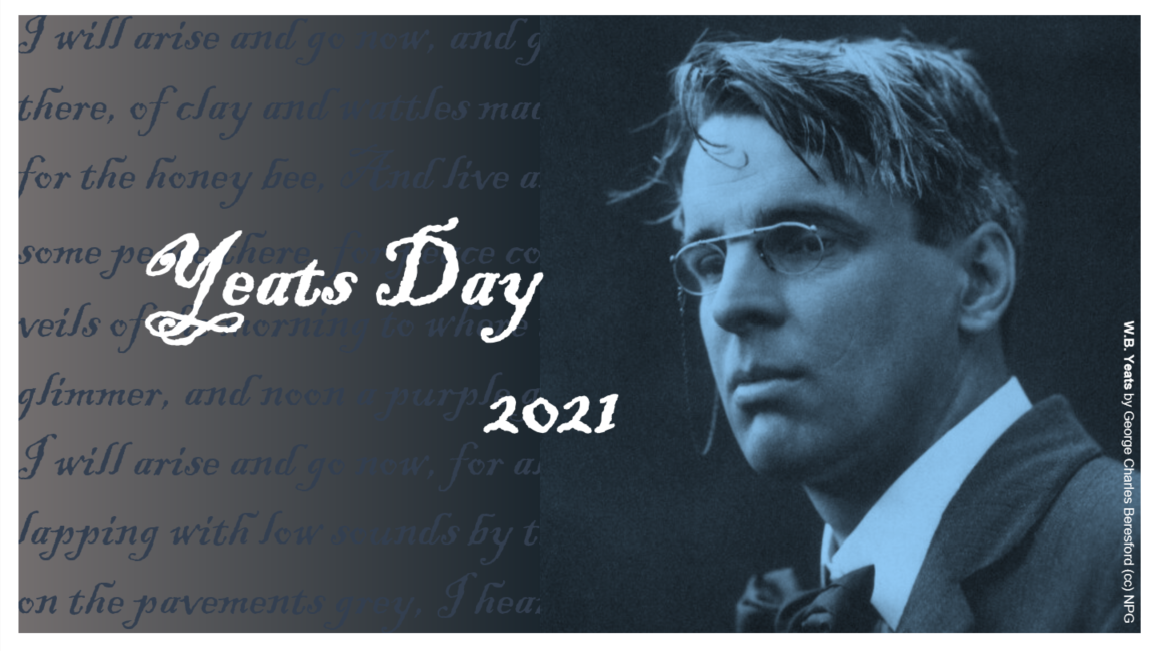 As Honorary President of the Yeats Society, I am delighted to contribute to the Society's Yeatsday Festival with this talk on W.B. Yeats and James Joyce.
A lifelong Yeats enthusiast, I have been paying more attention to James Joyce in recent times in advance of next year's centenary of the publication of Ulysses. I am due to publish a book with New Island Books in January 2022, which will draw on my experience of talking about Joyce and Yeats to audiences around the world during the four decades I have spent in Ireland's diplomatic service. I am also conscious of another centenary on the horizon, that of Yeats's receipt of the Nobel Prize for Literature in December 1923, which will deserve significant celebratory attention.
W.B. Yeats's imagination was a crowded place, chockfull of folklore, mythology, magic, hermetic philosophy and the events and personalities of his busy life as a writer, literary evangelist and a distinctive presence in the Ireland of his time.
Part of his well-stocked mind was occupied by the heroic, for example by Cuchulainn, the leading figure from the Irish mythological canon and someone wrought in the image of Homer's Odysseus. Cuchulainn's muscular character was a far cry from Joyce's understated Ulysses, Leopold Bloom. In Yeats's image of him, Cuchulainn 'fought with the invulnerable tide' while his spirit stalked through the Post Office when summoned to Pearse's side as part of that 'terrible beauty' of Easter 1916.
This provides for an instant contrast with James Joyce who mentions Cuchulainn in Ulysses where he appears as the first name in a swaggering litany of the 'many Irish heroes and heroines of antiquity'. Here Joyce is poking fun at what he saw as the pretensions of heroic nationalism.
In this debunking of the very idea of heroism, Cuchulainn is listed alongside such notables as Dante Alighieri, Christopher Columbus, Charlemagne, the Mother of the Maccabees, the Last of the Mohicans and the Man who Broke the Bank at Monte Carlo! This was certainly not the Cuchulainn of Yeats's imagination.
One way of looking at Yeats's life and work is to see it as a search for the heroic and the frustration when confronted with the seemingly unromantic realities of everyday life in the Ireland of his time. Yeats was an active maker of heroes. He indulged in a good deal of that when it came to Parnell. Yeats's fascination with regard to Parnell continued into the 1930s, when he was more than four decades in his grave. Then there was Yeats's fealty to the image of John O'Leary, who he made to epitomise the glories and the promise of 'romantic Ireland'. Latterly, he venerated the literary and intellectual giants of Ireland's eighteenth century, Swift, Berkeley, and Burke. Towards the end of his life, he created his own personal pantheon – 'my glory was I had such friends' - which celebrated Lady Gregory ('of all that pride and that humility'), Synge (a 'rooted man' with 'a grave deep face'), Maud Gonne ('Pallas Athene in that straight back and arrogant head'), and his father John B. Yeats ('upon the Abbey stage' with 'his beautiful mischievous head thrown back').
In Yeats's view, his friends were 'All the Olympians; a thing never known again.' It is difficult to think of Joyce's characters as Olympians. Weekend runners perhaps! When Joyce thought of the heroic, his inclination was to parody it, as he does throughout the 'Cyclops' episode.
Parnell had an enthusiasm that Yeats and Joyce shared, but they had different approaches to his legacy. Both agreed that 'the Bishops and the Party' were to blame for the 'tragic story' of Parnell's fall from grace. It was the character of Parnell that interested Yeats rather than the political movement he had led. Parnell also belonged to the Anglo-Irish tradition that Yeats associated himself with during the last twenty years of his life, 'one of the great stocks of Europe' as he put it in his controversial 1925 Senate Speech on divorce. Yeats's father, John B., did not care for Parnell because of the peremptory manner in which he had ousted his family friend, Isaac Butt, as Irish party leader. Whereas John B. Yeats saw Butt as a consummate statesman, Parnell was, in his opinion, merely an 'arch-politician'1 and so he certainly was (to his credit, I would say).
By contrast with the elder Yeats, John Stanislaus Joyce was an avid admirer of Parnell. His entry in the Dictionary of Irish Biography summarises his deep affinity with Parnell thus:
'The fall of John Joyce coincided with the political fall and death of C.S. Parnell whom John Joyce (and his son) vigorously supported. John took little interest in active politics after this, even after the Irish Party reunited', which happened in 1900.
In Joyce's eyes, Parnell's demise represented the end of an era when, with brutal suddenness, the dreams of a generation that had invested so much emotional energy into the Parnell project were decimated. There is a sense in which Ulysses depicts the lingering death throes of Parnell's Ireland, for the dead leader is a presence throughout Joyce's novel. Set in 1904, Ulysses features characters like Joe Hynes, Tim Harrington and Simon Dedalus, who hark back to the glory days of Parnell, but we also get a glimpse of the future in the guise of Arthur Griffith, who published The Resurrection of Hungary in 1904 and founded the original Sinn Féin the following year. Joyce admired Griffith and in Ulysses he has Bloom describe him as 'the coming man' only for a dismissive Molly to observe that he doesn't look it.
Yeats saw in Parnell's fall an opportunity for Ireland to launch itself onto a new path. It promised the beginning of something exciting, the creation of a national literature for Ireland. Yeats threw himself into that task on which he expended considerable energy during the 1890s. For Yeats, Ireland was one of the seven great fountains in the garden of the world's imagination. It is hard to imagine Joyce thinking along such lines. With his masterful ability to conjure up a compelling vision of Irish history, Yeats saw Ireland's transformation during the 20th century's second decade as a stepchild of the cultural nationalism to which his literary movement contributed an important strand.
In his Nobel Prize acceptance speech, Yeats eloquently set out his stall, claiming his share of the credit for the Anglo-Irish war's 'long gestation'.
'The modern literature of Ireland, and indeed all that stir of thought which prepared for the Anglo-Irish War, began when Parnell fell from power in 1891. A disillusioned and embittered Ireland turned away from parliamentary politics; an event was conceived and the race began, as I think, to be troubled by that event's long gestation.'
Yes, there certainly was a 'stir of thought' in early 20th century Ireland, for which Yeats and Joyce are prime evidence, but the jury remains out on the extent to which the cultural effervescence of that period actually shaped the political transformation that came about in Ireland between 1914 and 1922. In Ulysses, Joyce offers us a window on this disillusioned Ireland with its embittered inhabitants like Simon Dedalus, 'a great criticiser' as Molly styles him, and, of course, the larger than life 'Citizen', star of the 'Cyclops' episode, Joyce's extended lampooning of 'romantic Ireland'.
As an example of Yeats's political/heroic mode, I want to look at two poems, 'September 1913' and 'Easter 1916'. The former is a lament for the deceased heroism of 'romantic Ireland' as it evokes the sacrifice of those 'that stilled your childish play' and 'spread the grey wing upon every tide'. 'Easter 1916' is, despite the ambivalence that runs through it, ultimately a salute to those 'vivid faces' that changed Ireland 'utterly' in the wake of the Easter Rising. Even that 'drunken vainglorious lout', John MacBride, for all of his transgressions against Yeats and Maud Gonne, is credited with having relinquished 'the casual comedy' of everyday life and 'been changed in his turn,/Transformed utterly'. It strikes me that a 'casual comedy' might be a revealing way to describe Ulysses. Moreover, these lines from 'Easter 1916' could be a description of Leopold Bloom as he rambles the streets of Dublin on June 16th 1904.
'I have passed with a nod of the head
Or polite meaningless words,
Or have lingered awhile and said
Polite meaningless words.'
Think, for instance, of Bloom's disinterested exchanges with McCoy and Lyons in episode 5 of Ulysses, 'Lotus Eaters'.
And then there is the crescendo to Yeats's great history poem.
'I write it out in a verse –
MacDonagh and MacBride
And Connolly and Pearse
Now and in time to be,
Wherever green is worn,
Are changed, changed utterly:
A terrible beauty is born.'
I know that it's not fair to compare lines from a poem with excerpts from a novel, but I was trying to think of a passage from the 'Cyclops' episode that I could put alongside Yeats's closing lines and here's what I've come up with:
'Our harbours that are empty will be full again, Queenstown, Kinsale, Galway, Blacksod Bay, Ventry in the Kingdom of Kerry, Killybegs, the third largest harbour in the wide world with a fleet of masts of the Galway Lynches and the Cavan O'Reillys and the O'Kennedy's of Dublin when the earl of Desmond could make a treaty with the Emperor Charles the Fifth himself. And will again, says he, when the first Irish battleship is seen breasting the waves with our own flag to the fore, none of your Henry Tudor's harps, no, the oldest flag afloat, the flag of the province of Desmond and Thomond, three crowns on a blue field, the three sons of Milesius.'
You may ask how I can compare those lines with Yeats's? There are certain similarities, the lists of names, and the 'now and in time to be' element in the empty harbours that will be full again. The forward-looking image of the flag aboard an Irish battleship could be equated with Yeats's reference to 'wherever green is worn'. Incidentally, Ireland now has a naval vessel named after James Joyce. And, this whole outburst from 'the Citizen' conveys his aspiration towards an Ireland 'changed utterly' with the advent of independence. The essential difference, of course, has to do with Yeats's magisterial seriousness alongside Joyce's playful mockery, his casual comedy.
Except perhaps in the dense wood of Finnegan's Wake, you won't find many heroic sentiments in the pages of Joyce's books. There are no lofty claims about Ireland's unrealised romantic or spiritual potential. There is no citing of figures like Edward Fitzgerald, Robert Emmett and Wolfe Tone who exhibited 'all that delirium of the brave' and no conjuring up of a 'terrible beauty' or of the virtues of 'the indomitable Irishry'. When Bloom thinks of the famous words from Robert Emmet's speech from the dock at the end of the 'Sirens' episode, his thoughts are mingled with his efforts at breaking wind!
Aside from Parnell, Joyce created no gallery of personal heroes. His characters have a workaday quality to them. Molly is no woman that 'Homer sung' and there was 'No Second Troy' for her to burn. Nor does she have the kind of 'pilgrim soul' that Yeats ascribed to Maud Gonne. Molly's is more of an untamed, untrammelled soul.
Joyce's characters are deliberately unheroic, except perhaps for Stephen Dedalus, mired in an epic struggle to forge in the smithy of his soul the uncreated conscience of his race. Joyce chose not to confront the Ireland of his time head-on as Yeats invariably sought to do through his 'day's war with every knave and dolt/Theatre business, management of men.' In contrast with Yeats's tendency to dip his oar into every argument, Joyce's preference was, as he put it in A Portrait of the Artist as a Young Man, to rely on 'silence, exile and cunning'. Whereas Yeats plunged into many a public spat, Joyce operated obliquely, by forensically examining the country he left behind and signalling his findings back to Ireland through the pages of his books.
Joyce's most elaborate creation, the character of Leopold Bloom, is a down-at-heel hero. He is a seemingly unsuccessful advertising salesman, moored in an unsatisfactory marriage with an unfaithful wife. He is a fish out of water in early 20th century Dublin, where he seems to have lots of wary acquaintances but no real friends. He is prudent and diffident, and cannot even bring himself to try to stymie his wife's plans for an amorous afternoon encounter with Blazes Boylan. Bloom's heroism is the heroism of daily life.
Yeats and Joyce were chalk and cheese in their approaches to the task of writing. But how did they view each other? When Joyce first met him in the early years of the 20th century, Yeats was part of a literary establishment against which the younger writer self-consciously sought to rebel. Joyce could be quite acerbic in his views, including about Yeats who invariably tried to be helpful, recognising as he did the younger man's talent, and his arrogance. When they first met, Joyce famously told Yeats that he was 'too old' for Joyce to be able to help him. Yeats wisely advised Joyce that writers needed 'less qualities of talent than qualities of character … patience, adaptability … and a gift for growing by experience and this is perhaps rarest of all.'2
In a pamphlet published during his student years, The Day of the Rabblement, Joyce had a right pop at Yeats's Irish Literary Theatre for surrendering to the popular will. It must, he wrote, 'now be considered the property of the rabblement of the most belated race in Europe.'3 A few years later, he would describe Yeats and others as 'the blacklegs of literature. Because they have tried to substitute us, to serve the old idols at a lower rate when we refused to do so for a higher.'4 In A Portrait of the Artist as a Young Man, Joyce wrote that 'Michael Robartes (Yeats) remembers forgotten beauty and, when his arms wrap her round, he presses in his arms the loveliness which has long faded from the world. Not this. Not at all. I desire to press in my arms the loveliness which has not yet come into the world.'
In Ulysses, Yeats is subjected to some gentle ribbing as when Buck Mulligan asks Stephen why he hadn't, when reviewing a book by Lady Gregory, given it 'the Yeats touch', a reference to the logrolling of each other's work to which Yeats and his circle had often resorted. In Mulligan's view what Stephen ought to have written, à la Yeats, was that Gregory's book was, 'The most beautiful book that has come out of our country in my time. One thinks of Homer.'
Yeats was persistently helpful to Joyce, especially when he arranged a British Civil List grant for him in 1916 for which Joyce was, rightly, deeply grateful. Yeats was also an admirer of Ulysses, a novel that was hugely controversial when it first appeared. One might have expected someone like Yeats, in his late 50s when Ulysses appeared, to have had difficulty with Joyce's experimental techniques, but he understood the novel's strengths and thought it 'a work perhaps of genius'. He believed that some passages from Joyce's book had 'great beauty, lyric beauty, even in the fashion of my generation' and that the novel as a whole was of 'immense importance'5. He insisted that Joyce was 'the only Irishman who had the intensity of the great novelist.'6
Yeats was brilliantly perceptive in his appreciation of Ulysses, spotting that it was 'an entirely new thing – neither what the eye sees nor the ear hears, but what the rambling mind thinks and imagines from moment to moment. He has certainly surpassed in intensity any novelist of our time.'7
Although Joyce was sparing in dishing out praise, he did admire Yeats's work, and especially Yeats's poem, 'Who Goes with Fergus', which he quotes in Ulysses and apparently sang for his mother on her deathbed. Yeats's phrase 'love's bitter mystery' had special appeal for Joyce. He sent warm congratulations to Yeats when he was awarded the Nobel in 1923 and signed a letter of congratulations to Yeats on his 70th birthday in 1935 and sent a wreath to his funeral in 1939, which however arrived late in the south of France. Joyce politely but firmly declined Yeats's invitation to join the Irish Academy of Letters.
Joyce's biographer, Richard Ellmann, wrote an imaginative account of the first meeting between Yeats and Joyce. 'The defected Protestant confronted the defected Catholic, the landless landlord met the shiftless tenant. … Joyce knew the limbs and bowels of a city … The world of the petty bourgeoisie, which is the world of Ulysses and the world in which Joyce grew up, was for Yeats something to be abjured. Joyce had the same contempt for both the ignorant peasantry and the snobbish aristocracy that Yeats idealised. The two were divided by upbringing and predilection.'8
Yes, Yeats and Joyce were divided in their approach to literature and to life; they wrote in very different styles and dealt with contrasting subject matter; they came from different backgrounds and lived very different lives. Yeats delved into the heroic while Joyce casually mocked all heroic pretensions. And yet, there is a compatibility between our two great writers. They both covered the same ground, the ground of early 20th century Ireland that frustrated and disenchanted Yeats while it absorbed and obsessed Joyce.
The late Denis Donoghue once wrote that 'Yeats invented a country, calling it Ireland.' Joyce brilliantly excavated the mind-set of that same country, or at least its capital city, in his novels and short stories. Ireland reached an extraordinary peak of literary achievement in 1922-23, with the publication of Ulysses and Yeats's receipt of the Nobel Prize. This was a culmination of decades of creative activity of a high standard. That's why I like to refer to the period between 1880 and 1940 as the Age of Yeats and Joyce.
Yeats believed in Ireland's romantic and heroic potential while Joyce focused on its foibles and frailties. They looked at Ireland from different angles and through differently contoured lenses. Both produced compelling images of the Ireland of their time. Between them, they offer a rounded picture of Ireland in an era of change and possibility. We are fortunate to have had such probing and perceptive witnesses. We benefit from the romantic yearnings embedded in Yeats's pursuit of the Ireland of his dreams. And we can also be glad to have the forensic, tell-all approach to Ireland that runs through Joyce's works. Yeats vision and Joyce's searchlight combine to reveal their Ireland to us in all its clouded glory.
As I look back at the changes that Ireland has undergone since the Age of Yeats and Joyce, I like to imagine that Cuchulainn and Kathleen Ní Houlihan moved in with the Blooms of Eccles Street, just as Stephen was invited to do in the 'Ithaca' episode of Ulysses, and that their mixed household is, as Yeats would have it, indomitably Irish.
Daniel Mulhall is Ireland's Ambassador to the United States
---
1 William M. Murphy, Prodigal Father: the life of John Butler Yeats (Ithaca: Cornell University Press, 1979), p. 126.
2 R. F. Foster, W.B. Yeats: A Life, I: The Apprentice Mage, 1865-1914 (Oxford: Oxford University Press, 1997), p. 277.
3 James Joyce, Occasional, Critical and Political Writing (Oxford: Oxford University Press, 2000), p. 50.
4 Richard Ellmann (ed.), Selected Letters of James Joyce (New York: Viking Press, 1975), p. 125.
5 R.F. Foster, W.B. Yeats: A Life, II: The Arch-Poet (Oxford: Oxford University Press, 2003), p. 260.
6 Ibid., p. 261.
7 Richard Ellmann, James Joyce (London: Oxford University Press, 1959), p. 545
8 Ibid., p. 104.