Ambassador Mulhall Unveils Portraits by Nikkolas Smith of Irish & American Civil Rights Leaders
Press release
17 March 2021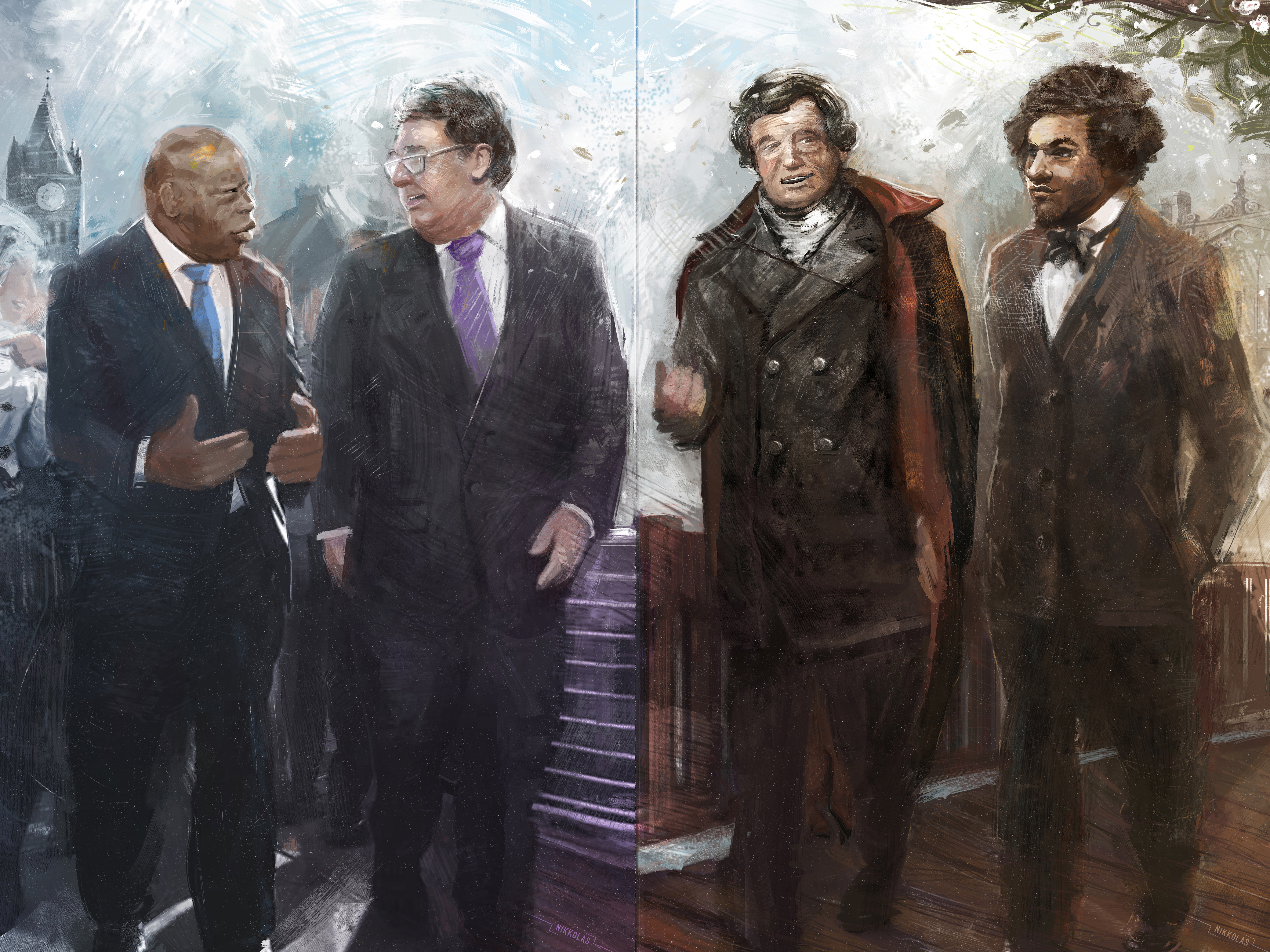 Ambassador of Ireland to the United States Unveils Two Portraits by Nikkolas Smith Depicting Irish and American Civil Rights Leaders
WASHINGTON – March 17, 2021

Marking St Patrick's Day, Ireland's Ambassador to the United States Daniel Mulhall today unveiled Liberators, a new commissioned pair of full-length double portraits by LA-based artist Nikkolas Smith. Presented as a diptych, the digital paintings feature four iconic individuals – Daniel O'Connell, Frederick Douglass, John Hume and Congressman John Lewis – who forged generational transatlantic partnerships between Ireland and the United States, rooted in the pursuit of abolition and civil rights. The paintings will hang at the Embassy of Ireland in Washington as a symbol of the long-standing connections between civil rights movements in Ireland and America.
Presenting the portraits in the Embassy, Ambassador Mulhall noted that they depict "two important moments in the history of Ireland's connections with the United States." Mulhall elaborated in a video address that "these two joint portraits will hang at the Embassy as a reminder to everyone who comes here of the important connections between the civil rights movement for African Americans here in the United States and the movement to bring civil rights to Northern Ireland."
Two of the 19th century's most celebrated abolitionists, Frederick Douglass and Daniel O'Connell are portrayed in conversation outside of Dublin's Conciliation Hall where, in September 1845, Douglass first heard O'Connell speak against American slavery. The 27 year old Douglass, who as a slave in Maryland had first encountered O'Connell's writings, described himself as ''completely captivated'' by the great Irish orator, noting that ''his power over an audience is perfect.'' Douglass had fled to Ireland shortly after the release of his autobiography Narrative of the Life of Frederick Douglass, an American Slave and spent four months touring the island. From O'Connell – known as the Liberator for his work to secure Catholic emancipation – Douglass adopted the mantra "agitate" as a form of nonviolent protest. The two shared a dedication to peaceful protest as a way to secure human rights.
The relationship between the late Congressman John Lewis of Georgia and the late politician John Hume of Northern Ireland echoed that of Douglass and O'Connell: both men non-violently sought civil rights in their respective communities. As depicted in Smith's portrait, they walked arm in arm together across the Peace Bridge in Derry in 2014. Congressman Lewis, at age 23, was one of the 'Big Six' who organized the American civil rights movement in the 1960s, focused on racial equality and voting rights. He continued to champion these issues during his 23 years in Congress and was recognized for his contributions in 2011 when awarded the Presidential Medal of Freedom. Between 1969 and 2005, Hume represented the constituency of Foyle in his native Derry, variously in the House of Commons in Westminster, the European Parliament and the Northern Ireland Assembly. A leading activist for peace in Northern Ireland, he drew extensively on the example of Congressman Lewis and other civil rights activists in the United States. Through his outreach across the United States and elsewhere, Hume was central to initiating dialogue among Northern Ireland's political parties, which eventually led to the 1998 Good Friday Agreement. Alongside David Trimble, he was awarded the Nobel Peace Prize that same year in recognition of that work. After devoting their lifetimes to the peaceful pursuit of justice and equality on either side of the Atlantic, John Hume and John Lewis passed within three weeks of each other in the summer of 2020.
Nikkolas Smith – a 2016 White House Innovators of Color fellow – is an accomplished artist. After designing theme parks at Walt Disney Imagineering for 11 years, he is now an ARTivist, Concept artist, Children's Books Author, Film Illustrator, and movie poster designer. His most famous and recognized works focus on Artivism; as an illustrator of color, Smith creates captivating art that can spark important conversations around social justice in today's world and inspire meaningful change. His works have been featured on TIME Magazine, The New York Times, The Washington Post, CNN , the Academy of Motion Pictures, The Guardian, and many more. His art has been shared on social media by Michelle Obama, President Joe Biden, Vice President Kamala Harris, and Van Jones, Shaun King, Rihanna, Colin Kaepernick, Viola Davis, Jamie Foxx, Erykah Badu, Lupita Nyong'o, Kendrick Lamar, Tracee Ellis Ross, Ava Duvernay, Common, Simone Biles, Tessa Thompson, Mark Ruffalo, Jesse Williams, Amy Shumer and many others. Smith, a native of Houston TX, holds a Master of Architecture degree from Hampton University.
The Embassy of Ireland and Consulates in the United States are committed to continuing and expanding our efforts to explore and promote connections with the African American community. In February, the Embassy supported Douglass Week, a week-long transatlantic festival celebrating Douglass's legacy in Ireland. In the months ahead, further events are planned in conjunction with the African American Irish Diaspora Network.
Notes
If you are interested in learning more about the project or in interviewing artist Nikkolas Smith about the work, please contact the Embassy's press attaché Ragnar Almqvist at 202 674 2282.