Ambassador John McCullagh - Interview
News
22 October 2019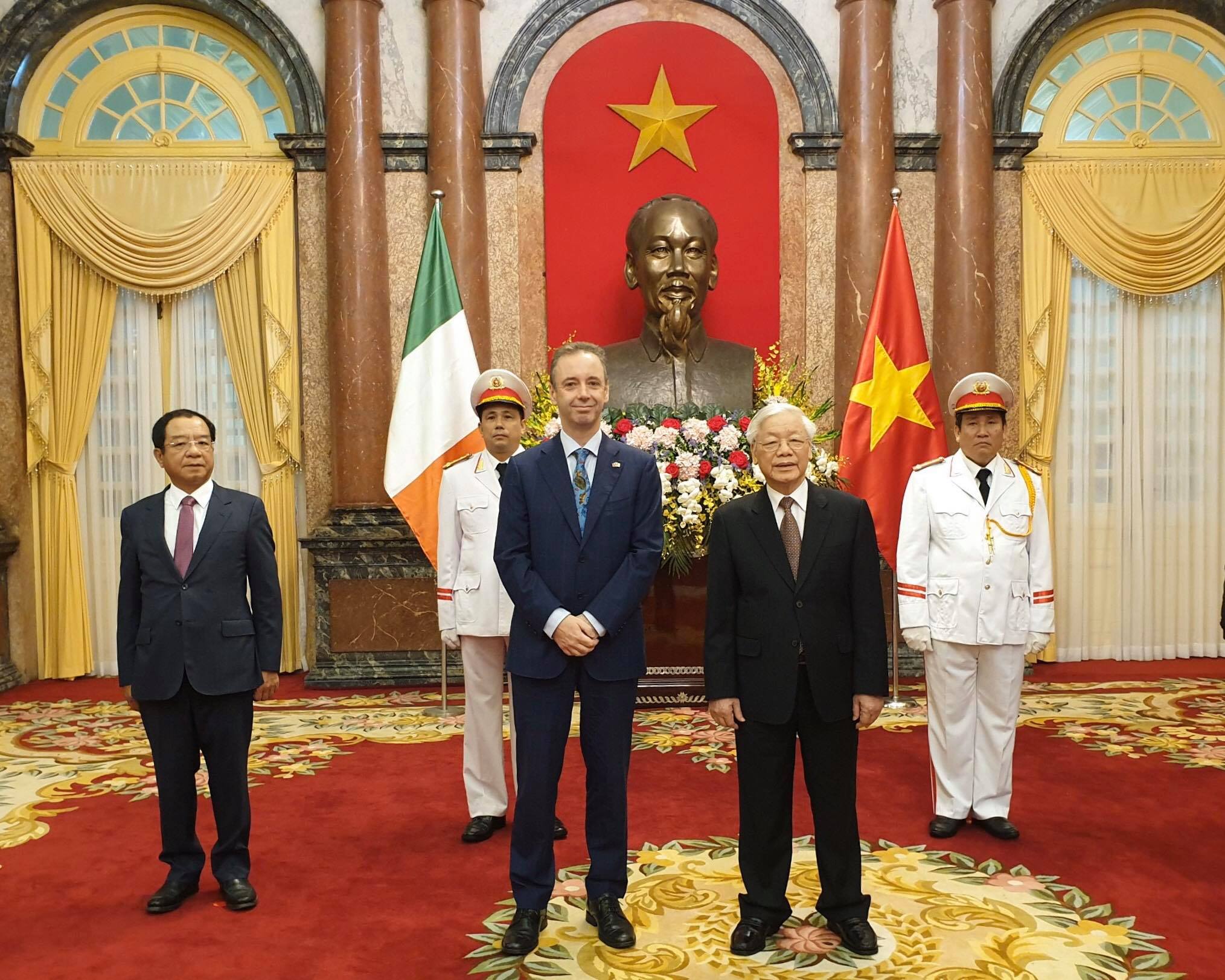 Ambassador of Ireland to Vietnam, H.E. John McCullagh presenting his credentials to President of Vietnam, Nguyen Phu Trong.
"Raising our visibility, continuing to work on development, and building our trade links are my priorities for my term in Vietnam" – Ambassador of Ireland to Vietnam, John McCullagh to the local media after he presented credentials to President Nguyen Phu Trong.
Question: Good morning Ambassador John McCullagh, thank you for taking the time with us. Can you please introduce yourself to our audience?
Ambassador McCullagh: Good morning. Thank you for the opportunity to talk a little about Ireland and the work that our Embassy does here in Vietnam. I am from Dublin, the capital city of Ireland. Immediately after graduating from college I started my career as a Third Secretary in the DFAT in 1986 (a very long time ago!). After five years I transferred to the Finance and Education Ministries, and also spent a couple of years in the Economic and Social Research Institute. I returned to DFAT in 2001. Over three decades I've worked in a lot of areas at HQ and had the opportunity to live and work in other countries: Germany, Belgium, the UK and as Ambassador in Tanzania.
Question: You have had a long and interesting career in diplomacy, serving in many countries, why's Vietnam now?
Ambassador McCullagh: I feel very lucky to have been assigned as Ambassador to Vietnam. I wanted to come here for many reasons. Having worked and lived previously in Europe and Africa, I was keen to explore new horizons through a posting in Asia. Vietnam is a fascinating, complex, vibrant and beautiful country. It is a privilege to be here. Our Embassy covers a wide range of issues including trade, culture, visas and development work, and I am also accredited to Cambodia and Laos.
Question: What are your priorities for the next four years in Vietnam?
Ambassador McCullagh: I am fortunate in following in the footsteps of excellent predecessors and in having the support of a superb team of Vietnamese and Irish colleagues at the Embassy. Over the next four years I hope to build on our previous achievements across a number of areas.
Ireland is a small country on the western edge of Europe. We don't have the same historical links with Vietnam as we would have with countries in our neighbourhood or other countries to which Irish people have emigrated over many years. So we are not as well known in Asia, including in Vietnam, Cambodia and Laos. It is a priority for me to try to raise our visibility including through people to people connections, through our social media, through exchanges of high level visits and through our culture. Raising our visibility will help to promote other links and to build mutual understanding.
My second priority is to continue to work with our Vietnamese partners to contribute to the country's development, especially in areas such as education and in helping to improve the lives of some of the more disadvantaged communities among ethnic minorities.
A third priority is to build our trade links. Ireland is a small country with a population of less than 5 million, so we depend heavily on exports. Our bilateral trade with Vietnam is modest and there is potential to increase that substantially, especially when the new EU-Vietnam Free Trade Agreement comes into effect.
I also have some personal ambitions, including to travel as much as I can around Vietnam. I took up running about a year ago and I would love to run a half marathon, or perhaps even a full marathon here.