Kodaline - Interview with Ambassador McCullagh
News
23 October 2019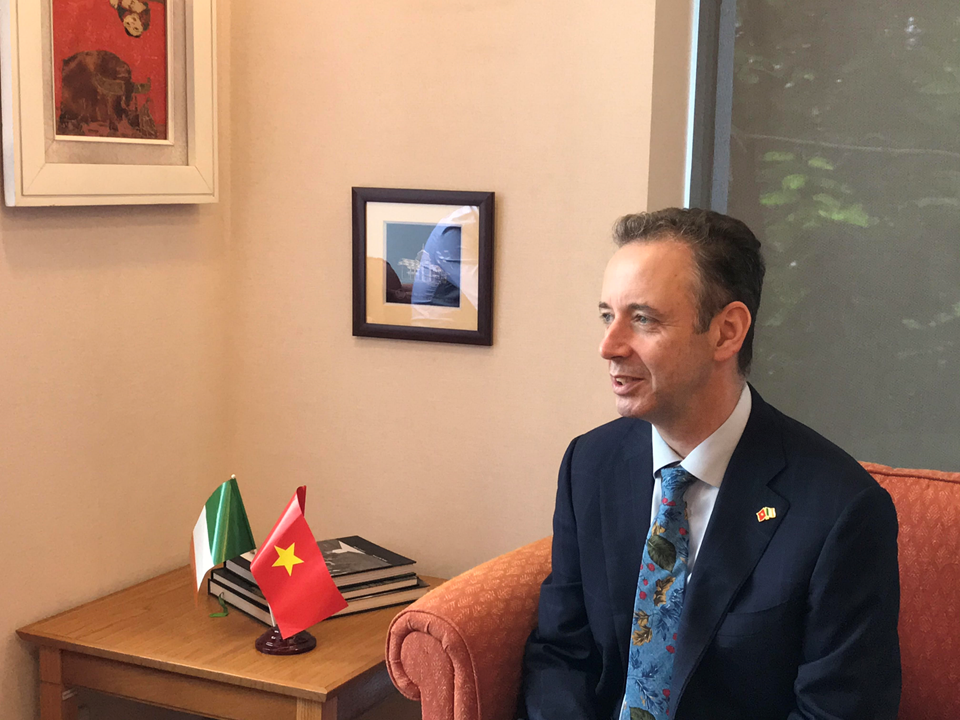 H.E. Ambassador John McCullagh talks about Kodaline who will play at Monsoon festival in Hanoi on 1 November.
Irish alternative rock band Kodaline, will be in Hanoi from 31 October to 2 November for the Monsoon Music Festival. The group, originally known as 21 Demands, are from Dublin, and comprises Steve Garrigan, Mark Prendergast, Vincent May, and Jason Boland. Kodaline will play on the evening of the 1st November. This year for the first time Monsoon Music Festival will have a band from Ireland.
On this occasion, local media outlets had an interview with Ambassador John McCullagh.
Question: It is exciting that Irish band - Kodaline is coming to Vietnam later this month for Monsoon Music Festival. Are they popular in Ireland?
Ambassador McCullagh: I'm delighted that Kodaline will headline Monsoon on 1st November. The band members come from a town called Swords in North County Dublin, just a few miles from where I live. They have a huge following in Ireland. All three of their albums reached number 1. They have a growing international following as well, not just in Europe but also here in Asia with concerts in Korea, next month in India and for the first time in Vietnam. Are they a good band? I think so, but I think the real evidence of that is in their music and in the growing numbers of fans.
Question: What are your favourite Kodaline songs?
Ambassador McCullagh: My favourite song is "Brother". It's about the bond between brothers: the official video tells the story of a young boy whose older brother dies.
Question: Why music is so important in Irish culture?
Ambassador McCullagh: Ireland has a long tradition in music. Kodaline follow on from another four piece band from Dublin, the internationally renowned and hugely successful U2. And there have been many other Irish artists that have come to international attention such as The Boomtown Rats, The Cranberries, Thin Lizzy and pop acts such as Westlife and Boyzone.
But it's not just about Rock and Pop. Traditional Irish music has a huge international following. Groups such as The Chieftains, The Dubliners, Horslips and the Gloaming have filled concert venues around the world. And in Ireland, there is a vibrant music scene in small clubs, pubs and halls.
Music is an international language and it is a way for us to build bridges and connections with each other and around the world.
Question: Can you share some Irish experience in using culture and heritage to attract tourism to Ireland?
Ambassador McCullagh: Music is one of the ways to build connections and raise Ireland's visibility around the world. But our culture is also about dance, film, literature including poetry, and other art forms. For example more than 50 books by Irish authors have been translated into Vietnamese. And we have four Irish Nobel Prize winners in WB Yeats, George Bernard Shaw, Samuel Beckett and Séamus Heaney.
And in Ireland we offer a long and rich heritage from the Celtic era, through the Viking times to our experience as a colony to independence. So there is much to see and do, and usually for the visitor the challenge is not having enough time.
Our culture is one of the main points that sets us apart. We are attractive in particular to those we call the "culturally curious" who tend to travel for shorter breaks, sometimes timed to coincide with a cultural event or festival. Next year, we celebrate Galway 2020 – Galway will be the European City of Culture.
Question:
You mentioned earlier that you want to increase Ireland's visibility in Vietnam, through bringing more Ireland's culture, music, so what's the plan?
Ambassador McCullagh: We celebrate our national day, St Patrick's Day, every year in March. Next year we hope again to bring some musicians to Vietnam and to share our music and dance as part of our celebrations.
I hope also that positive reviews of the Kodaline concert will encourage other Irish artists to come here, to experience the rich culture and to help us to continue to build connections between Ireland and Vietnam.