Irish Development Experience Sharing Programme (IDEAS) Steering Group Meeting.
News
23 April 2018
Hanoi 23 April 2018
On 23 April the Embassy and Vietnam's Ministry of Planning and Investment took stock of progress made under the IDEAS (Irish Development Experience Sharing Programme) partnership between Ireland and Vietnam
The IDEAS programme was launched in 2009 under the Irish Aid partnership with Vietnam to share expertise and build strategic linkages between Ireland and Vietnam in the education, agri-food, business and economic sectors.
The annual meeting reviewed progress in 2017 and agreed priorities for collaboration between Vietnam and Ireland in the year ahead.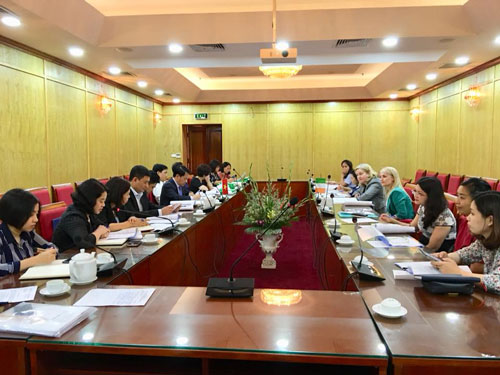 In 2017 the Embassy launched a new Mission Strategy for the period 2017-2020 which connects trade-development-political-education engagement together; the IDEAS programme is playing a key role in delivering on this 'joined-up' strategy.
A key highlight of the IDEAS programme in 2017 was the piloting of the Vietnam Ireland Bilateral Education Exchange (VIBE) programme which fosters links between Vietnamese and Irish Higher Education Institutions on areas such as curriculum development, student and academic exchange and joint research. In 2017 there was a strong focus on innovation, with projects initiated on government priorities such as food safety and entrepreneurship.
2017 also saw the start of a new exchange on agriculture with the focus on food safety and agriculture research, with the support of Teagasc and the Food Safety Authority of Ireland and their Vietnamese counterpart agencies.