Vietnam: A Key Partner Country for Ireland
News
14 November 2018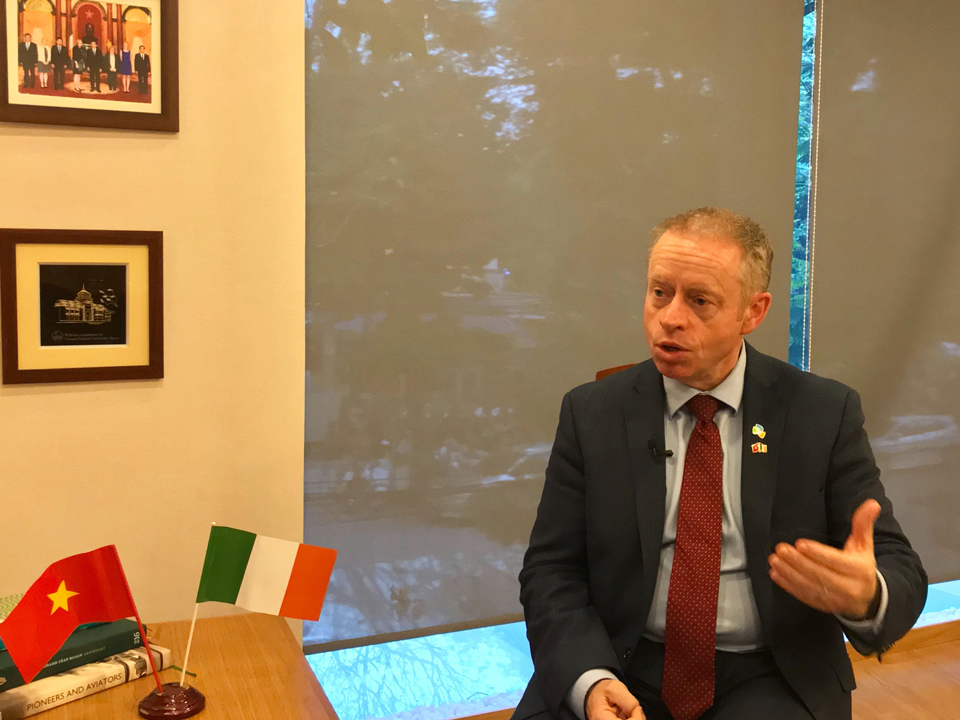 Minister Cannon in Vietnam.
From November 11-14, Mr. Ciarán Cannon, T.D, Minister of State for the Diaspora and International Development paid a working visit to Vietnam. On this occasion, Mr. Cannon has contributed an article to The World & Vietnam Newspaper on Vietnam - Ireland relations and cooperation.
This week I am pleased to return to this great 'City of Peace'. Since I was last here in 2012, much has changed globally.We face challenges to longstanding norms of multilateral cooperation, made all the more serious by political and military threats which risk human lives and well-being.
We have seen shifting attitudes towards globalisation, and a tendency towards trade protectionism. Young, innovative, export driven economies like Ireland and Vietnam, which rely on global cooperation and open trade to drive our growth and protect our security must work together in the face of these challenges.
For Ireland, this is a time to redouble our energies to build strong international partnerships. In Vietnam, we have found a partner that we like and respect. We are committed to deepening our political and economic ties for the mutual benefit of both our peoples.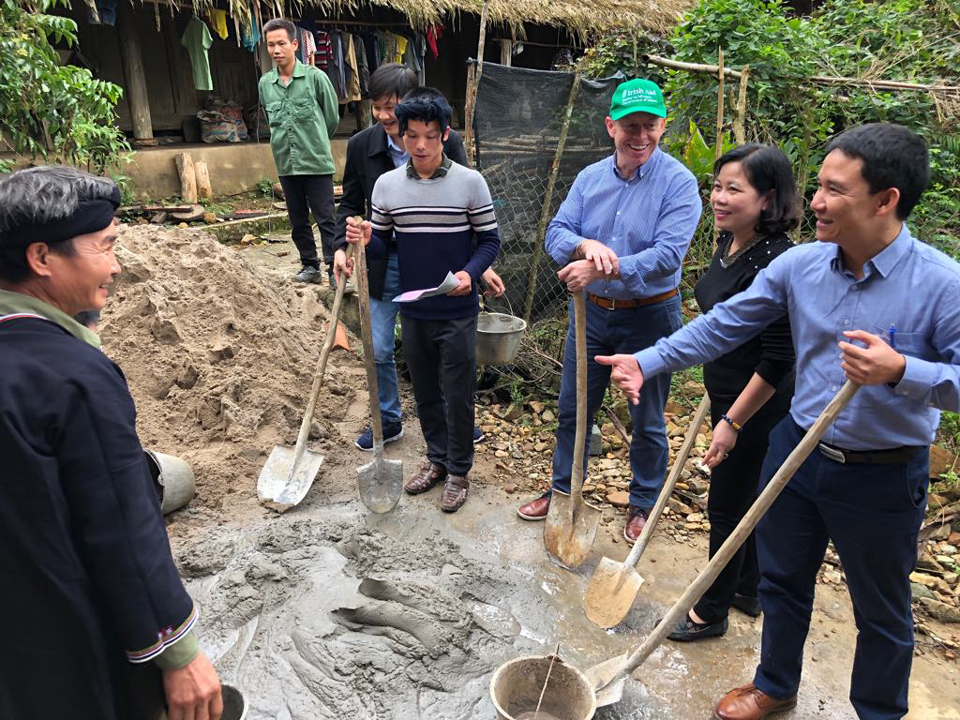 Minister Cannon broke ground for a road project to be constructed by the community in the northern mountainous province of Hoa Binh, and funded by Irish Aid, on 12th November.
We are building strong links between Irish and Vietnamese Universities, funding research projects and exchanges of staff and ideas. We provide scholarships to over 30 exceptional Vietnamese students every year to study in Ireland. Irish institutions such as the Central Bank of Ireland are working closely with their Vietnamese counterparts. We have much to learn from each other as our countries continue to grow and develop and we are committed to supporting that exchange of ideas and expertise.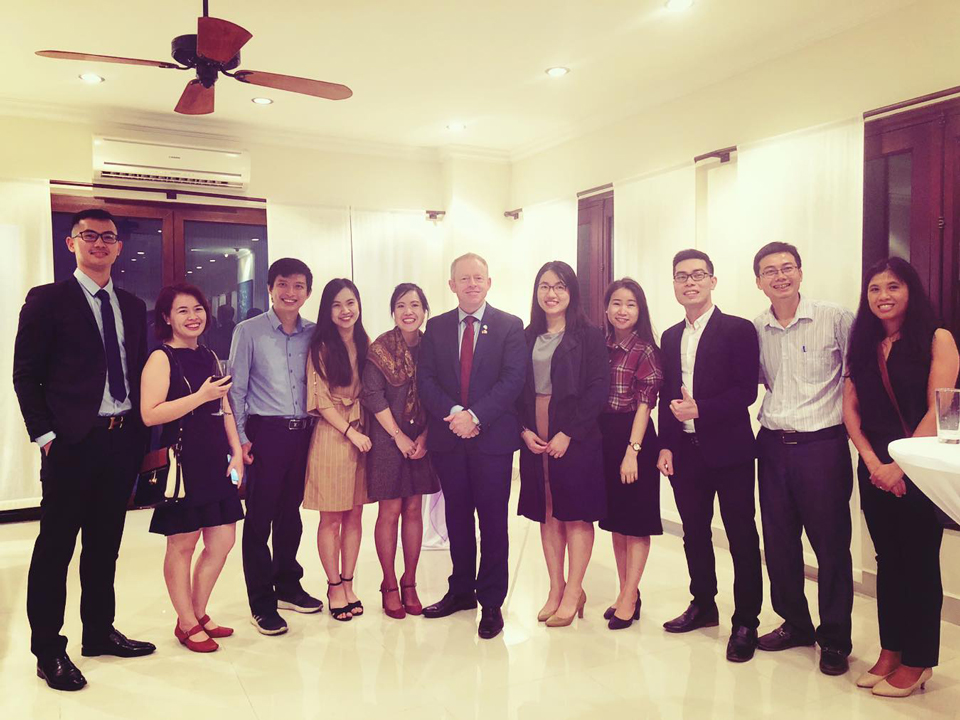 Minister Cannon with Vietnam – Ireland Alumni, on 13th November.
We will continue our support for Vietnam's commitment to achieve the Sustainable Development Goals and to rise to the challenge of developing a knowledge based '4.0 ready' economy.
Ireland is a stable, competitive, secure, and pro-business economy. We believe in the international rule of law. We believe in free trade and the kind of globalisation that serves the greater good and the welfare, not just of our people, but of people everywhere. Our membership of the European Union has been a key factor in Ireland's socio-economic success - and we remain a committed member of the European Union and the Eurozone. We fully support the EU-Vietnam Free Trade Agreement, and are eager to see the mutual benefits it will bring to Vietnam and Ireland.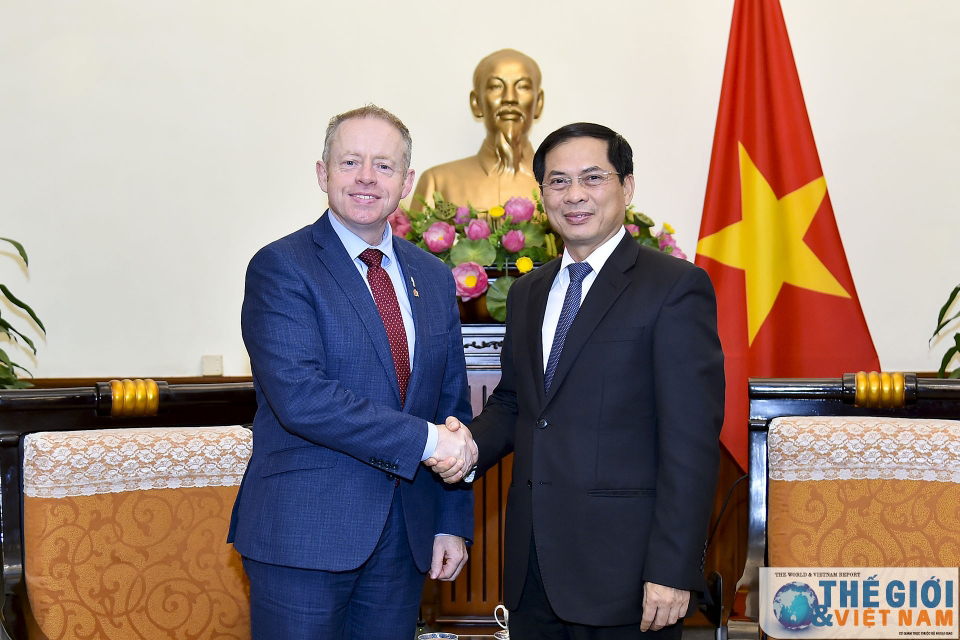 Minister Cannon met Mr Bùi Thanh Sơn, Vice Minister for Foreign Affairs to discuss bilateral and multilateral ties, including Ireland's and Vietnam's commitments and cooperation on sustainable development, peace and security issues, including Vietnam and Ireland's engagement in peacekeeping, on 13th November.
As two countries which have borne the scars of conflict, we share a passion and a commitment for peace. Our special collaboration at the United Nations on critical issues like the SDGs, cluster munitions, non-proliferation of nuclear weapons and the women, peace and security agenda, is a testament to this. We congratulate Vietnam on its early ratification of the UN Treaty on the Prohibition of Nuclear Weapons, on which Ireland is proud to have played a lead negotiation role.
We welcome Vietnam's commitment to increase its role in peacekeeping. Ireland has a proud track record of over 60 years of unbroken contribution to UN peacekeeping missions. Last week five Vietnamese officers travelled to the UN Training School, Ireland, for specialised training for peacekeepers on protection of civilians at the HQ of Ireland's Permanent Defence Forces. Ireland values Vietnam's commitment to increase its engagement in the area of peacekeeping and we are committed to supporting Vietnam as it develops its own capabilities in this area.
In an increasingly complex and uncertain world, we remain true to our values, and we look forward to a deeper partnership with Vietnam for the mutual benefit of both of our peoples.
Source: The World & Vietnam Newspaper: http://tgvn.com.vn/vietnam-a-key-partner-country-for-ireland-81500.html