CARA: Irish Communities Together Through Covid-19
News
05 June 2020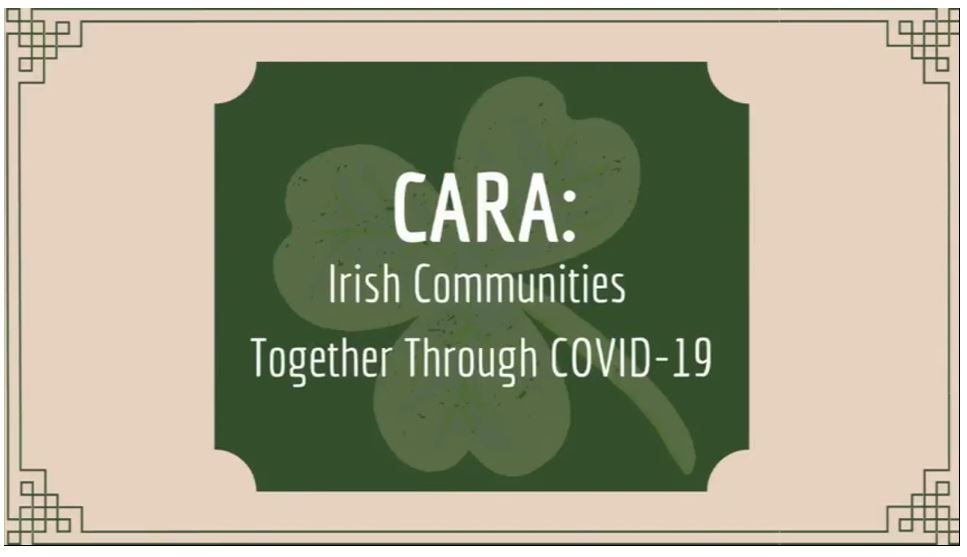 By Breege McDaid, CEO of Irish Community Care
Ten Irish organisations across the North West of England have come together to deliver CARA, a dedicated Covid-19 response service to support our communities to stay safe, well and connected).
CARA is providing a vital helping hand and listening ear to people who are particularly vulnerable during the pandemic, those who are self-isolating, older, in poor physical or mental health; managing caring responsibilities and job loss, living alone far from family and friends.
We are truly inspired by the generosity of our communities. Over 70 people have volunteered their time to do important practical tasks such as shopping, collecting prescriptions, making phone calls, and, at the same time, having a bit of craic and a chat. They are able to see if the people they visit are well, or if they are in need of anything.
Volunteers are also sharing their IT skills by helping people to get online. This allows people to see family, shop online, pursue interests and hobbies, and to access the amazing programmes of Irish cultural activity that have been available during the lockdown. CARA has also connected with community members in prison across the North West, providing activity packs, postcards, and audio cultural programmes.
We are indebted to GAA Clubs in the North West who organised a sponsored 'Virtual Run' over the May Bank Holiday weekend. Eighty runners took part, collectively running over 1,300 miles and raising over £6,000 for three local charities including CARA.
CARA is making a real difference. Mary, whose cataract operation was postponed due to Covid-19 and so could not watch television, is absolutely delighted to have a large-text Kindle supplied by CARA with a whole range of cultural programmes to enjoy. James, recently diagnosed with cancer, is connecting with family back home through Facetime and Zoom. Josephine can now use Facebook and is able to connect with family and friends. These are all simple solutions that are making all the difference.
Jane said: 'Because I am on Universal Credit I struggle to feed myself once I pay my bills and have no family to help me out. The CARA team asked what I needed which is a very different experience from using a food bank. It was my birthday the day of my first food delivery and I was sent some sweets as part of my delivery which really made my day. I was left knowing I could ring next time I am in need which is very reassuring'.
The ten partner organisations that make up CARA are:
Brian Boru Club
Comhaltas Ceoltóirí Éireann
GAA (John Mitchels and Wolfe Tones)
Institute of Irish Studies University of Liverpool
Irish Community Care
Irish Community Care Manchester
Liverpool Irish Centre
Liverpool Irish Festival
Mersey Harps
Shenanigans