Global Irish Newsletter 5 June 2020 - a Message from Minister Cannon
News
05 June 2020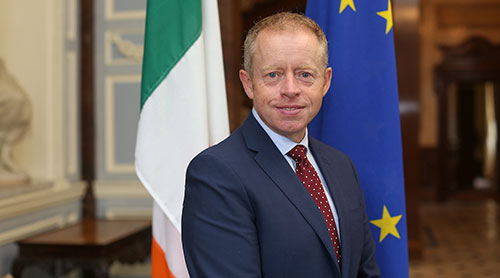 We are still receiving daily reports of the dedication and the quiet heroism of our community organisations around the world in response to the Covid-19 crisis.
In Boston, for example, the Rian Immigrant Centre and the Irish Pastoral Centre, have been working tirelessly to meet the needs of their communities, helping families that are newly vulnerable, reaching out to older people who may be isolated and afraid, providing counselling and mental health supports. We have just published a great update on this from our Consulate in Boston on our Global Irish website.
Across the north west of England, ten Irish Community organisations have established the Cara initiative, a dedicated Covid-19 response to support their communities to stay safe, well and connected. Seventy volunteers have signed up to help. Breege McDaid, CEO of Irish Community Care, has sent us in a report.
These acts of solidarity, which are taking place across the world, are vital for the well-being of our Diaspora communities.
Despite everything, you can still connect with Ireland and our global community. EPIC, the Irish Emigration Museum, has introduced a virtual tour of the museum and its fascinating exhibits. Please check it out and I hope that we will soon be able to welcome you to Ireland again in person.
Beir bua agus beannacht,
Ciarán Cannon T.D.
Minister of State for the Diaspora and International Development