Connectivity in the Midwest during COVID-19
News
21 May 2020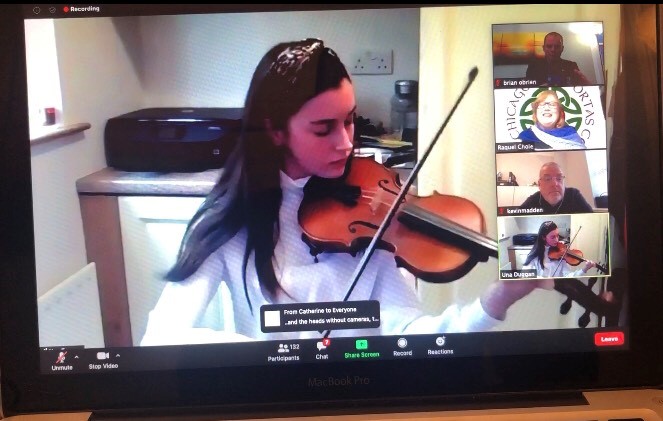 Screenshot from the 'e-Fleadh' convened by Murphy Roche School of Irish Music, Chicago, supported by Comhaltas Ceoltóirí Éireann
As he comes to the end of his posting in Chicago, our Consul General, Brian O'Brien, reflects on the impact of the Covid-19 on Irish communities in Chicago and across the Midwest.
St Patrick's Day weekend in Chicago and the US Midwest is an incredible experience. It is a weekend of family gatherings, masses, parades, light shows, block parties, a dyed river, musicians, dancers, concerts, business events, civic celebrations and so on. It really is a sight (or a series of sights) to behold. It is celebrated by all folk and not just the Irish. In the Consulate we nickname it 'Hurricane Shamrock', such is the frenetic pace of keeping up with all the festivities.
Almost all bars and restaurants in Chicago, whether Irish or not, become decked out in shamrocks, 'Happy St Patrick's Day' signs, green bunting and Irish flags. Visitors come from far and wide to join the celebrations.
St Patrick's Day 2020 has seemed like the longest St Patrick's Day that never was. The Chicago Parade – one of the largest in the world - was cancelled. All bars and restaurants shuttered that weekend. Over two months later they remain closed, many still decked out in their St Patrick's Day regalia, suspended in time.
The 12 Midwest States that comprise the Chicago Consulate's area is home to some 8 million people who claim Irish descent. We are blessed with wonderful Irish organisations that celebrate that heritage. They maintain and enhance the strong and longstanding bonds between the US and Ireland.
March is a focal point for the organisations. The cancellation of celebrations has been a blow. It is a key time to show what they do, engage with their communities, and reach out to new people. It is also important financially as people attend their events and boost the local economies.
At the beginning of May, the Consulate convened a virtual meeting of over 50 participants from 25 different Irish organisations from across the Midwest to talk about the challenges of this pandemic. Ambassador Mulhall, who had joined the discussion, aptly summed up that what could have been a depressing meeting turned out to be quite the opposite. It was uplifting. We were struck by the energy, resilience and fighting spirit of all the organisations who participated.
Organisations are coming up with new and innovative ways of connecting with their communities. Indeed, some reported an enhanced reach with more people signing up for classes and concerts online than might normally attend in person. Other organisations spoke of how they were connecting with their membership using the good old telephone thereby reducing isolation during a time of anxiety. All organisations spoke of communities rallying around and being inundated with offers to volunteer. I was struck by the openness and generosity of organisations in sharing information and best practice with each other.
It is clear that the opportunity in this crisis has been enhanced connectivity. While we missed connecting with our friends face-to-face, virtual meetings meant we were able to connect with more people than would normally attend an event in person. The Midwest region is 23 times the size of Ireland; some of our organisations are hundreds of miles from Chicago. With technology, the hurdle of distance is removed.
Innovation and enhanced connectivity was again on display as the Chicago-based Murphy Roche School of Irish Music, supported by Comhaltas Ceoltóirí Éireann, convened an 'e-Fleadh' on Sunday 17 May.
In just a few weeks, the indomitable Kell Chole and her team harnessed technology solutions to organise competitions and adjudicators allowing musicians to submit recordings of their work and compete in an e-Comórtas.
Despite the cancellation of the Regional and All-Ireland Fleadhanna, the kids could get feedback from the best traditional musicians in the world. I hope this somehow helps validate all the effort put in by these young musicians - supported by their parents and teachers - week in, week out.
What a pleasure and privilege it was to be part of this virtual event with the Irish music family in the US, Ireland, UK and around the world. Over 150 people gathered from kitchens, living rooms and bedrooms to celebrate the achievements of these talented young musicians and to hear them perform.
As Irish flags and signs remain on establishments long after they would have normally have been taken down after St Patrick's Day, I see them as symbols of hope and resilience.
Through the centuries, the Irish came to Chicago and the US, often in circumstances of great hardship and suffering. Their descendants, that comprise our vibrant diaspora today, have proven through these last weeks that their legacy is one of perseverance, fellowship, innovation and hope.