Global Irish Newsletter 27 May 2020 - a Message from Minister Cannon
News
27 May 2020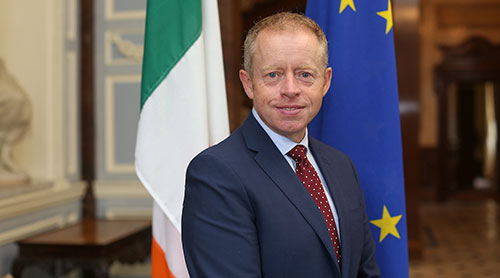 In my contacts with our Diaspora communities, I have never felt more strongly how much we are sharing a common experience. The pandemic has changed all our lives wherever we live. It has also brought us together. A spirit of care and mutual support has defined the response of our global communities to Covid-19.
In Birmingham, the Birmingham Irish Association has undertaken amazing work to support and protect its more senior and vulnerable members. Together with four local GAA clubs, they have also set up a food bank service for those without friends or family nearby to help. This a real cross-community effort that is making a difference.
As he comes to the end of his term in Chicago, our Consul General Brian O'Brien reflects on the resilience of the Irish community in the Midwest and the new and innovative ways they have found to work together and to celebrate.
Sharing Irish culture is the lifeblood of many Irish communities worldwide. It is the common thread that connects all of us. Most cultural institutions have been badly hit by the restrictions on gatherings and large events introduced because of Covid-19. For this reason, I want to applaud the Irish Cultural Centre in Hammersmith for their project ICC Digital, which they have launched to bring the best of Irish culture to audiences in the UK and the wider world. This is a truly rich and imaginative source of music, film and the visual arts. Please check it out.
Finally, I urge you to visit and use the great online resources provided by Ireland Reaching Out to connect people of Irish heritage with their place of origin. It is more important than ever to reach out and to connect, and to be reminded that we are a resilient people who in our past have overcome greater challenges.
Beir bua agus beannacht,
Ciarán Cannon TD
Minister of State for the Diaspora and International Development