Cultúr Club: Acmhainní Gaeilge agus cultúir do pháistí an diaspóra ar-líne
News
23 August 2018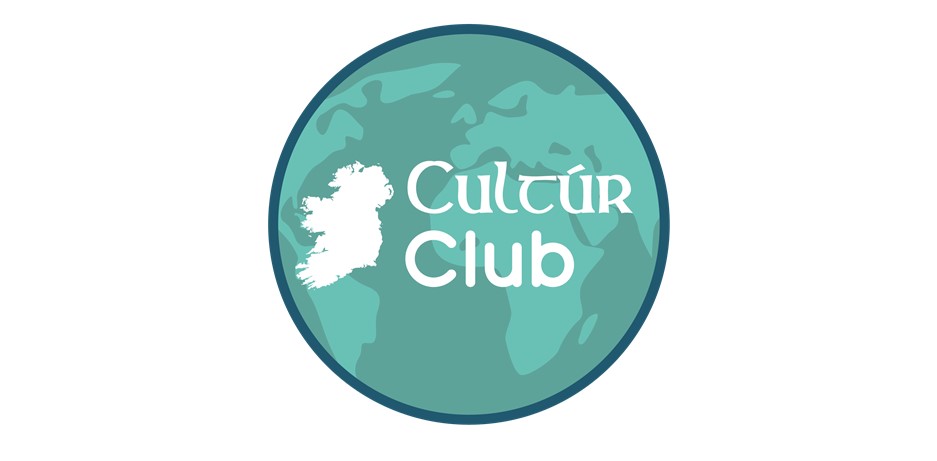 Cultúr Club an t-ainm atá ar réimse de thograí nuálaíocha atá á bhforbairt ag Conradh na Gaeilge chun féiniúlacht Éireann níos láidre a chothú i measc na nGael thar sáile, idir óg agus aosta.
Sna sála ar chlár píolótach tosaigh i gcomhar le hArd-Chonsalacht na hÉireann do Hong Cong & Macau i 2016, táimid ag díriú ar pháistí an diaspóra ó 6 - 16 faoi láthair.
Buíochas le maoiniú ón gClár Tacaíochta Eisimirceach (ESP) de chuid na Roinne Gnóthaí Eachtracha & Trádála agus ón Roinn Cultúir, Oidhreachta & Gaeltachta, tá acmhainní á bhforbairt ag Conradh na Gaeilge do shraith de cheardlanna Gaeilge agus cultúir a d'fhéadfadh éascaitheoirí áitiúla a reáchtáil do pháistí áit ar bith ar domhan.
Tá an curaclam Cultúr Club bunaithe ar 12 théama den Éireannachas agus áirítear ann:
leabhráin de ghníomhaíochtaí spraíúla do thrí aoisghrúpa (6 - 8, 9 - 12, agus 13 - 16 bliana)
treoirleabhar do mhúinteoirí, do thuistí, nó d'éascaitheoirí na gceardlann
bunachar sonraí d'acmhainní agus d'áiseanna teagaisc úsáideacha
scéimeanna píolótacha chun oiliúint a chur ar éascaitheoirí áitiúla
Tá an chéad shraith de leabhráin ghníomhaíochta críochnaithe anois agus ar fáil in aisce ón suíomh www.cnag.ie/CulturClub. Seolfar na hábhair eile a bhaineann leis an gcéad chuid den tionscadal go hoifigiúil an mhí seo chugainn. Tá fáilte roimh na misin leagan bog de na leabhráin a íoslódáil le roinnt leis an bpobal Éireannach áitiúil, nó is féidir orduithe a dhéanamh ar chóipeanna crua trí ríomhphost a sheoladh ag culturclub@cnag.ie.
Anuas air sin, buíochas le tacaíocht ó Ambasáid na hÉireann in Canberra agus ó mhisin eile, tá scéimeanna píolótacha Cultúr Club beartaithe againn d'ionaid éagsúla san Astráil, sa Nua Shéalainn agus sa Bhreatain Mhór sna míonna amach romhainn chomh maith.
Beidh stiúrthóir an togra Cultúr Club ar an láthair le ceardlann ghinearálta um chumasú pobail a éascú agus chun na nithe seo a leanas a chur ar fáil:
ceardlanna oiliúna ar an gcuraclam Cultúr Club
treoir d'éascaitheoirí féideartha na gceardlann áitiúil
deis ghréasánaíochta do bhaill éagsúla ón bpobal Gaeilge
comhairliúchán le grúpaí Éireannacha, idir ghrúpaí Gaeilge, cultúir, spóirt agus eile
seó bóthair for-rochtana ar theanga agus ar chultúr na hÉireann do scoileanna áitiúla
Tá tuilleadh sonraí ar-líne ag www.cnag.ie/CulturClub ach más spéis le misean ar bith scéim phíolótach a óstáil go háitiúil, is féidir teagmháil a dhéanamh le Síne Nic an Ailí, Stiúrthóir Cultúr Club, ag sine@cnag.ie nó Conradh na Gaeilge ag 00 353 1 4757401.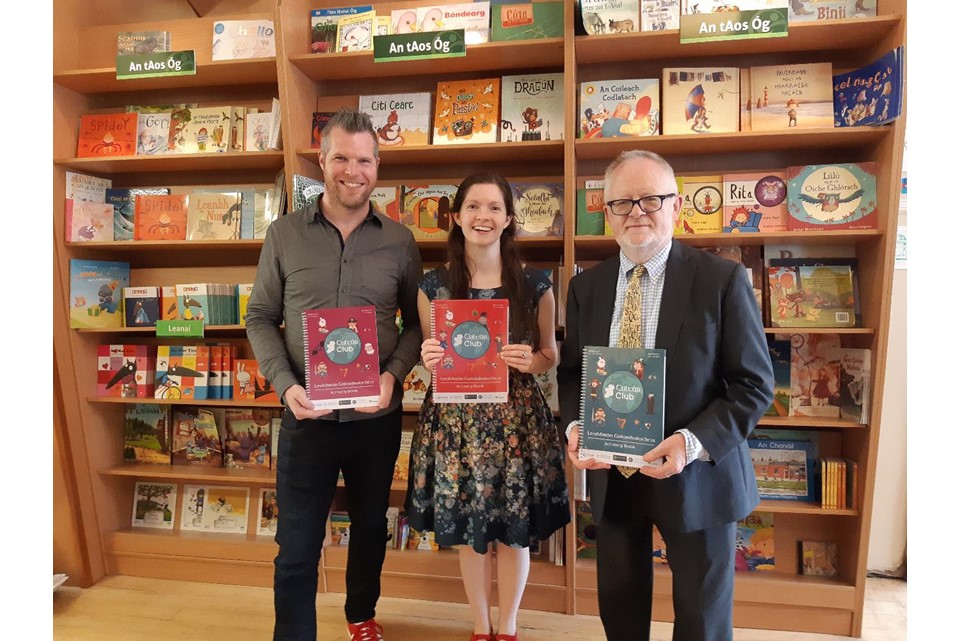 Fearghal Ó Maolagáin, Oifigeach Gaeilge na Roinne Gnóthaí Eachtracha & Trádála, le Síne Nic an Ailí, Stiúrthóir Cultúr Club, agus Breandán Ó Caollaí, Ambasadóir na hÉireann in Canberra, leis an gcéad shraith de na leabhráin Cultúr Club i Siopa Leabhar Chonradh na Gaeilge roimh sheoladh oifigiúil na scéime píolótaí san Astráil agus sa Nua Shéalainn (Lúnasa 2018)
Fearghal Ó Maolagáin, the Department of Foreign Affairs & Trade's Irish-Language Officer, with Síne Nic an Ailí, Director of Cultúr Club, and Breandán Ó Caollaí, Ambassador of Ireland in Canberra, holding the first series of Cultúr Club activity books for children of the diaspora in Conradh na Gaeilge's bookshop, An Siopa Leabhar, in advance of the official launch of the Australia-New Zealand pilot scheme (August 2018)
Cultúr Club: Online Irish-language and culture resources for children of the diaspora
Cultúr Club is a collective title for a variety of innovative initiatives being developed by Conradh na Gaeilge to help foster a stronger sense of Irish identity among diaspora of all ages.
Following an initial pilot programme with the Consulate General of Ireland for Hong Kong & Macau in the summer of 2016, we are currently focusing on children of the diaspora aged 6 - 16 years.
Conradh na Gaeilge is developing resources for a series of Irish-language and culture workshops for children that can be run by local facilitators anywhere in the world, thanks to funding from the Department of Foreign Affairs & Trade's Emigrant Support Programme (ESP) and the Department of Culture, Heritage & the Gaeltacht.
This Cultúr Club curriculum is based on 12 themes of Irishness and includes:
fun activity books for three age groups (6 - 8, 9 - 12, and 13 - 16 years)
guidelines for teachers, parents, or workshop facilitators
a database of useful resources and teaching materials
pilot schemes to train local facilitators
The first series of activity books is now completed and is available free of charge from our website at www.cnag.ie/culturclub. The final materials for this initial stage of the project will be officially launched next month. Missions are welcome to download soft copies of the materials to share with local Irish communities, or orders for hard copies can be made by emailing culturclub@cnag.ie.
Thanks to funding from the Embassy of Ireland in Canberra and other missions, we are also planning Cultúr Club pilot schemes for various locations across Australia, New Zealand, and Great Britain in the coming months as well. The Cultúr Club project director will be on-site to facilitate a general workshop on community-building and to provide:
training workshops on the Cultúr Club curriculum
guidance for potential facilitators of the local workshops
a networking opportunity for various members of the Irish community
consultation with Irish groups of all kinds, including language, culture, sports and more
an outreach roadshow on the Irish language and culture for local schools
Further details can be found at www.cnag.ie/culturclub but if any mission is interested in hosting a pilot scheme locally, you can contact Síne Nic an Ailí, Director of Cultúr Club, at sine@cnag.ie or Conradh na Gaeilge at 00 353 1 4757401.