Development of Global Irish Diaspora Directory – Business Edition
News
25 June 2018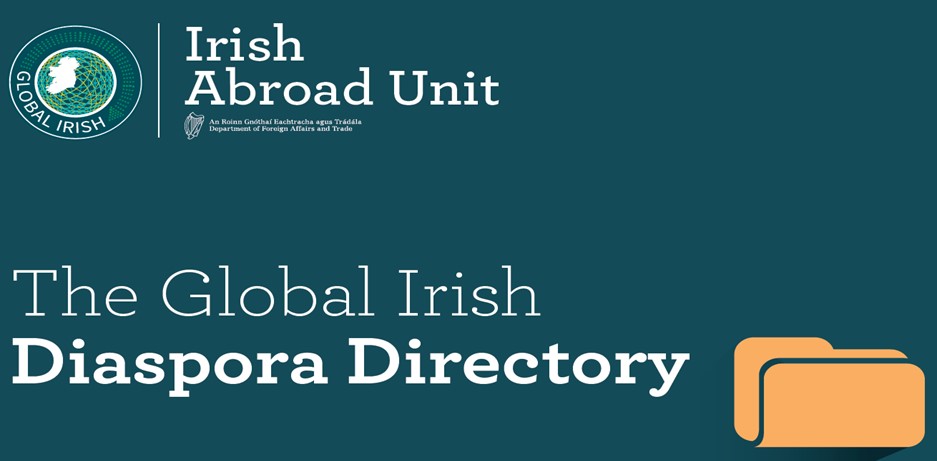 The Irish Abroad Unit in the Department of Foreign Affairs and Trade is seeking to develop a new edition of the Global Irish Diaspora Directory that will focus on international business organisationsthat that are Irish or that work in Ireland. Specifically, Irish Abroad Unit is trying to develop a document that will list out, by country, all:
Irish business networks;
Irish professional networks;
Irish (international) chambers of commerce; and
International business networks/chambers of commerce that work specifically in Ireland.
This document will be in the style of the Global Irish Diaspora Directory which is in its second edition and which lists 769 Irish organisations worldwide. It is envisioned that the Business Edition of the Diaspora Directory will serve to help Irish people and Irish organisations connect with each other, help them to find out more about potential opportunities to do business and will help to link business groups with other Irish cultural, social and welfare groups that are in operation.
The Irish Abroad Unit is currently gathering information on organisations to include in the Business Edition and over 150 organisations have so far been found. If you know of an organisation that could be included you can fill in the below table and email your suggestion to: globalirishhub@dfa.ie. Please note that we can only utilise public, open source information.
| | | | |
| --- | --- | --- | --- |
| Organisation Name | Country | Area of Operation (e.g. is it "national" or based in specific city, or does it operate mainly in Ireland) | Website (preferably) or primary social media page |
| | | | |
| | | | |
| | | | |
The final information gathered will be collated and designed into a pdf document with live links to each organisation. The Irish Abroad Unit will make the finalised document available, in full and for free, on the Global Irish Hub website.
Please email any suggestions you have by Friday 13 July 2018 to globalirishhub@dfa.ie.