Dr Angela Byrne - Blazing a Trail Exhibition
News
30 October 2018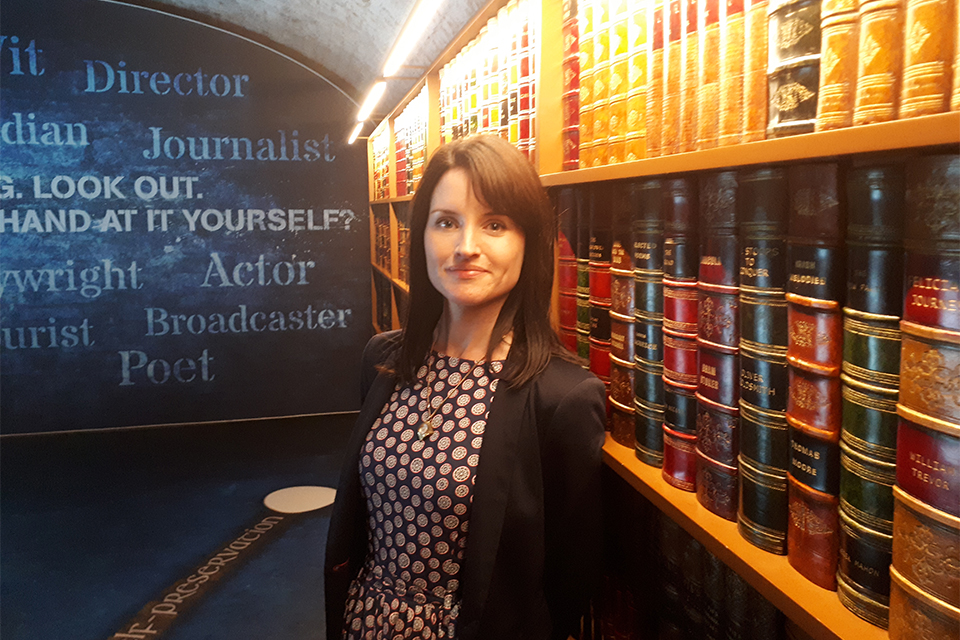 Blazing a Trail at EPIC
'Blazing a Trail: Lives and Legacies of Irish Diaspora Women' is a free exhibition running at EPIC The Irish Emigration Museum in Dublin from 12-25 November.
Dr Angela Byrne is the Department of Foreign Affairs and Trade Historian-in-Residence at EPIC and is curating the exhibition. Here Dr Byrne answers some questions about this exciting exhibition which the Department of Foreign Affairs and Trade is delighted to support.
How did 'Blazing a Trail' come about?
The Herstory project, which is run by Melanie Lynch and rehabilitates Irish women's stories and histories, past and present, approached EPIC museum a number of years ago with an idea to have an exhibition of trailblazing Irish women that would be shown all over the world.
When my position was created at EPIC through funding and collaboration from the Department of Foreign Affairs and Trade, the opportunity arose to pursue this project. From an early stage, DFAT wanted to develop a project recognising the contribution of Irish women around the world. Herstory came on board and worked with EPIC DFAT and myself to build the theme one of three upcoming exhibitions, which is 'Blazing a Trail'.
How did you select the Irish diaspora women featured in the exhibition?
When I started the role of DFAT Historian-in-Residence at EPIC in June of this year, I started straight away compiling this huge Excel spreadsheet of all of the amazing women that I knew of from my own research, and from reading other historians' research. I ended up after just a couple of weeks with a list of over 200 women covering every continent in the world and in all different fields of work.
Working with the museum team at EPIC I cut that down to around 40, and then in collaboration with the Irish Abroad Unit in the Department of Foreign Affairs and Trade and with Herstory, we managed to get it down to a shortlist of 21 women.
Was it a difficult challenge to narrow it down?
It was excruciating to have to leave some people out. We made some of the decisions on the basis of some of the themes that we wanted to address, such as equality and justice.
And, the exhibition was inspired by an important anniversary taking place in November?
Yes, November is the centenary of partial women's suffrage – I say 'partial' because in 1918 when Westminster finally gave Irish and British women the right to vote, that applied only to women over the age of 30 and who fulfilled certain property qualifications. So, men over 21 could vote but women had to be over 30 and they had to own a certain amount of property.
At the end of 1918, on the 21st of November, Westminster passed an act that allowed women over 21 to run for election for the first time. And then, three weeks later we see the election of Constance Markievicz, who is the first woman ever elected MP to Westminster. She abstains from her seat because she's a Sinn Féin representative.
These are historic moments we want to commemorate, but not just to commemorate suffrage itself but to use that moment as an opportunity to highlight the stories of trailblazing Irish diaspora women all over the world.
Was the suffrage movement widespread?
Women's suffrage wasn't a movement led by one or two individual women, and it wasn't something that just happened in Britain and Ireland. It was at its heart a transnational movement, so the first women who ever got the vote on an equal basis with men were in New Zealand in the 1890s. In the historic sources, we can see that British and Irish suffragists and suffragettes were corresponding with Australian and American and New Zealand contemporaries and were swapping notes and comparing tactics.
And we have evidence of some of them travelling around the world to support each other's causes. After achieving suffrage in New Zealand, some of those women travelled to Britain to participate in protests and parades. So we really wanted to commemorate that international collaboration and to note it wasn't just upper class women, but middle and working class women as well.
Where did the artwork in the exhibition come from?
Through our collaboration with Herstory, we were put in touch with a fantastic Hungarian artist who lives in Paris, Szabolcs Kariko. Szabolcs has been an ally of the Herstory project since its inception, so we approached him to produce some specially commissioned pieces for our exhibition. We supplied him with the shortlist of 21 women and he chose his favourite woman from each thematic section. He's really managed to capture with his gorgeous images something essential about each woman and the aspect of her life story that struck him the most. I hope that visitors to the exhibition will find that as well, and enjoy them.
What's next for 'Blazing a Trail' after its run in EPIC?
It will be running in EPIC from 12-25 November and then it's going to travel to Irish embassies and consulates around the world over the next couple of years, so hopefully the Irish abroad will be able to enjoy this exhibition too.
What will the upcoming exhibitions focus on?
We have another exhibition launching in March 2019, hopefully around the St. Patrick's Festival, on the theme of 'the Irish at sea'. That will look at all the stories, the trials, tribulations, the miseries and the joys of life at sea through naval service, travel and exploration, emigration, coffin ships and shipboard narratives of the Irish all over the world.
'Blazing a Trail: Lives and Legacies of Irish Diaspora Women' is free and open to the public at EPIC The Irish Emigration Museum in Dublin from 12-25 November.